Organizations
The Governing Council of the American Counseling Association established a Task Force on Impaired Counselors in the Spring of 2003. The creation of this task force reflects a growing awareness of impairment in the field as well as ACA's commitment to identifying and developing intervention strategies and resources to help impaired counselors. Task Force Goals There are three broad avenues for addressing the needs of impaired counselors: education of all counselors to prevent impairment, securing quality resources, intervention and treatment for impaired counselors, and advocacy within ACA and at the state and national levels to address the broader issues surrounding impairment as well as the specific needs of those who are impaired. Our work begins with impairment prevention through education on resiliency and wellness-and geared towards all counselors.
Counselor Wellness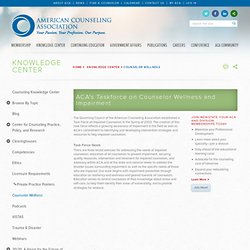 Texas Department of Family and Protective Services (DFPS)
Health Information Privacy
The Office for Civil Rights enforces the HIPAA Privacy Rule, which protects the privacy of individually identifiable health information; the HIPAA Security Rule, which sets national standards for the security of electronic protected health information; the HIPAA Breach Notification Rule, which requires covered entities and business associates to provide notification following a breach of unsecured protected health information; and the confidentiality provisions of the Patient Safety Rule, which protect identifiable information being used to analyze patient safety events and improve patient safety.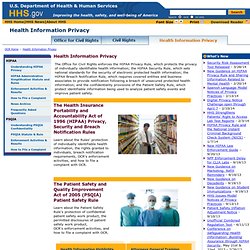 National Institutes of Health (NIH)
Welcome to the Center for Refugee Services of San Antonio, Texas! Our mission is to promote the wellness, self-sufficiency, and successful community integration of resettled refugees and their families. Please contact us if you are able to assist our organization or would like more information. 2014 Scholarship application due April 13, 2014 All refugee students who are graduating from high school in 2014 and who wish to enroll in college or vocational school can apply for a CRS scholarship.
Welcome to the Center for Refugee Services | San Antonio, Texas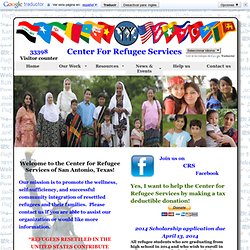 National Institute on Aging | The Leader in Aging Research
Family Service Association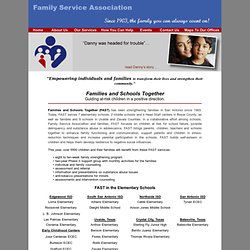 Families and Schools Together (FAST) has been strengthening families in San Antonio since 1993. Today, FAST serves 7 elementary schools, 2 middle schools and 4 Head Start centers in Bexar County, as well as families and 9 schools in Uvalde and Zavala Counties. In a collaborative effort among schools, Family Service Association and families, FAST focuses on children at risk for school failure, juvenile delinquency and substance abuse in adolescence. FAST brings parents, children, teachers and schools together to enhance family functioning and communication, support parents and children in stress-reduction techniques and increase parental participation in the schools.
Texas Counseling Association - HOME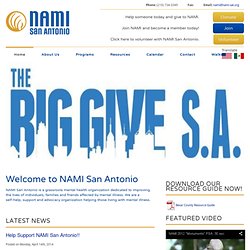 NAMI SA VA F2F Course Are you the family member or the loved one of a Veteran that is suffering from PTSD, depression, and anxiety? Do you wish you could learn more about what they may be going through and what you can do to help? Enroll today in our Veteran's Family to Family Course!!!
NAMI San Antonio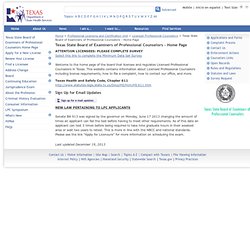 Texas Department of State Health Services, Texas State Board of Examiners of Professional Counselors Home Page
ATTENTION LICENSEES: PLEASE COMPLETE SURVEY Select this link to complete the Minimum Data Set SurveyWelcome to the home page of the board that licenses and regulates Licensed Professional Counselors in Texas. This website contains information about Licensed Professional Counselors including license requirements, how to file a complaint, how to contact our office, and more. Texas Health and Safety Code, Chapter 611http://www.statutes.legis.state.tx.us/Docs/HS/htm/HS.611.htm Senate Bill 913 was signed by the governor on Monday, June 17 2013 changing the amount of times an applicant can fail the test before having to meet other requirements.
American Mental Health Counselors Association (AMHCA)
ASERVIC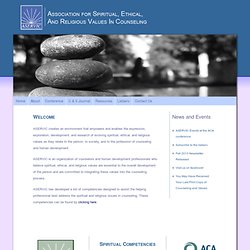 Welcome ASERVIC creates an environment that empowers and enables the expression, exploration, development, and research of evolving spiritual, ethical, and religious values as they relate to the person, to society, and to the profession of counseling and human development. ASERVIC is an organization of counselors and human development professionals who believe spiritual, ethical, and religious values are essential to the overall development of the person and are committed to integrating these values into the counseling process. ASERVIC has developed a list of competencies designed to assist the helping professional best address the spiritual and religious issues in counseling. These competencies can be found by clicking here.
NCDA inspires and empowers the achievement of career and life goals by providing professional development, resources, standards, scientific research, and advocacy. The National Career Development Association (NCDA) is a founding division of the American Counseling Association (ACA). NCDA began as the National Vocational Guidance Association in 1913 - read more history under About Us or in Career Convergence. Spotlights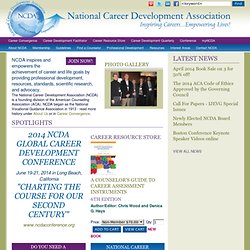 NCDA | Welcome to the National Career Development Association
Center for Credentialing and Education
Family Violence Prevention Services | Helping Victims of Domestic Violence in San Antonio since 1977
Register for the CEU Topic: Protective Orders & Stalking Crimes in the State of Texas When: March 16, 2012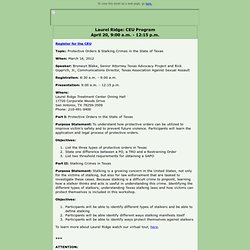 Untitled
find a counselor verify a NCC's certification contact a state licensure board search for continuing education visit portal for continuing education providers visit portal for draft #2 - 2016 CACREP Standards
National Board for Certified Counselors and Affiliates, Inc.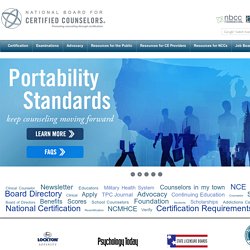 Welcome to the American Counseling Association
As the world's largest association representing professional counselors in various practice settings, the American Counseling Association stands ready to serve more than 55,000 members with the resources they need to make a difference. From webinars, publications, and journals to Conference education sessions and legislative action alerts, ACA is where counseling professionals turn for powerful, credible content and support.