GLOBALIZACION
FES Dialogue on Globalization - Home. Www.Fes-globalization.org. Website availability: (is site down?)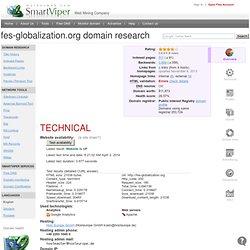 Latest result: Website is UP Latest test time and date: 8:21:02 AM April 3, 2014 Latest test duration: 0.877 seconds Test results (detailed CURL answer) Issues | Youthink! The aim of development is to help people become more productive and to improve the quality of life for individuals, families, communities and countries.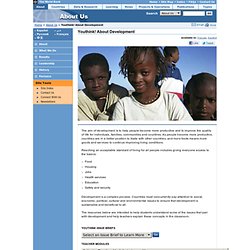 As people become more productive, countries are in a better position to trade with other countries, and more trade means more goods and services to continue improving living conditions. Reaching an acceptable standard of living for all people includes giving everyone access to the basics: Complaints Choirs of the World : Home. The Study of Global Problems and the Culture of Capitalism. Mondialisation. Depuis le 1er avril 2014, le vote blanc est comptabilisé (loi du 21 février 2014).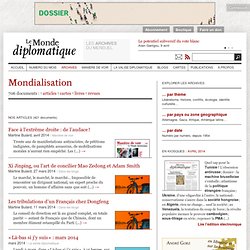 A cet égard, les prochaines élections européennes seront une première. D'aucuns s'étonneront qu'il ait fallu si (...) Alternativas al neoliberalismo. Published on The Nation ( This article appeared in the April 1, 2013 edition of The Nation.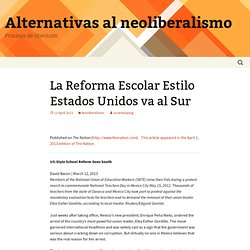 US-Style School Reform Goes South David Bacon | March 12, 2013Members of the National Union of Education Workers (SNTE) raise their fists during a protest march to commemorate National Teachers Day in Mexico City May 15, 2012. Thousands of teachers from the state of Oaxaca and Mexico City took part to protest against the mandatory evaluation tests for teachers and to demand the removal of their union leader Elba Esther Gordillo, according to local media.
Reuters/Edgard Garrido Just weeks after taking office, Mexico's new president, Enrique Peña Nieto, ordered the arrest of the country's most powerful union leader, Elba Esther Gordillo. FES Globalization - Office Geneva - Home. The Universal Periodic Review - Do Civil Society Organization-Suggested Recommendations Matter?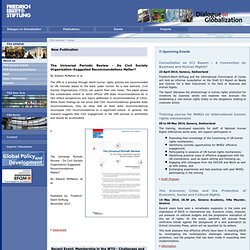 By Edward McMahon et al. The UPR is a process through which human rights policies are recommended by UN member states to the state under review. Global Issues : social, political, economic and environmental issues that affect us all. Commission on Globalisation - H o m e.
---