Organismes Internationales [Haiti]
Home. Association SOLIDARITES INTERNATIONAL - NGO, emergency humanitarian aid. Home. Love Haiti Missions Project. Welcome to HCDF on the web! FIDNA. FHED-INC. Tourinord: Home :: Cap Haitian, Citadelle Laferrière, Sans Soucis, Milot, Haiti Tourism. Home. Friends of HaiTi. Friends of Haiti, Inc. > Home. FATEM - Rebuilding and developing a common hope for a brighter, revitalized Mirebalais and its surrounding communities! NOU BOUKE… Nou bouke tande Ayiti se peyi ki pi pòv nan mitan lòt yo.
Nou bouke wè plis ke twaka peyi a nan provens pou kont yo san enfrastrikti, san swen sante, ap tavay ak men yo. Nou bouke wè moun mouri kou poul nan men lamizè, nan men bandi, san defans, epi lòt moun pase kote kadav yo san gade alò ke lontan si yon bèt ou mouri kè w te fè w mal. Nou bouke ke nou pa rann chak bandi responsab menm si se yon moun ki voye li men se li ki touye lòt la. Nou bouke konstate ke egoyis, se tou pa m, wete kò w pou m mete moun pa m ranplase espri solidarite, tèt ansanm, responsablite sivik, espri imen.
Nou bouke wè nan peyi a lavi youn lòt pa gen plis enpòtans ke yon bèt depi m gen afè pa w. Vision Marien. Welcome to Gaskov Clerge Foundation Website. Untitled. Haiti Soleil. Haiti 2015: WI, NOU PARE. Groupe d'Appui Médical A Haïti (GAMAH) Ecole du Village. H.A.N.A. CEDECOAPA :: Community Center of development of the Petite Riviere of Artibonite. ACTED | Agence d'Aide à la Coopération Technique Et au Développement. ACT Alliance. Kinderspielzeug, die Auswahl ist mittlerweile riesig und unerschöpflich. Haiti Innovation | Choice, Partnership, Community. HPFE - Haiti Partenaires France Europe - Association Haiti. Accueil. Haitian American Professional Coalition. H.A.N.A. Diaspora Community Services.
Constructive Dialogue, Inc. - Home. Home. Home - Club Creole at UF. Americas Relief : Home. Action Against Hunger | ACF-USA. Haitian International Group. Haitian Citizen United Taskforce Inc. - BOARD. Hapa1. CHAI - Concerned Haitian Americans Of Illinois. Restavek Freedom Foundation - DonorDrive® ACHPR Association Culturelle Haïtienne «LA PERLE RETROUVEE» - PROMOUVOIR LA CULTURE HAÏTIENNE. Welcome to Haitian League Inc. OGLHaiti | Plant trees in Haiti | Operation Green Leaves. The Haitian Studies Association.
Announcements 26th Annual Conference Migration, Crossing Boundaries, Paths Forward.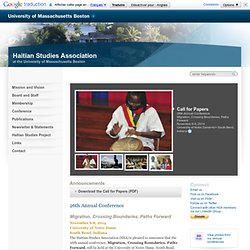 WELCOME TO HAITI CORCAH. International Study Abroad Programs, Foreign Student Exchange Programs - DiversityAbroad.com. Nova Hope for Haiti. Fondasyon Mapou - Rebuilding Haiti, One Branch at a Time! FAVACA :: Florida International Volunteer Corps. EPMANDOK : un organisme humanitaire à but non lucratif. Dix ans de lutte contre la pauvreté et l'analphabétisation, ce geste requiert du courage et du cœur au ventre.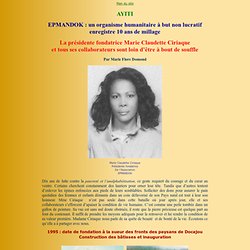 Certains cherchent constamment des lauriers pour orner leur tête. Tandis que d'autres tentent d'enlever les épines enfoncées aux pieds de leurs semblables. Accueil. Page d'accueil: SOS Haïti. Welcome to Project 2000 International. 302 Moved.
---