Organismes Internationales [Haiti]
Home
Association SOLIDARITES INTERNATIONAL - NGO, emergency humanitarian aid
Home
We are Foundation Hope for Haiti, an American fundraising organization that supports essential humanitarian programs to improve the lives of Haitians. Foundation Hope for Haiti was established by Dr. Jon Robertson, Dr.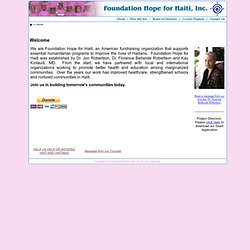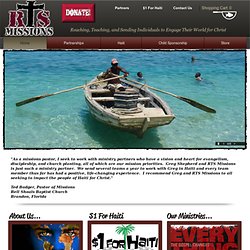 About Us... Our Ministries... Mission Trips... Ways To Help... Special Projects... "RTS Missions effectively plugged us in to meet the medical and dental needs of the poor in Haiti.
Love Haiti Missions Project
Welcome to HCDF on the web!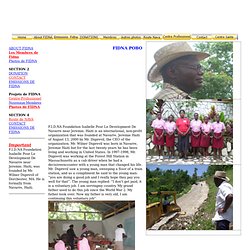 F.I.D.NA Foundation Isabelle Pour Le Development De Navarre near Jeremie, Haiti is an international, non-profit organization that was founded at Navarre, Jeremie Haiti of August 13, 2000 by Mr. Duprevil, the CEO of the organization. Mr. Wilner Duprevil was born in Navarre, Jeremie Haiti but for the last twenty years he has been living and working in United States.
FIDNA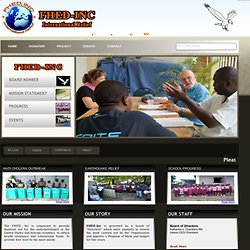 FHED-INC
Board of DirectorsKatherine V. Chambers RN Interim CEO/ President. Read More Copyright © 2008 - 2009 Fhed Inc. All right reserved. FHED,Inc is governed by a board of "Directors" which meet annually to review the work carried out by the Organization and approve a Program of Work and budget for two years.
Haiti Reconstruction and Development: Cap Haïtien - nicknamed Le Cap 1 (Kreyòl: Okap, Kap Ayisyen or Kapayisyen; Spanish: Cabo Haitiano) (19°45'N 72°12'W) is a favorably-situated port town on Haiti's agriculturally rich north coast on the Atlantic Ocean. The city is the second largest in Haiti, after Port-au-Prince and has an international airport.
Tourinord: Home :: Cap Haitian, Citadelle Laferrière, Sans Soucis, Milot, Haiti Tourism
Home
Friends of HaiTi
Friends of Haiti, Inc. > Home
FATEM - Rebuilding and developing a common hope for a brighter, revitalized Mirebalais and its surrounding communities!
Nou bouke tande Ayiti se peyi ki pi pòv nan mitan lòt yo. Nou bouke wè plis ke twaka peyi a nan provens pou kont yo san enfrastrikti, san swen sante, ap tavay ak men yo. Nou bouke wè moun mouri kou poul nan men lamizè, nan men bandi, san defans, epi lòt moun pase kote kadav yo san gade alò ke lontan si yon bèt ou mouri kè w te fè w mal. Nou bouke ke nou pa rann chak bandi responsab menm si se yon moun ki voye li men se li ki touye lòt la. Nou bouke konstate ke egoyis, se tou pa m, wete kò w pou m mete moun pa m ranplase espri solidarite, tèt ansanm, responsablite sivik, espri imen. Nou bouke wè nan peyi a lavi youn lòt pa gen plis enpòtans ke yon bèt depi m gen afè pa w.
NOU BOUKE…
Feast of the Immaculate Conception Group Vision Marien, HAYTFO, Les Amis de Port-de-Paix, AFCS-Jean Rabel and Sounds Good DJ Entertainment request the honor of your presence at a Dinner Gala to celebrate the Feast of the Immaculate Conception, Patron Saint of the City of Port-de-Paix and to honor some former important figures who had helped educate the youth of the Nord-Ouest Department. Guest Speakers Max Massac, MS, Mechanical engineer Sorel Jacques, Ph.D, Agronomist Claude Joseph Apollon, MS, Agronomist Honorees Maitre Lherisson Alezi Professor Emile Hilaire
Vision Marien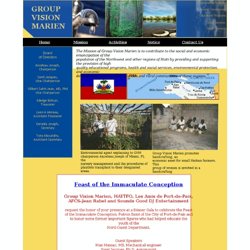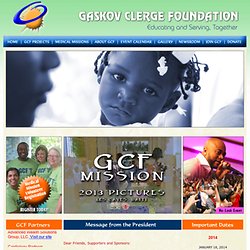 Welcome to Gaskov Clerge Foundation Website
Dear Friends, Supporters and Sponsors: "To whom much is given, of him shall much be required" At GCF, we sincerely believe that much is required of us. For the past 12 years, we have been walking that talk and taking every step along the way to help make the world around us a better place. On behalf of the officers and members of the Gaskov Clergé Foundation (GCF), I invite you to join us as we continue the journey to meet the core requirement to give back to our communities. None of what we do would be possible without your financial and moral support.
untitled
Haiti Soleil
Haiti 2015: WI, NOU PARE
Education : Every child has access to school and every person between the ages of 16-30 has access to vocational training. Social Capital : Establish a Civic Leadership Training Program that graduates future civic leaders and build a national social infrastructure. Workforce Innovation : Youth have access to resources to transition into the workforce and collaborate with the public sector for Full Employment Policy. Economic Development : Foster atmosphere that encourages innovative enterprise and micro-credit.
Groupe d'Appui Médical A Haïti (GAMAH)
Mayenne soutient GAMAH OUEST FRANCE Mayenne Mayenne apporte son aide à Haïti Catastrophemercredi 27 janvier 2010
Ecole du Village
The Haitian American Nurses Association of Florida (H.A.N.A.) was founded in 1984 by Jacqueline Dasque and Alice Casimir, two registered professional nurses practicing in Miami, who saw the need to establish an organization that would provide health care services to migrant workers in Homestead, Florida. learn more… Recent Events Why Join Us? HANA. collaborates with other organizations in the community to promote health and wellness through education and prevention by providing culturally sensitive care.
H.A.N.A.
CEDECOAPA :: Community Center of development of the Petite Riviere of Artibonite
ACT Alliance
ACT Alliance is a coalition of more than 140 churches and affiliated organisations working together in 140 countries to create positive and sustainable change in the lives of poor and marginalised people regardless of their religion, politics, gender, sexual orientation, race or nationality in keeping with the highest international codes and standards. ACT Alliance is supported by 25,000 staff and mobilises about $1.5 billion for its work each year in three targeted areas: humanitarian aid; development; and advocacy.
Kinderspielzeug, die Auswahl ist mittlerweile riesig und unerschöpflich
Wer eine eigene Immobilie besitzt, kann in ihr irgendwann mietfrei wohnen. Vor allem im Alter macht sich das bezahlt. Ein Haus ist daher nicht nur ein wichtiger Teil des persönlichen Vermögens, sondern in vielen Fällen auch ein bedeutender Teil der privaten Altersvorsorge. Daher ist es besonders wichtig, dass die Immobilie gegen größere Schäden versichert ist. Gebäudeversicherungen übernehmen diese Aufgabe und kümmern sich im Fall des Falles um die Schadensregulierung.
Haiti Innovation | Choice, Partnership, Community
HPFE - Haiti Partenaires France Europe - Association Haiti
Accueil
Haitian American Professional Coalition
H.A.N.A.
Diaspora Community Services
Constructive Dialogue, Inc. - Home
Home
Home - Club Creole at UF
Americas Relief : Home
Action Against Hunger | ACF-USA
Haitian International Group
Haitian Citizen United Taskforce Inc. - BOARD
hapa1
CHAI - Concerned Haitian Americans Of Illinois
Restavek Freedom Foundation - DonorDrive®
ACHPR Association Culturelle Haïtienne «LA PERLE RETROUVEE» - PROMOUVOIR LA CULTURE HAÏTIENNE
Welcome to Haitian League Inc.
OGLHaiti | Plant trees in Haiti | Operation Green Leaves
The Haitian Studies Association
WELCOME TO HAITI CORCAH
International Study Abroad Programs, Foreign Student Exchange Programs - DiversityAbroad.com
Nova Hope for Haiti
Fondasyon Mapou - Rebuilding Haiti, One Branch at a Time!
FAVACA :: Florida International Volunteer Corps
EPMANDOK : un organisme humanitaire à but non lucratif
Accueil
page d'accueil: SOS Haïti
Welcome to Project 2000 International
302 Moved