#OpMegaupload (2012)
Anonymous Brings Down FTC's OnGuardOnline in Protest Against Megaupload Shutdown
Since 2008, the satirical hacker collective, popularly known as the Anonymous has risen to act in the public interest. They have carried out numerous hacks to bring down websites of companies with questionable business practices, governments with poor legislative policies and churches with a twisted sense of religion. From a satirical merry hacker-band, the group went on to become the primary name in the international online hacktivism space. This time, the group of Anonymous has targeted OnGuardOnline (the US online security website), a partner the Federal Trade Commission (FTC).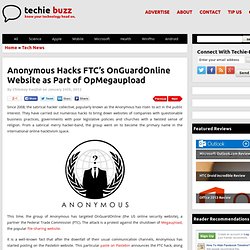 FTC OWNED BY ANTISEC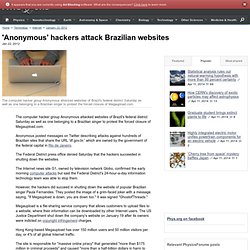 The computer hacker group Anonymous attacked websites of Brazil's federal district Saturday as well as one belonging to a Brazilian singer to protest the forced closure of Megaupload.com. Anonymous posted messages on Twitter describing attacks against hundreds of Brazilian sites that share the URL 'df.gov.br,' which are owned by the government of the federal capital in Rio de Janeiro. The Federal District press office denied Saturday that the hackers succeeded in shutting down the websites. The Internet news site G1, owned by television network Globo, confirmed the early morning computer attacks but said the Federal District's 24-hour-a-day information technology team was able to stop them. However, the hackers did succeed in shutting down the website of popular Brazilian singer Paula Fernandes.
'Anonymous' hackers attack Brazilian websites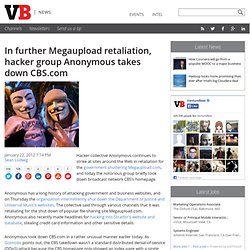 In further Megaupload retaliation, hacker group Anonymous takes down CBS.com
Hacker collective Anonymous continues to strike at sites around the Web in retaliation for the government shuttering Megaupload.com, and today the notorious group briefly took down broadcast network CBS's homepage. Anonymous has a long history of attacking government and business websites, and on Thursday the organization intermittently shut down the Department of Justice and Universal Music's websites. The collective said through various channels that it was retaliating for the shut down of popular file-sharing site Megaupload.com. Anonymous also recently made headlines for hacking into Stratfor's website and database, stealing credit card information and other sensitive details.
Anonymous Deletes CBS, Universal Sites; is Xbox Live Next?
Trojaner-Board - Viren und Trojaner entfernen - kostenlos
Anonymous Retaliates For Megaupload Shutdown – DoJ, UMG, RIAA and MPAA go Down
#OpMegaupload
MegaUpload Takedown Proves SOPA and PIPA Are Unnecessary
It has been a huge week when it comes to protecting intellectual property and defending the freedom of the Internet. Following a massive blackout on Wednesday to oppose pending SOPA legislation, the United States government took down MegaUpload.com--demonstrating why we don't need SOPA in the first place. Debate has been raging on Capitol Hill over two pending bills--SOPA (Stop Online Piracy Act) in the House, and PIPA (Protect Intellectual Property Act) in the Senate.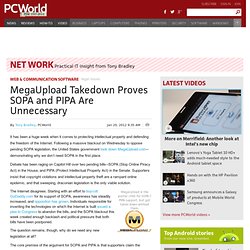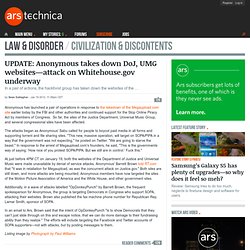 UPDATE: Anonymous takes down DoJ, UMG websites - attack on Whitehouse.gov underway
Anonymous has launched a pair of operations in response to the takedown of the Megaupload.com site earlier today by the FBI and other authorities and continued support for the Stop Online Piracy Act by members of Congress. So far, the sites of the Justice Department, Universal Music Group, and several congressional sites have been affected. The attacks began as Anonymous' Sabu called for people to boycot paid media in all forms and supporting torrent and file sharing sites. "This new, massive operation, will target on SOPA/PIPA in a way that the government was not expecting," he posted on Twitter.
Anonymous splinter group now targeting Democrats for SOPA support
SOPA and PIPA may be in zombie mode, having burned up in the fire of SOPA "Blackout Day" protests and the largest attack by Anonymous on record, but activists who opposed the legislation understand that the Internet wars have only just begun. Barrett Brown, often recognized as a public face of Anonymous, announced that his own group, Project PM, will be keeping an eye on Democratic congressmen who hope to "quietly support" the legislation. "Yesterday my ProjectPM group began preparations for a campaign to go after any Democratic congressmen who hope to quietly support SOPA without drawing any negative attention that might damage their cred among liberals," Brown told the Daily Caller in an email. While Republicans evacuated their support of SOPA and PIPA — the Stop Online Piracy Act in the House, and the Protect IP Act in the Senate — en masse Wednesday and Thursday after constituents flooded their offices with calls and emails, only a few Democrats did the same.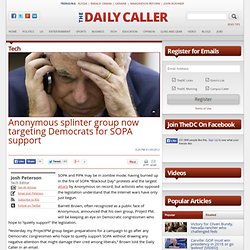 The software has inspired the creation of an independent JavaScript version called JS LOIC, as well as LOIC-derived web version called Low Orbit Web Cannon. These enable a DoS from a web browser.[4] Use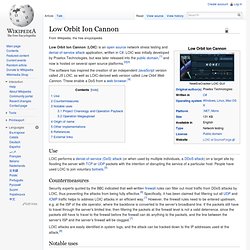 Anon material and propaganda