OPERA/CERN
Google
See translation in : English D. Autiero Personnalité scientifique de l'année 2011 Date de création : 23 décembre 2011, Date de mise à jour : 16 février 2012 Dario Autiero, chercheur CNRS à l'Institut de Physique Nucléaire de Lyon, vient d'être désigné personnalité scientifique de l'année 2011 par la revue Nature pour avoir dirigé l'équipe de la collaboration OPERA qui a réalisé une mesure montrant que les neutrinos pourraient se déplacer à une vitesse supérieure à celle de la lumière. Pour en savoir plus : lire l'article de Nature en version française ou anglaise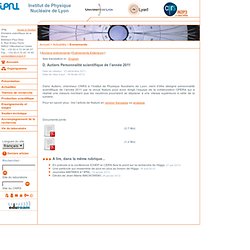 IPNL IN2P3/CNRS - UCBL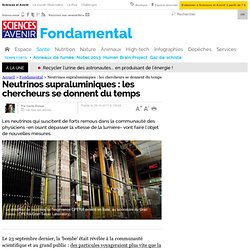 Sciences et Avenir - Actualité des sciences et de la recherche - journal d'information
Le 23 septembre dernier, la 'bombe' était révélée à la communauté scientifique et au grand public : des particules voyageraient plus vite que la lumière –limite théoriquement infranchissable d'après la théorie de la relativité restreinte d'Albert Einstein. Des neutrinos partis du Cern seraient arrivés au laboratoire du Gran Sasso, en Italie, 60 nanosecondes trop tôt... (voir les réactions)Soumis à l'examen de tous les scientifiques, via
UPDATE 8 June 2012 Neutrinos sent from CERN to Gran Sasso respect the cosmic speed limit At the 25th International Conference on Neutrino Physics and Astrophysics in Kyoto today, CERN Research Director Sergio Bertolucci presented results on the time of flight of neutrinos from CERN to the INFN Gran Sasso Laboratory on behalf of four experiments situated at Gran Sasso. The four, Borexino, ICARUS, LVD and OPERA all measure a neutrino time of flight consistent with the speed of light. This is at odds with a measurement that the OPERA collaboration put up for scrutiny last September, indicating that the original OPERA measurement can be attributed to a faulty element of the experiment's fibre optic timing system. "Although this result isn't as exciting as some would have liked," said Bertolucci, "it is what we all expected deep down.
Press Release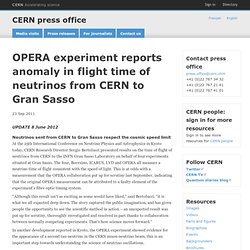 Live webcast
OPERA neutrino experiment on breaking speed of light --- webcast
LE MONDE | • Mis à jour le | Par David Larousserie avec Agathe Duparc à Genève Le grand amphithéâtre de l'Organisation européenne pour la recherche nucléaire (CERN), près de Genève, a été pris d'assaut, vendredi 23 septembre. Des centaines de scientifiques, dont un grand nombre de jeunes gens, ont envahi les lieux, équipés d'ordinateurs portables et de smartphones, bien décidés à immortaliser une réunion "historique". Dans le monde entier, via une retransmission sur Internet et un flot de tweets, elle est suivie en direct par des chercheurs avides d'en savoir plus sur une annonce extravagante : une particule, le neutrino, irait plus vite que la lumière ! Cette limite est réputée infranchissable dans le cadre de la théorie classique de la relativité restreinte d'Albert Einstein, l'un des piliers de la physique. Dario Auterio, le responsable de l'analyse de ces données inattendues, chercheur au CNRS, est donc venu livrer au monde des physiciens matière à perplexité et à débat.
Excès de vitesse des neutrinos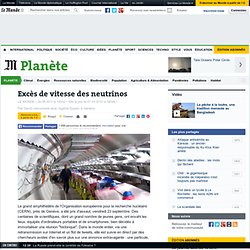 New results from OPERA on neutrino properties (23 September 2011)
CERN
CERN (CERN) sur Twitter
(20) Recherche Twitter - #CERN