Boostrapping or not ?
bootstrapped profitable proud
Y Combinator startups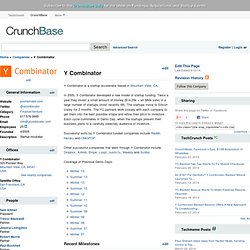 Y Combinator is a venture fund which focuses on seed investments to startup companies. It offers financing as well as business consulting along with other opportunities to 2-4 person companies looking to take an idea to a product. Y Combinator looks for companies with "good" ideas over companies with experience and a business model.
All the startups I know from Y Combinator raised between 500k and 6M after 12 months. Boostrapping is a good thing but it depends mostly of your business model. Boostrapping for too long might be a pain in the ass. by nicolas Feb 7
Scribd
Xobni
DISQUS
Dropbox
Justin.TV