Opendata technique
Unifying All Enterprise Information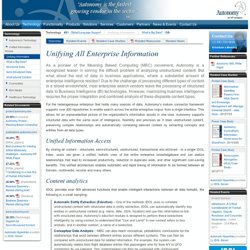 As a pioneer of the Meaning Based Computing (MBC) movement, Autonomy is a recognized leader in solving the difficult problem of analyzing unstructured content. But what about the rest of data in business applications, where a substantial amount of enterprise intelligence resides? Due to the challenge of processing different types of content in a siloed environment, most enterprise search vendors leave the processing of structured data to Business Intelligence (BI) technologies.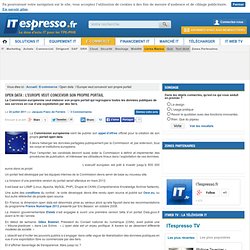 La Commission européenne vient de publier son appel d'offres officiel pour la création de son propre portail open data. Il devra héberger les données partagées publiquement par la Commission et, par extension, tous les corps et institutions européens. Pour l'emporter, les candidats devront aussi aider la Commission à définir et implémenter des procédures de publication, et intéresser les utilisateurs finaux dans l'exploitation de ces données.
Open data : l'Europe veut concevoir son propre portail
August 11, 2011 Two weeks ago we made a major announcement: building on technology that we've been developing for more than 20 years, we released Computable Document Format (CDF). I think CDF is going to have a big effect on the way all sorts of things can be communicated.
Wolfram|Alpha Comes Alive with CDF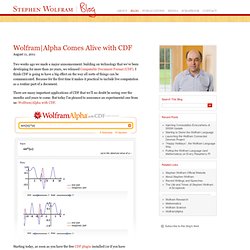 Data Ecosystem - Current | Flickr : partage de photos !
Open data : la guerre des mondes
Le mouvement de libération des données publiques (open data) donne parfois l'impression d'assister à la guerre des mondes.
Building the (Open) Data Ecosystem
The following is a post by Rufus Pollock, co-Founder of the Open Knowledge Foundation. The Present: A One-Way Street At the current time, the basic model for data processing is a "one way street".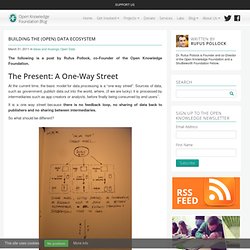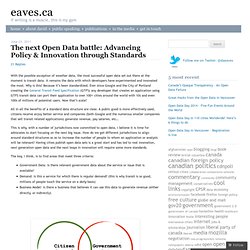 The next Open Data battle: Advancing Policy & Innovation through Standards
With the possible exception of weather data, the most successful open data set out there at the moment is transit data.
L'architecture technique de Facebook
L'Open Graph de Facebook - Agence Up 2 social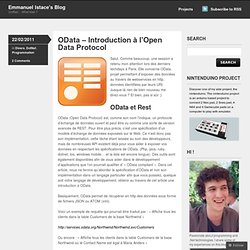 Salut. Comme beaucoup, une session a retenu mon attention lors des derniers techdays à Paris. Elle concerne OData, projet permettant d'exposer des données au travers de webservices en http, données identifiées par leurs URI.
OData – Introduction à l'Open Data Protocol « Istace Emmanuel
IBM va investir dans l'analyse des gros volumes de données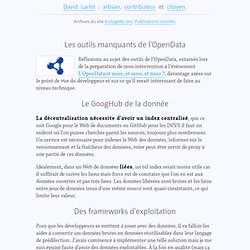 Réflexions au sujet des outils de l'OpenData, entamés lors de la préparation de mon intervention à l'événement L'OpenData et nous, et nous, et nous ?, davantage axées sur le point de vue du développeur et sur ce qu'il serait intéressant de faire au niveau technique.
Les outils manquants de l'OpenData, dans avenir
Open Data Manual
Publier pour le web des données et le faire savoir | Observatoire des technologies
Comme pour le web des documents, l'indexation des données publiées dans le web des données est importante.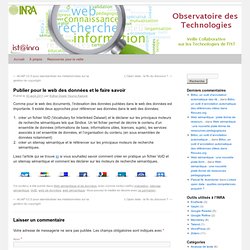 Semantic-Web-Technologien in Content Management Systemen nutzen: Systeme mit Zukunft » t3n Magazin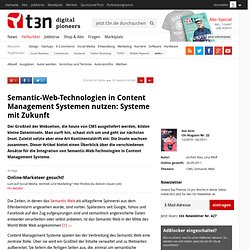 Die Zeiten, in denen das Semantic Web als alltagsferne Spinnerei aus dem Elfenbeinturm angesehen wurde, sind vorbei.
Microdata + RDF
As part of the ongoing discussion about how to reconcile RDFa and microdata (if at all), Nathan Rixham has put together a suggested Microdata RDFa Merge which brings together parts of microdata and parts of RDFa, creating a completely new set of attributes, but a parsing model that more or less follows microdata's. I want here to put forward another possibility to the debate. I should say that this is just some noodling on my part as a way of exploring options, not any kind of official position on the behalf of the W3C or the TAG or any other body that you might associate me with, nor even a decided position on my part.
Using RDFa to create a Google Calendar | Delib Blog
FOAF Manager - Semantic Web Trust Portal - Safelayer Sandbox
Retour au seizième siècle.
L'indexation des données dans le monde du Web sémantique
APIs & Developer Products
Licences OpenData : L'APIE grille la priorité à ÉtaLab et invente le pseudo-libre
Lorsque plusieurs administrations travaillent ensemble, elles essaient généralement de coordonner leurs actions de communication. Cela devrait donc être le cas entre la mission ÉtaLab, l'APIE, le COEPIA et les administrations des différents ministères dans la mesure où elles ont été chargées par le Premier Ministre de travailler ensemble, sous la direction d'ÉtaLab, sur la question d'une licence gratuite de ré-utilisation des données publiques durant l'été.
Development « RDF Header-Dictionary-Triples (HDT)
MLG Research Projects - Machine Learning Group (UCD)
Members of the Machine Learning Group are currently actively involved in the following research projects: Sentiment Analysis
Vocabulary and Dataset - Library Linked Data
From Library Linked Data W3C Library Linked Data Incubator Group: Datasets, Value Vocabularies, and Metadata Element Sets
Schema Creator - Améliorez votre référencement avec les microdatas
IKS Paris Workshop Wrap-up | IKS Blog – The Semantic CMS Community
Sur le chemin du Web intelligent
Social Web and Semantic Web: towards synergy between folksonomies a...
Berlin SPARQL Benchmark