Opendata
UEL TraD: Resources. Here we will add the resources as we make them available.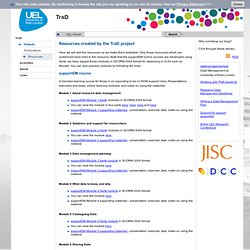 Only those resources which are underlined have links to the resource. Note that the supportDM online courses are developed using Xerte; we have zipped these modules in SCORM 2004 format for deploying in VLEs such as Moodle. You can also preview modules by following the links. supportDM course. RDMRose Learning Materials | RDMRose. On this page: The first session introduces the RDMRose module, discusses RDM basics, and explores the role of LIS professionals in RDM, including examples of how academic libraries have started to respond to the research data management challenge.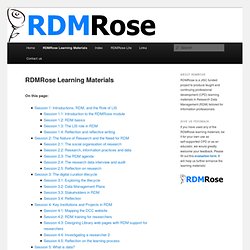 The session is concluded by an introduction to reflection and reflective writing. DIY Research Data Management Training Kit for Librarians. Research Data MANTRA course. What is research data?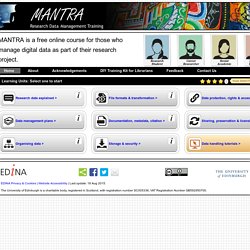 Why managing data is important How research data differs from other information Good practice and responsible research Checklists & planning tools Funder compliance Housekeeping File versioning Naming & re-naming conventions.
Maps
Bigdata. Videos. Events. News. Repositories. Biodata. Nature. Blogs. Figshare. Open Data. Données de la recherche. Specialized.
---