SW&TOOLS
Freesound. Font Meme: Text Generator Online. OSMONEY | The Open Source Money Saving Alternatives. Mixxx - Free MP3 DJ Mixing Software. Rapid - I. Free Accounting Software | GnuCash. Contratto - Oscon. OpenClipArt. Scribus.net. Openesignforms - Open eSignForms is the first open source electronic contracting software.
Open eSignForms™ is the first free and open source, web contracting software application (on-premise) and SaaS (hosted).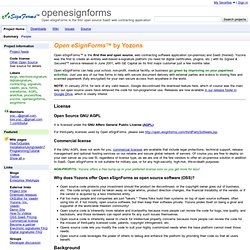 Yozons was the first to create an entirely web-based e-signature platform (no need for digital certificates, plugins, etc.) with its Signed & Secured™ service released in June 2001, with GE Capital as its first major customer just a few months later. Open eSignForms can help your school, non-profit, medical facility, or business go green by improving on your paperless activities.
---