Open Source
Open Source Initiative OSI - The Educational Community License 1.0. (Note: This license has been superseded by the Educational Community License, Version 2.0) (text) This Educational Community License (the "License") applies to any original work of authorship (the "Original Work") whose owner (the "Licensor") has placed the following notice immediately following the copyright notice for the Original Work: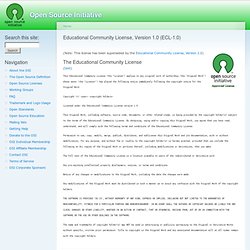 100% Free Shareable Content. Farm to Fridge: An Open Source Online Farm Market. Comparison of Open Source Licenses | e1ven dot com. As I've been working on my little Forum Project over the last few months, I've run across a number of code snippets that I'd love to use.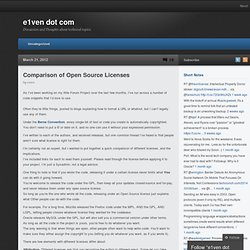 Often they're little things, posted to blogs explaining how to format a URL or whatnot, but I can't legally use any of them. Under the Berne Convention, every single bit of text or code you create is automatically copyrighted. You don't need to put a © or date on it, and no one can use it without your expressed permission. I've written to each of the authors, and received releases, but one common thread I've heard is that people aren't sure what license is right for them. I'm certainly not an expert, but I wanted to put together a quick comparison of different licenses, and the implications. Open Source Religion | Spirituality & Theology - The global phenomena centralized in one social network. The Xapian Project.
Popular Open Source Developer Tools | Open Source Developers. The open source software development movement has produced a variety of versatile and robust open source developer tools.
Moreover, the movement also kicked off a software development life cycle paradigm that encourages an agile and collaborative environment and corrects the pitfalls of traditional development processes. Open source developer tools help developers practice better software development and reduce the dependency on licensed software. Popular Open Source Developer Tools The most popular open source developer tools are: Open Source Human Resource Management System. OrangeHRM is an open source human resource management information system.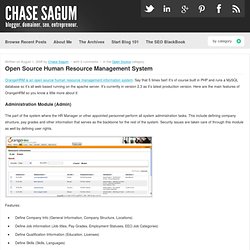 Say that 5 times fast! It's of course built in PHP and runs a MySQL database so it's all web based running on the apache server. Top 20 most popular Open Source programs in 2006 - Carol's Vault | Carol's Vault – Best Freeware, Open Source Software. Update January 18: I have decided to put next to each open source app its portable equivalent, if it has one.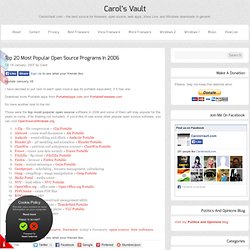 Download more Portable apps from PortableApps.com and PortableFreeware.com So have another look to the list. Those were the top most popular open source software in 2006 and some of them will stay popular for the years to come. GanttProject Home. MEDIAPORTAL - a HTPC Media Center for free! List of free and open source software packages. Applied fields[edit] Artificial intelligence[edit] CAD[edit] Electronic design automation (EDA)[edit] Computer simulation[edit]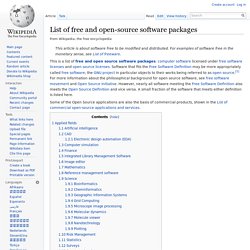 CellProfiler cell image analysis software. Endrov. Fiji Is Just ImageJ. Home page | Apertus - Open Source Cinema. 10 sites developers should have in their bookmarks. Mysql Format Date MySQL Format Date helps you to format your dates using the MySQL DATE_FORMAT function.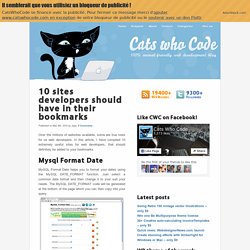 Just select a common date format and then change it to your suit your needs. The MySQL DATE_FORMAT code will be generated at the bottom of the page which you can then copy into your query. Visit site: 40 Best Open Source Graphic Programs. Following the great success of the 45 Best Freeware Design Programs and attending requests of more open source apps, here is a new extensive list of Open Source Graphic Programs that you may take into consideration for production use.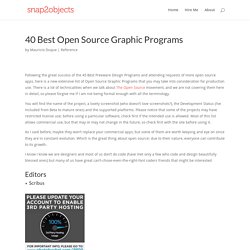 There is a lot of technicalities when we talk about The Open Source movement, and we are not covering them here on detail, so please forgive with me if I am not being formal enough with all the terminology. You will find the name of the project, a lovely screenshot (who doesn't love screenshots?) 10 Promising Opensource PHP E-Commerce Application  1.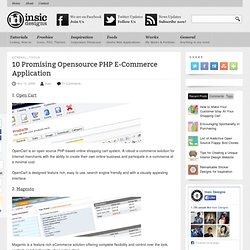 Open Cart OpenCart is an open source PHP-based online shopping cart system. A robust e-commerce solution for Internet merchants with the ability to create their own online business and participate in e-commerce at a minimal cost. OpenCart is designed feature rich, easy to use, search engine friendly and with a visually appealing interface. Websites To Search And Find Code Snippets. Hey Readers, Win 25 Citrify Premium Licenses How to Participate and Win!!!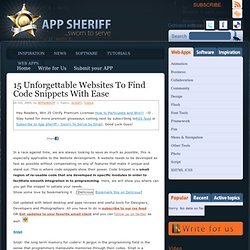 :-D . Stay tuned for more premium giveaways coming next by subscribing toRSS feed or Subscribe to App Sheriff - Sworn To Serve by Email. Home - Open.Source - everything ! FREE SOFTWARE !!! for Windows, Linux & Mac. Top 100 of the Best (Useful) OpenSource Applications. The following is a list of about 100 of the best OpenSource Applications, that actually help make Linux more usable for people. It is my hope that this list shows potential Linux users that there really is a large, effective, productive and usable range of free, OpenSource applications. Darik's Boot And Nuke | Hard Drive Disk Wipe and Data Clearing. Primary CSS. OpenCola (drink)
OpenCola is a brand of open-source cola, where the instructions for making it are freely available and modifiable. Anybody can make the drink, and anyone can modify and improve on the recipe as long as they, too, license their recipe under the GNU General Public License. Since recipes are, by themselves, not copyrightable, the legal basis for this is untested.[1] O'Reilly Open Books Project. About Open Books O'Reilly has published a number of Open Books--books with various forms of "open" copyright--over the years. The reasons for "opening" copyright, as well as the specific license agreements under which they are opened, are as varied as our authors. Perhaps a book was outdated enough to be put out of print, yet some people still needed the information it covered. Or the author or subject of a book felt strongly that it should be published under a particular open copyright.
Maybe the book was written collectively by a particular community, as in the case of our Community Press books. About The Licenses. Our public copyright licenses incorporate a unique and innovative "three-layer" design. Each license begins as a traditional legal tool, in the kind of language and text formats that most lawyers know and love. We call this the Legal Code layer of each license. But since most creators, educators, and scientists are not in fact lawyers, we also make the licenses available in a format that normal people can read — the Commons Deed (also known as the "human readable" version of the license). List of free and open source software packages.
The One Page Linux Manual.
---