Open Source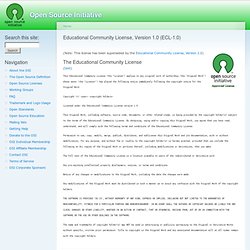 (Note: This license has been superseded by the Educational Community License, Version 2.0) (text) This Educational Community License (the "License") applies to any original work of authorship (the "Original Work") whose owner (the "Licensor") has placed the following notice immediately following the copyright notice for the Original Work:
Open Source Initiative OSI - The Educational Community License 1.0 | Open Source Initiative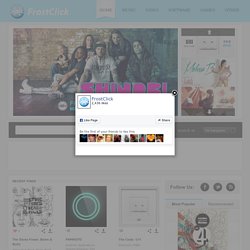 100% Free Shareable Content
Loading ... Download Album Cinematic is one of the words that best describe Ending Satellites' new album 7 Billion Passengers|Only One Flight Left. Hints of rock, alternative and electronica litter across the album; making it an intriguing record to have. According to their site, the album is "both musical and photographic."
Farm to Fridge is an open source online farm market. It is initially being developed to serve as an online farmer's market for a city, county or region. Members can register, browse available products on offer by local farms, browse profiles for the farms themselves, and purchase products. It is designed to be able to serve individual consumers, wholesale consumers (such as restaurants), or both at the same time.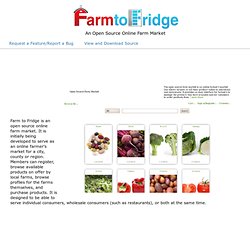 Farm to Fridge: An Open Source Online Farm Market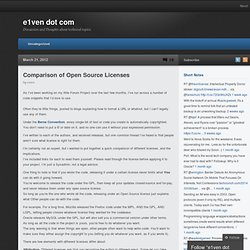 As I've been working on my little Forum Project over the last few months, I've run across a number of code snippets that I'd love to use. Often they're little things, posted to blogs explaining how to format a URL or whatnot, but I can't legally use any of them. Under the Berne Convention, every single bit of text or code you create is automatically copyrighted. You don't need to put a © or date on it, and no one can use it without your expressed permission. I've written to each of the authors, and received releases, but one common thread I've heard is that people aren't sure what license is right for them. I'm certainly not an expert, but I wanted to put together a quick comparison of different licenses, and the implications.
Comparison of Open Source Licenses | e1ven dot com
Open Source Religion | Spirituality & Theology - The global phenomena centralized in one social network
Welcome to the Xapian project website. Xapian is an Open Source Search Engine Library, released under the GPL. It's written in C++, with bindings to allow use from Perl, Python, PHP, Java, Tcl, C#, Ruby, Lua and Erlang (so far!) Xapian is a highly adaptable toolkit which allows developers to easily add advanced indexing and search facilities to their own applications. It supports the Probabilistic Information Retrieval model and also supports a rich set of boolean query operators.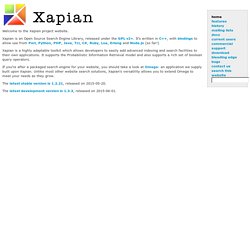 The open source software development movement has produced a variety of versatile and robust open source developer tools. Moreover, the movement also kicked off a software development life cycle paradigm that encourages an agile and collaborative environment and corrects the pitfalls of traditional development processes. Open source developer tools help developers practice better software development and reduce the dependency on licensed software. Popular Open Source Developer Tools The most popular open source developer tools are:
Popular Open Source Developer Tools | Open Source Developers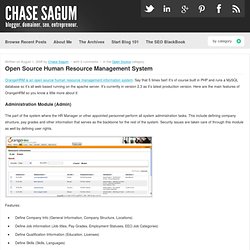 Open Source Human Resource Management System
OrangeHRM is an open source human resource management information system. Say that 5 times fast! It's of course built in PHP and runs a MySQL database so it's all web based running on the apache server.
Top 20 most popular Open Source programs in 2006 - Carol's Vault | Carol's Vault – Best Freeware, Open Source Software
Update January 18: I have decided to put next to each open source app its portable equivalent, if it has one. Download more Portable apps from PortableApps.com and PortableFreeware.com So have another look to the list. Those were the top most popular open source software in 2006 and some of them will stay popular for the years to come.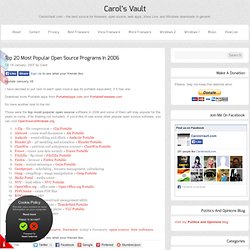 Welcome to MediaPortal MediaPortal is a free open source media center software, ideal for turning your PC into a very advanced multimedia center, or Home Theater PC, to view all your digital media in your living room. Welcome to MediaPortalMediaPortal is a free open source media center software, ideal for turning your PC into a very advanced multimedia center, or Home Theater PC, to view all your digital media in your living room. TV and PVR SupportMediaPortal offers you the most powerful TV Engine and PVR (Personal Video Recorder) available today. You can do everything a TiVo can, and more, for free!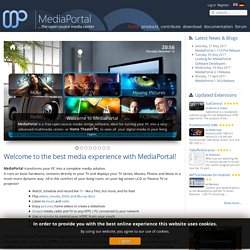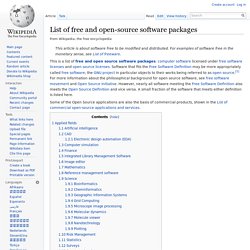 Applied fields[edit] Artificial intelligence[edit] CAD[edit] Electronic design automation (EDA)[edit] Computer simulation[edit]
Brochure about CellProfiler and CellProfiler Analyst May 7, 2013 — Upcoming workshop in Sweden featuring CellProfiler June 3–5 Meet our own lead software developer Lee Kamentsky and learn how to contribute to the CellProfiler project at a workshop organized by Carolina Wahlby (also one of our own) on 'How to use and make additions to open-source software for image processing, analysis, and visualization in medicine and microscopy.' June 3-5 at the Centre for Image Analysis, Uppsala University, Sweden. Space is limited to twenty participants, so be sure to see the workshop's webpage to register soon! May 6, 2013 — CellProfiler tutorial at CYTO 2013
CellProfiler cell image analysis software
Endrov
From Endrov Endrov is a multi-purpose image analysis program. It is written indepedently and designed to address many of the shortcomings of other free software and many commercial packages.
Fiji is an image processing package. It can be described as a distribution of ImageJ (and ImageJ2) together with Java, Java3D and a lot of plugins organized into a coherent menu structure. Fiji compares to ImageJ as Ubuntu compares to Linux. The main focus of Fiji is to assist research in life sciences. For users, Fiji is easy to install and has an automatic update function, bundles a lot of plugins and offers comprehensive documentation.
Fiji Is Just ImageJ
Our project leader, Sebastian, and founder, Oscar, attended the Prix Ars Electronica Festival on 30th August - 3rd September in Linz, Austria. After receiving an award of distinction and a 5000 eur cash prize (which will be used to support the soon-to-be-formed Apertus Association: http://www.apertus.org/forums/viewtopic.php?f=21&t=480 ), Sebastian and Oscar delivered a presentation in the symposium "THE BIG PICTURE – Everyday Rebellion/Prix Forum II – Digital Communities". The festival exhibition that was tied to this event provided a perfect opportunity for showcasing an Apertus camera rig utilising the current Elphel 353 camera.
Home page | Apertus - Open Source Cinema
Mysql Format Date MySQL Format Date helps you to format your dates using the MySQL DATE_FORMAT function. Just select a common date format and then change it to your suit your needs. The MySQL DATE_FORMAT code will be generated at the bottom of the page which you can then copy into your query. Visit site: http://www.mysqlformatdate.com
40 Best Open Source Graphic Programs
10 Promising Opensource PHP E-Commerce Application 
Websites To Search And Find Code Snippets
Home - Open.Source - everything ! FREE SOFTWARE !!! for Windows, Linux & Mac
Primary CSS
The One Page Linux Manual