Open Source clones
Microblogging vs. Blogging: 5 Ways to Create an Open Twitter Alternative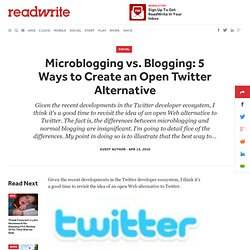 Given the recent developments in the Twitter developer ecosystem, I think it's a good time to revisit the idea of an open Web alternative to Twitter. The fact is, the differences between microblogging and normal blogging are insignificant. I'm going to detail five of the differences.
Open Source Twitter Alternative StatusNet Releases iPhone App
Any.IO - Twitter and Identi.ca through finger or DNS.