Open Source clones
Microblogging vs. Blogging: 5 Ways to Create an Open Twitter Alternative. Given the recent developments in the Twitter developer ecosystem, I think it's a good time to revisit the idea of an open Web alternative to Twitter.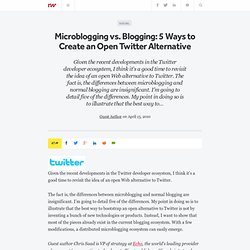 The fact is, the differences between microblogging and normal blogging are insignificant. I'm going to detail five of the differences. My point in doing so is to illustrate that the best way to bootstrap an open alternative to Twitter is not by inventing a bunch of new technologies or products. Instead, I want to show that most of the pieces already exist in the current blogging ecosystem. With a few modifications, a distributed microblogging ecosystem can easily emerge. Open Source Twitter Alternative StatusNet Releases iPhone App. The open source microblogging service StatusNet - the power behind identi.ca - announced today the release of its iPhone app.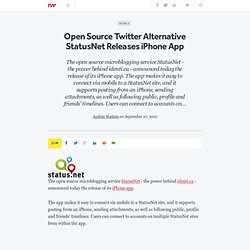 The app makes it easy to connect via mobile to a StatusNet site, and it supports posting from an iPhone, sending attachments, as well as following public, profile and friends' timelines. Users can connect to accounts on multiple StatusNet sites from within the app. The iPhone app joins the company's Android and desktop offerings. StatusNet. Any.IO - Twitter and Identi.ca through finger or DNS.
---
p45c4l Nov 20 2011

Hello, thanks for joining this tree!
---