Open space
The multiple award winning OpenSpace-Online® Real-Time Meeting Technology is making a valuable contribution to shared creation of the future in society, economics, politics, research, health-care and education around the globe. This worldwide unique social group software is an effective tool to help develop internal capacity to lead and thrive while facing new challenges and constant changes. The simplicity of use and ability to self-organize supports the endless dynamic processes of learning and innovation. It is a valuable meeting and conferencing tool on its own or when used to complement or supplement other of face-to-face and online communication activities.
OpenSpace-Online® Real-Time Conference Software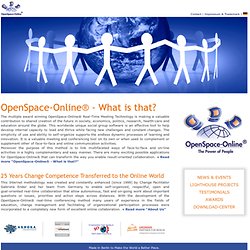 Open Space Technology (OST) is an approach to purpose based leadership,[1] including a way for hosting meetings, conferences, corporate-style retreats, symposiums, and community summit events, focused on a specific and important purpose or task—but beginning without any formal agenda, beyond the overall purpose or theme. Self-organization[edit] Highly scalable and adaptable, OST event format has been used in meetings of 5 to 2,100 people (in self discovery work for smaller groups down to one person[2]).
Open Space Technology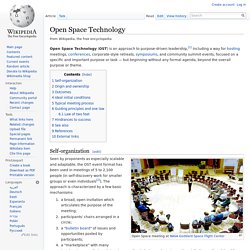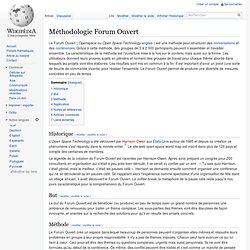 Méthodologie open space
Un article de Wikipédia, l'encyclopédie libre. Le Forum Ouvert ( Openspace ou Open Space Technology anglais ) est une méthode pour structurer des conversations et des conférences. Grâce à cette méthode, des groupes de 5 à 2 000 participants peuvent s'assembler et travailler ensemble.