Open Innovation
Amazon Mechanical Turk - Welcome. A Rich Media Site For the Acceleration Of Innovation. MMC Productions Inc is a media communications and production services Company that helps businesses identify, create and execute integrated multiplatform marketing and media programming.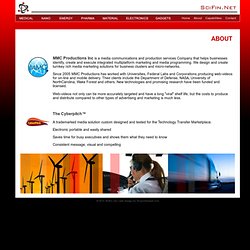 We design and create turnkey rich media marketing solutions for business clusters and micro-networks. Since 2005 MMC Productions has worked with Universities, Federal Labs and Corporations producing web-videos for on-line and mobile delivery. Ontology Engineering Group. Data.gov. Data.gov.uk | Opening up government. The Linking Open Data cloud diagram. Red Temática - Welcom. The Spanish thematic network of Linked Data was created in January, 2011 with the aim of facilitating the exchange and transfer of knowledge in the area of Linked Data between Spanish research groups associated to universities, technology centers, public administrations and companies.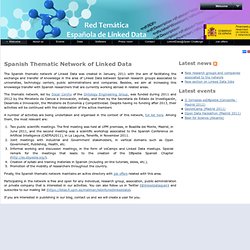 Besides, we aim at increasing this knowledge transfer with Spanish researchers that are currently working abroad in related areas. The thematic network, led by Oscar Corcho of the Ontology Engineering Group, was funded during 2011 and 2012 by the Ministerio de Ciencia e Innovación, initially, and then by the Secretaría de Estado de Investigación, Desarrollo e Innovación, the Ministerio de Economía y Competitividad. Despite having no funding after 2013, their activities will be continued with the collaboration of the active members A number of activities are being undertaken and organised in the context of this network, full list here.
Among them, the most relevant are: Introduces Novel Molecule Challenge. WALTHAM, MA - January 25, 2011 - InnoCentive, the global leader in Challenge Driven Innovation, today announced the launch of a new Challenge offering, the Novel Molecule Challenge (NMC).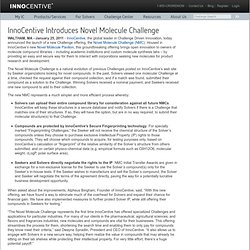 Housed in InnoCentive's new Novel Molecule Pavilion, this groundbreaking offering brings open innovation to owners of molecule compound libraries – including academic institutions and custom molecule synthesis labs – by providing an easy and secure way for them to interact with corporations seeking new molecules for product research and development. The Novel Molecule Challenge is a natural evolution of previous Challenges posted on InnoCentive's web site by Seeker organizations looking for novel compounds. In the past, Solvers viewed one molecular Challenge at a time, checked the request against their compound collection, and if a match was found, submitted their compound as a solution to the Challenge. How to Approach Open Innovation: The 15inno Open Innovation Roadmap. As we can define open innovation in many ways, there are also many different approaches to open innovation.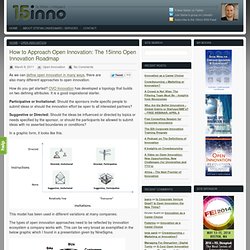 How do you get started? OVO Innovation has developed a topology that builds on two defining attributes. It is a good inspirational starter. Participative or Invitational: Should the sponsors invite specific people to submit ideas or should the innovation effort be open to all interested partners? Los 57 libros imprescindibles para entender la innovación abierta. Why Big Companies Need Small Companies in their Open Innovation Ecosystem. Corporations that are taking the lead in open innovation are hoping to gain an advantage over their competitors as they will get access to a more diverse inflow of opportunities, which can lead to faster and better innovation.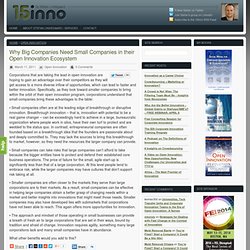 Specifically, as they look toward smaller companies to bring within the orbit of their open innovation program, corporations understand that small companies bring these advantages to the table: • Small companies often are at the leading edge of breakthrough or disruptive innovation. Breakthrough innovation – that is, innovation with potential to be a real game changer – can be exceedingly hard to achieve in a large, bureaucratic organization where people work in silos, have their own turf to protect and are wedded to the status quo. In contrast, entrepreneurial companies are often founded based on a breakthrough idea that the founders are passionate about and deeply committed to. General Mills OpenInnovation. Beyond our walls, innovators like you might have just what we need to bring healthy and flavorful food to the world.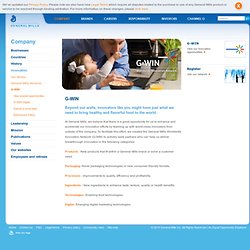 At General Mills, we believe that there is a great opportunity for us to enhance and accelerate our innovation efforts by teaming up with world-class innovators from outside of the company. To facilitate this effort, we created the General Mills Worldwide Innovation Network (G-WIN) to actively seek partners who can help us deliver breakthrough innovation in the following categories: Products - New products that fit within a General Mills brand or solve a customer need. Packaging- Novel packaging technologies or new, consumer-friendly formats.
Processes - Improvements to quality, efficiency and profitability. LG Collaborate & Innovate Portal. P&G Connect + Develop - Portal Home. OVO | Innovation Services. Virtual research Environments (VREs)
Open Planet Ideas - How can today's technology help us make the most of our planet's resources? - Final concept - greenbook-
---