OERU
Towards an OER university: Free learning for all students worldwide. From WikiEducator Media Release: Open Education Resource (OER) Foundation / UNESCO Office for Pacific States Pre-meeting SCOPE Seminar for the OER university. 16 February to 2 March 2011 - BCcampus and share the news.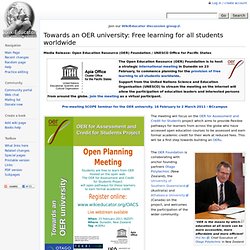 OER university. From WikiEducator The OER university is a virtual collaboration of like-minded institutions committed to creating flexible pathways for OER learners to gain formal academic credit.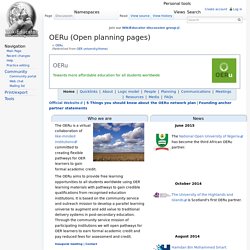 The OER university aims to provide free learning to all students worldwide using OER learning materials with pathways to gain credible qualifications from recognised education institutions. It is rooted in the community service and outreach mission to develop a parallel learning universe to augment and add value to traditional delivery systems in post-secondary education. Through the community service mission of participating institutions we will open pathways for OER learners to earn formal academic credit and pay reduced fees for assessment and credit.
Directed by the core principles of engagement the OER university collaboration: Information pack for new OERTen members. From WikiEducator About the OER Tertiary Education Network (OERTen) The OER Tertiary Education Network (OERTen) is an international innovation partnership of accredited universities, colleges and polytechnics collaborating on the implementation of the OER university concept.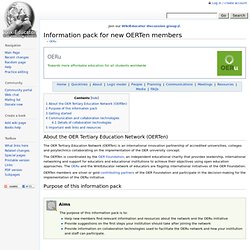 The OERTen is coordinated by the OER Foundation, an independent educational charity that provides leadership, international networking and support for educators and educational institutions to achieve their objectives using open education approaches. The OERu and the WikiEducator network of educators are flagship international initiatives of the OER Foundation.
---