Open Education
We're seeing some steady progress with the new course participants getting comfy with using their blogs, with some great work being done already. Hats off to Jenny Rudd for some outstanding work so far. Not to set the standard or anything, just acknowledging work above and beyond the expectation levels of this course. Thanks Jen. Now that many of us appear to be ready to role, it must be time we got cracking with the course proper. Its time we started looking at examples of flexible learning.. we will spend 20 April to 10 May looking at these.
Panel discussion about examples of flexible learning - 30 April 2-4pm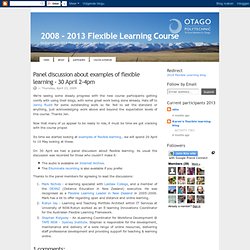 Spotlight on E-Learning
Education Week's Spotlight on E-Learning brings together a collection of articles hand-picked by our editors for their insights on: Understanding different models of online learningChoosing the right e-learning companyIncreasing access and equity in digital learningHow elementary schools incorporate e-learningParental involvement in online educationWhat works best for classrooms that blend face-to-face and virtual learningNew standards outlining online-course design Elementary school online students need remediation or acceleration at junctures in their development some say are more crucial than any in high school. January 7, 2011 - Education Week Distinguishing between the wide variety of virtual schools and online-learning programs available involves understanding the type of operational control. April 23, 2010 - Education Week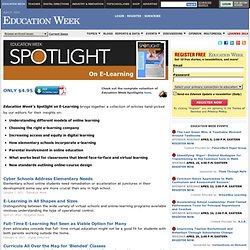 Free Textbooks and Lecture Notes 21st Century Learning Products Books and Video Lectures Academic Earth -- many video lectures from the world's top scholars on many subjects Accounting Books-- an extensive collect Accounting for Managers has many concise booklets with exercises Accounting Practice Sets -- one designed for a pencil and two designed for software. Accounting Test Review Notes is a 48 page, seven tests reviews of Accounting I and II. Accounting Tests with Answers help you prepare for tests.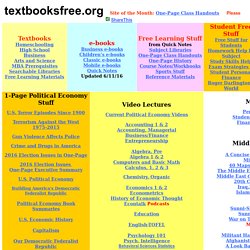 The Cape Town Open Education Declaration arises from a small but lively meeting convened in Cape Town in September 2007. The aim of this meeting was to accelerate efforts to promote open resources, technology and teaching practices in education. Convened by the Open Society Institute and the Shuttleworth Foundation, the meeting gathered participants with many points of view from many nations. This group discussed ways to broaden and deepen their open education efforts by working together.
1:1 Open Educational Resources - paulbmckenzie - Gmail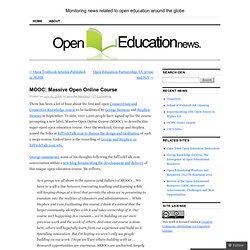 There has been a lot of buzz about the free and open Connectivism and Connective Knowledge course to be facilitated by George Siemens and Stephen Downes in September. To date, over 1,200 people have signed up for the course prompting a new label, Massive Open Online Course (MOOC), to describe this super-sized open education course. Over the weekend, George and Stephen joined the folks at EdTechTalk.com to discuss the design and facilitation of such a mega-course. Linked here is the recording of George and Stephen on EdTechTalk.com #81.
OER university
WSIS Platform of Communities: Open Educational Resources (OER)
E-language - Journals
50 Excellent Open Courses on Teaching With Technology | Mr. Walker's Technology Blog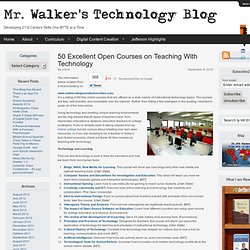 The information below is taken from a recent posting on www.onlinecollegesanduniversities.com. It is a listing of 50 free online courses that are offered on a wide variety of instructional technology topics. The courses are free, self-directed, and accessible over the internet. Rather then listing a few examples in this posting I decided to paste all of the links below. Using technology and creating unique learning environments are two big dreams that all types of teachers have, from elementary educators to distance education teachers to college professors. If you're already used to taking classes from an online college but are curious about creating your own open resources, or if you are studying to be a teacher in today's tech-fueled economy, check out these 50 free courses on teaching with technology.
Destination ImagiNation - Home Page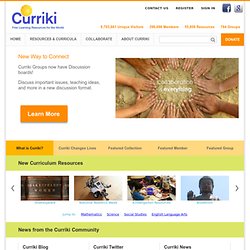 Donate There are a lots of ways to get involved with Curriki from contributing resources to sponsoring content. Curriki's non-profit Tax ID # is 203478467. You can also help us with tax deductible donations: Volunteer If you are looking for meaningful volunteer opportunities, we would love to hear from you. We need educators to help curate content, organize educational collections and rate our resources. Please click the button below and fill out the contact form and we will follow up with you right away.
Featured Overstreams
Electronic Textbooks | News Student Research: Can Googling Replace $168 Intro to Psych Textbook? By Dian Schaffhauser02/16/11 Students are taking the battle against high-priced textbooks into their own hands. This week, 11 University of Cincinnati seniors in the psychology program presented at an Educause event a comparison of the content of traditional college texts, one of which costs $168, to content they found for free on the Web. The research effort was undertaken as part of the Digital Bookshelf Project, the University System of Ohio's effort to make textbooks more affordable.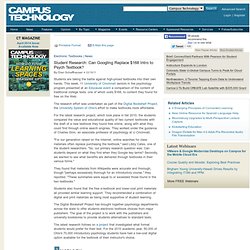 Student Research: Can Googling Replace $168 Intro to Psych Textbook?
Live On-line Events
Open education is a collective term[1] to describe institutional practices and programmatic initiatives that broaden access to the learning and training traditionally offered through formal education systems. The qualifier "open" of open education refers to the elimination of barriers that can preclude both opportunities and recognition for participation in institution-based learning. One aspect of openness in or "opening up" education is the development and adoption of open educational resources.
Open education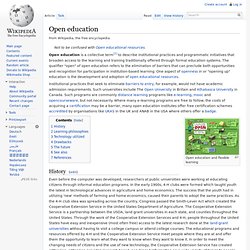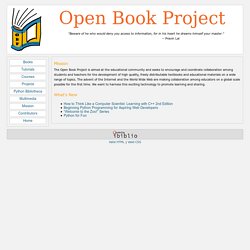 Mission The Open Book Project is aimed at the educational community and seeks to encourage and coordinate collaboration among students and teachers for the development of high quality, freely distributable textbooks and educational materials on a wide range of topics. The advent of the Internet and the World Wide Web are making collaboration among educators on a global scale possible for the first time. We want to harness this exciting technology to promote learning and sharing. What's New
Sophia was created with a vision of transforming education through a vibrant online community of teachers and learners. Our goal is to provide self­-paced, inspirational and relevant curriculum to learners of all stages and ages. To achieve our vision, we've built a customizable education platform that offers more than 37,000 academic tutorials.