Data Tools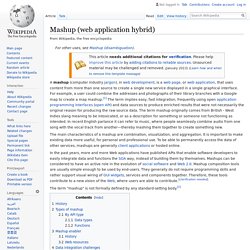 A mashup , in web development , is a web page , or web application , that uses and combines data , presentation or functionality from two or more sources to create new services. The term implies easy, fast integration, frequently using open application programming interfaces (API) and data sources to produce enriched results that were not necessarily the original reason for producing the raw source data. The main characteristics of a mashup are combination, visualization, and aggregation.
Mashup (web application hybrid)
Usability Review of Mashup Tools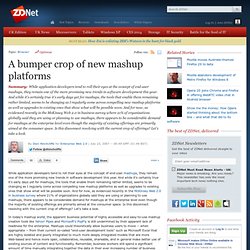 While application developers tend to roll their eyes at the concept of end-user mashups , they remain one of the more promising new trends in software development this year.
A bumper crop of new mashup platforms
Un article de Wikipédia, l'encyclopédie libre. Pour les articles homonymes, voir API . Une interface de programmation ( Application Programming Interface ou API ) est une interface fournie par un programme informatique. Elle permet l'interaction des programmes les uns avec les autres, de manière analogue à une interface homme-machine , qui rend possible l'interaction entre un homme et une machine. Du point de vue technique, une API est un ensemble de fonctions, procédures ou classes mises à disposition par une bibliothèque logicielle , un système d'exploitation ou un service. La connaissance des API est indispensable à l' interopérabilité entre les composants logiciels.
Les informations publiques, ou données ouvertes ( open data ), sont aujourd'hui - en termes de potentiel, d'opportunités et d'enjeu - au cœur du développement de multiples innovations sociales et économiques grâce à leur mise en ligne par l'administration et les collectivités territoriales.
Les informations publiques (open data) accessibles par une approche API – 1ère partie - OGDI (Open Government Data Initiative) France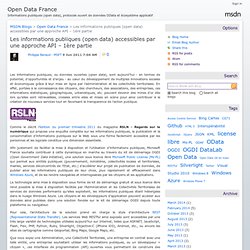 rslnmag.pdf
Cloud
TED - Open Data Talk (Tim Berners Lee)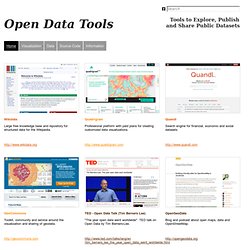 Open Data Tools - Tools Data