Big Data
Get flash to fully experience Pearltrees
We've all heard it: according to Hal Varian, statistics is the next sexy job . Five years ago, in What is Web 2.0 , Tim O'Reilly said that "data is the next Intel Inside." But what does that statement mean? Why do we suddenly care about statistics and about data?
The interest on big data and open data is understandably growing all over the world. The combination of several technology innovations, in areas like social media, cloud computing, analytics, offer scenarios that we could hardly imagine in the past. And the trend toward greater transparency and openness that is being championed by many governments and NGOs is almost creating a "perfect storm" around the ability to extract wealth from the growing masses of data that are freely available over the Internet. It is not just about data that was previously kept behind boundaries and that governments are liberating through their various "data.gov" initiatives. It is also about new data that is generated through idea contests, online dialogues, social games, photo and video sharing sites, webcasts and webcams, and the likes.
This is a written follow-up to a talk presented at a recent Strata online event . A new breed of startup is emerging, built to take advantage of the rising tides of data across a variety of verticals and the maturing ecosystem of tools for its large-scale analysis. These are data startups, and they are the sumo wrestlers on the startup stage. The weight of data is a source of their competitive advantage. But like their sumo mentors, size alone is not enough.
01net le 12/07/11 à 16h05 A en croire certains, les organisations seraient assises sur des montagnes d'informations dont l'analyse et le croisement produirait une richesse, à ce jour impalpable.
01Business le 07/07/11 à 09h33 C'est un marché particulièrement prometteur, une nouvelle ruée vers l'or.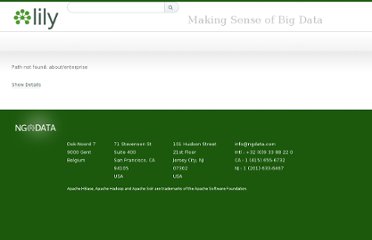 Path not found: about/enterprise Hide Details Cocoon Stack Trace Message: Path not found: about/enterprise
STAMFORD, Conn., June 27, 2011 View All Press Releases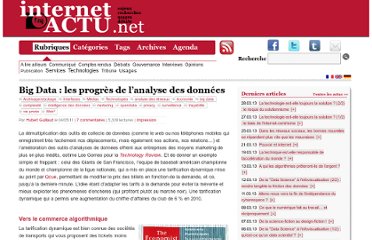 Par Hubert Guillaud le 04/05/11 | 7 commentaires | 5,339 lectures | Impression La démultiplication des outils de collecte de données (comme le web ou nos téléphones mobiles qui enregistrent très facilement nos déplacements, mais également nos actions, nos relations…) et l'amélioration des outils d'analyses de données offrent aux entreprises des moyens marketing de plus en plus inédits, estime Lee Gomes pour la Technology Review . Et de donner un exemple simple et frappant : celui des Giants de San Francisco, l'équipe de baseball américain championne du monde et championne de la ligue nationale, qui a mis en place une tarification dynamique mise au point par Qcue , permettant de modifier le prix des billets en fonction de la demande, et ce, jusqu'à la dernière minute.