OPDS...
Hi & welcome, nice to see lots of picks & request...
The OPDS open library is near dead (in dropbox)...
I've separate the original tree so it will stay safe...active member & good curator will be added after bringing nice pearls (& learn how to use pearltree)...
Let's use this space for a greater good...
Some ideas ?

opds + dropbox c'est (presque) fini...
Utilisons cet espace pour un plus grand bien...
Des idées ? noosquest Oct 21
Biblio verifiées régulièrement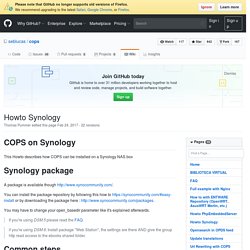 COPS on Synology This Howto describes how COPS can be installed on a Synology NAS box. This installation was made on a bootstrapped DS212+ with telnet access. But the bootstrapping and telnet access in itself should not be necessary to get a successful COPS install. This Howto is not describing howto gain telnet access of howto bootstrap your Synology.
Howto Synology · seblucas/cops Wiki
COPS sur un NAS Synology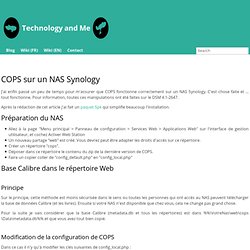 J'ai enfin passé un peu de temps pour m'assurer que COPS fonctionne correctement sur un NAS Synology. C'est chose faite et … tout fonctionne. Pour information, toutes ces manipulations ont été faites sur le DSM 4.1-2647.