Online Services
Best content in Syndication Tools and Info. Tvinx :: News Lighthouse (english) Free SMS text, images, jokes, videos to your friends in India. Profile from Reid Douthat <ReidD72> Overview for NotoriousRe_i_d. Transferr. What is Transferr?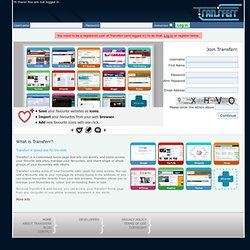 Transferr is speed-dial for the web. Transferr is a customised home page that lets you quickly and easily access your favorite web sites, manage your favourites, and share single or whole groups of your favourites with others. Transferr creates icons of your favourite sites ready for easy access. Cloud Computing Services.
Following
Misc Online Service. Go2web20 | Online tools and Applications ***Best SOurce for New Services*** Chrome - Pearltrees Web App. Pearltrees. Pearltrees. Document Mgt. Payment Systems. Invoicing.
---