Online Services
Best content in Syndication Tools and Info
News | Social NetworksLocations | Offers More than 1 billion people are on the Internet. All of them can become News Reporters and Reviewers.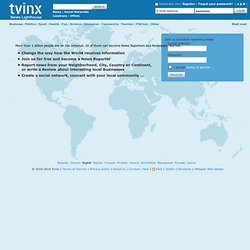 Tvinx :: News Lighthouse (english)
Free SMS text, images, jokes, videos to your friends in India
Profile from Reid Douthat <ReidD72>
overview for NotoriousRe_i_d
What is Transferr? Transferr is speed-dial for the web. Transferr is a customised home page that lets you quickly and easily access your favorite web sites, manage your favourites, and share single or whole groups of your favourites with others. Transferr creates icons of your favourite sites ready for easy access.
Transferr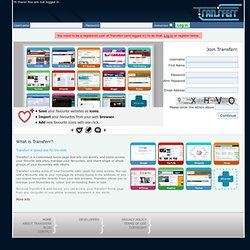 fontpro.com Font Pro - is a free fonts database with awesome typeface testing tool. It provides more than 20,000 free fonts and web fonts. Font Pro has made the process of searching fonts, previewing fonts, collecting fonts, to discovering new font combinations super easy and awesome. This tool can save hours of design time every week. You can start a new project with a blank canvas, and get some pretty detail options in minutes. Chrome - Pearltrees Web App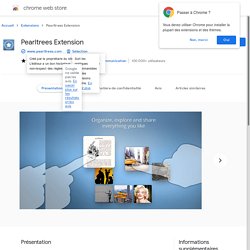 Pearltrees permet de collectionner, d'organiser et de partager tout ce que vous aimez sur le web. Pearltrees est un moyen gratuit et amusant d'organiser vos pages web, fichiers, photos et notes afin de les retrouver et de les partager partout, très facilement. Profitez de la communauté Pearltrees pour découvrir des nouveautés au coeur de vos intérêts et enrichir votre compte.
Pearltrees
Sprint [Mobile Phone Povider]