Video Surveillance
The day when you'll be able to hold up your phone and identify a stranger through a viewfinder is getting closer. Google's Goggles, a mobile app for visual search, has a facial recognition version unreleased to the public, while Israeli startup Face.com's technology can tag people's faces in Facebook photos. Facebook even released a basic version of face detection last night, although it doesn't have recognition. So in a world where technology chips away at our ability to remain anonymous, how does one reclaim some semblance of control? It turns out there's actually a pretty simple way around the facial recognition technology available in the market today, according to Adam Harvey, a graduate student at NYU's ITP (the same program that produced Foursquare chief executive Dennis Crowley and that Twitter's location guru Raffi Krikorian taught at).
In Iraq and Afghanistan, the U.S. military depends on an array of drones to snoop on and stalk insurgents. Now it looks as if insurgents are tapping into those same drones' broadcasts, to see what the flying robot spies see. If true — and widespread — it's potentially one of the most serious military security breaches in years.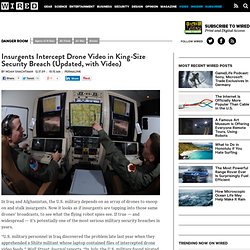 Insurgents Intercept Drone Video in King-Size Security Breach (Updated, with Video) | Danger Room
1973 NSA cryptography lectures
Hist_US_COMSEC_Boak_NSA_1973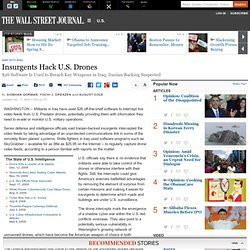 Insurgents Hack U.S. Drones
Updated Dec. 17, 2009 11:59 p.m. ET WASHINGTON -- Militants in Iraq have used $26 off-the-shelf software to intercept live video feeds from U.S. Predator drones, potentially providing them with information they need to evade or monitor U.S. military operations.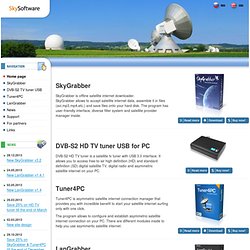 SkyGrabber SkyGrabber is offline satellite internet downloader.SkyGrabber allows to accept satellite internet data, assemble it in files (avi,mp3,mp4,etc.) and save files onto your hard disk. The program has user-friendly interface, diverse filter system and satellite provider manager inside. DVB-S2 HD TV tuner USB for PC
Official site for programs SkyGrabber (accepting free to air satellite data by digital satellite TV tuner card (DVB-S/DVB-S2)), LanGrabber (save YouTube video), Tuner4PC (software for satellite internet)
Technical explanation of Predator drone hack published Boing Boing