Online Assessment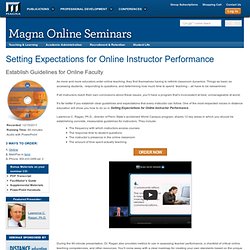 As more and more educators enter online teaching, they find themselves having to rethink classroom dynamics. Things as basic as accessing students, responding to questions, and determining how much time to spend teaching – all have to be reexamined. If all instructors reach their own conclusions about these issues, you'll have a program that's inconsistent at best, unmanageable at worst. It's far better if you establish clear guidelines and expectations that every instructor can follow. One of the most respected voices in distance education will show you how to do so in Setting Expectations for Online Instructor Performance.
Setting Expectations for Online Instructor Performance - Magna Publications
Penn State | Online Degrees, Online Courses, and Online Certificates offered by Penn State
Online success depends on learning style
This site is designed to answer the question being asked: What does a high quality online course look like? It is ourhope that instructors and instructional designers will use this site to learn more about the Rubric for Online Instruction, and be able to view examples of exemplary courses that instructors have done in implementing the different components of the rubric. Rubric for Online Instruction by California State University, Chico is licensed under a Creative Commons Attribution 3.0 United States License.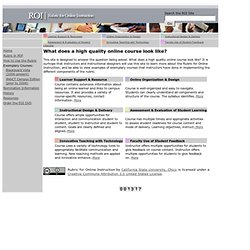 Rubric for Online Instruction