ONLINE CV
All kinds of online profiles or cvs in order to enhance your visibility on the internet.
25 Awe-Inspiring CV Designs. Advertisement An creative CV does not promise your dream job, but it certainly assures attention to your profile.
HR professionals scan through hundred of CVs everyday and Creative CVs break the monotony of the old same A4 size paper Resumes. 6 wickedly creative job applications in the digital age - TNW Social Media. As the job market becomes increasingly competitive, there are ever more random lengths people will go to in order to secure a job or even get noticed by potential employers.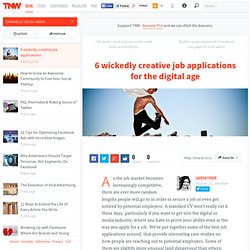 A standard CV won't really cut it these days, particularly if you want to get into the digital or media industry, where you have to prove your ability even in the way you apply for a job. We've put together some of the best job applications around, that provide interesting case studies on how people are reaching out to potential employers. Some of them are slightly more unusual (and dangerous) than others, but nonetheless inspiring and show the huge amount of untapped talent out there. There there may be some methods for acquiring jobs that we don't recommend you follow – with Facebook's recent hire of the Sony & Apple hacker being one of them (Please don't do that to get a job), so check out some of the more ethical routes to acquire a job below: 1. Zerply. Kinzaa.
Electronic portfolio. An electronic portfolio (also known as an eportfolio, e-portfolio, digital portfolio, or online portfolio[1]) is a collection of electronic evidence assembled and managed by a user, usually on the Web.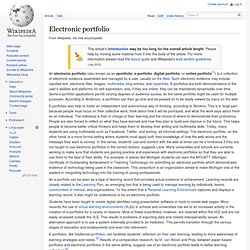 Such electronic evidence may include inputted text, electronic files, images, multimedia, blog entries, and hyperlinks. E-portfolios are both demonstrations of the user's abilities and platforms for self-expression, and, if they are online, they can be maintained dynamically over time. Some e-portfolio applications permit varying degrees of audience access, so the same portfolio might be used for multiple purposes. Part 1: How to Set up your Googlio - Tutorial Screencast.
Enthuse.me - create an elegant profile to showcase your expertise. Broadcast Yourself. Presentation Software | Online Presentation Tools | Web Presentations | SlideRocket. VUVOX - slideshows, photo, video and music sharing, Myspace codes.
About.me. BriteTab. Flavors.me : The Digital You. ResumUP.com | Know what it takes. Re.vu. RezScore -- Grade Your Resume. VisualCV • Get a better resume, online.
---