Ukoer pilot phase
Limitations of using WordPress as an aggregator Part of the Triton Project was to develop "Dynamic collections". The idea driving this was to develop collections of open educational resources around certain topics. Initially developments involved using the Jorum Widget, the OER Recommender Widget, and an RSS Widget modified slightly so as to use Xpert's RSS Search feature. At the CETIS OER Hack Day in March this plugin was extended to allow multiple OER RSS feeds to be aggregated (although this code only ran as part of the page – what WordPress calls a "widget") it could not be the page's content itself.
'Here be dragons' – Journeys to the edge of WordPress with OER content | OpenSpires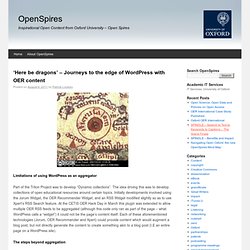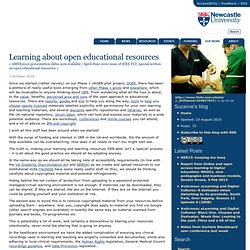 Learning about open educational resources - Higher Education Academy Subject Centre for Medicine, Dentistry and Veterinary Medicine (MEDEV)
Since we started (rather naively) on our Phase 1 UKOER pilot project, OOER, there has been a plethora of really useful tools emerging from other Phase 1 pilots and elsewhere, which will be invaluable to anyone thinking about OER.
stemoer / STEM OER Guidance Wiki