Ukoer pilot phase
Limitations of using WordPress as an aggregator Part of the Triton Project was to develop "Dynamic collections". The idea driving this was to develop collections of open educational resources around certain topics. Initially developments involved using the Jorum Widget, the OER Recommender Widget, and an RSS Widget modified slightly so as to use Xpert's RSS Search feature. At the CETIS OER Hack Day in March this plugin was extended to allow multiple OER RSS feeds to be aggregated (although this code only ran as part of the page – what WordPress calls a "widget") it could not be the page's content itself.
'Here be dragons' – Journeys to the edge of WordPress with OER content | OpenSpires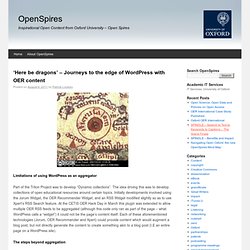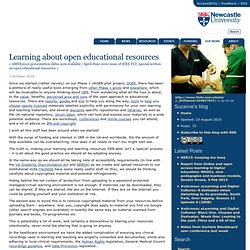 Learning about open educational resources - Higher Education Academy Subject Centre for Medicine, Dentistry and Veterinary Medicine (MEDEV)
Since we started (rather naively) on our Phase 1 UKOER pilot project, OOER, there has been a plethora of really useful tools emerging from other Phase 1 pilots and elsewhere, which will be invaluable to anyone thinking about OER. From wondering what all the fuss is about, to the value, benefits, perceived pros and cons of the open approach to educational resources. There are reports, guides and kits to help you along the way, tools to help you choose openly licenced materials labelled explicitly with permissions for your own learning and teaching materials, and several disciplne specific repositories and libraries, as well as the UK national repository, Jorum Open, which can host and expose your materials to a wide potential audience. There are workshops, conferences and online courses you can attend, and a lot of advice on IPR and copyright.
stemoer / STEM OER Guidance Wiki
This work constitutes a collection of guidance documents on all aspects of Open Educational Resources (OER) prepared by the STEM project teams from a number of Higher Education Academy/JISC OER pilot projects. These projects ran from May 2009 to April 2010, and this guidance is based on the teams' combined experiences working with practising academics over that time, to explore the issues surrounding OER production and release. Though prepared by STEM subject centres, we believe the information here is suitable for all disciplines. OER Guidance Documents There is also a release checklist for you to use before you release your resources as OER.