Finding oers
The hunting of the OER. "As internet resources are being moved, they can no longer be traced."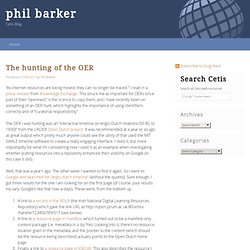 I read in a press release from Knowledge Exchange. This struck me as important for OERs since part of their "openness" is the licence to copy them, and I have recently been on something of an OER hunt, which highlights the importance of using identifiers correctly and of "curatorial responsibility". The OER I was hunting was an "Interactive timeline on Anglo-Dutch relations (50 BC to 1830)" from the UKOER Open Dutch project. Resource discovery revisited... ...revisited for me that is!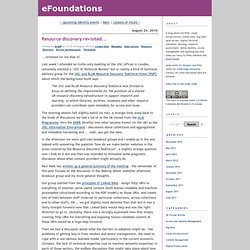 Last week I attended an invite-only meeting at the JISC offices in London, notionally entitled a "JISC IE Technical Review" but in reality a kind of technical advisory group for the JISC and RLUK Resource Discovery Taskforce Vision [PDF], about which the background blurb says: The JISC and RLUK Resource Discovery Taskforce was formed to focus on defining the requirements for the provision of a shared UK resource discovery infrastructure to support research and learning, to which libraries, archives, museums and other resource providers can contribute open metadata for access and reuse.
The morning session felt slightly weird (to me), a strange time-warp back to the kinds of discussions we had a lot of as the UK moved from the eLib Programme, thru the DNER (briefly) into what became known (in the UK) as the JISC Information Environment - discussions about collections and aggregations and metadata harvesting and ... well, you get the idea. Xpert labs. Xpert contains metadata and resources for almost 150,000 learning objects from over 8000 providers.
This data is not only of benefit when running the xpert system, but also to other users and service providers. As part of the "Open Nottingham" strategy (a combination of the Xpert, Xpert Media Search and Attribution, BERLiN, U-Now, Xerte, iTunesU, Youtube EDU and Second Life) we have devised, the Xpert Team have taken steps to start to provide data and services to other repositories and interested parties. Some of the services we have developed are listed below. We are keen to liaise with people regarding how they would like to use Xpert and what data / services they would find useful. These service are recently developed and so should be considered in beta. DiscoverEd: DiscoverEd is a search prototype developed by Creative Commons to explore metadata enhanced search, specifically for OER.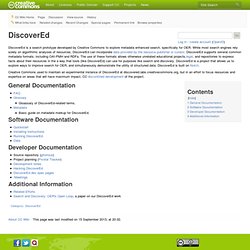 While most search engines rely solely on algorithmic analyses of resources, DiscoverEd can incorporate data provided by the resource publisher or curator. DiscoverEd supports several common metadata formats, including OAI-PMH and RDFa. The use of these formats allows otherwise unrelated educational projects,legal, and repositories to express facts about their resources in the a way that tools (like DiscoverEd) can use for purposes like search and discovery.
---