Occupy
The Occupy Movement visualized. samseed Feb 2
Market fundamentalism (also known as free market fundamentalism) is a pejorative term applied to a strong belief in the ability of laissez-faire or free market economy views or policies to solve economic and social problems.[1] Critics of free market economy have used the term to denote what they perceive as a misguided belief, or deliberate deception, that free markets provide the greatest possible equity and prosperity,[2] and that any interference with the market process decreases social well being. Users of the term include adherents of interventionist, mixed economy and protectionist positions,[3] as well as billionaires such as George Soros,[4] and economists such as Nobel Laureates Joseph Stiglitz[5] and Paul Krugman.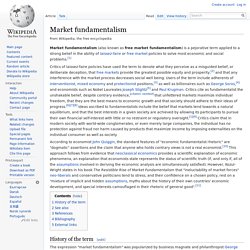 Market Fundamentalism
Failure A
B
Crony Capitalism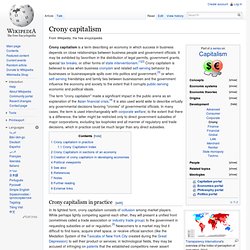 Crony capitalism is a term describing an economy in which success in business depends on close relationships between business people and government officials. It may be exhibited by favoritism in the distribution of legal permits, government grants, special tax breaks, or other forms of state interventionism.[1][2] Crony capitalism is believed to arise when business cronyism and related self-serving behavior by businesses or businesspeople spills over into politics and government,[3] or when self-serving friendships and family ties between businessmen and the government influence the economy and society to the extent that it corrupts public-serving economic and political ideals. The term "crony capitalism" made a significant impact in the public arena as an explanation of the Asian financial crisis.[4] It is also used world wide to describe virtually any governmental decisions favoring "cronies" of governmental officials.
Learn A
Learn B
Neoliberalism is a political philosophy whose advocates support economic liberalizations, free trade and open markets, privatization, deregulation, and enhancing the role of the private sector in modern society.[1][2][3] Neoliberalism was an economic philosophy that emerged among European liberal scholars in the 1930s attempting to trace a so-called 'Third' or 'Middle Way' between the conflicting philosophies of classical liberalism and collectivist central planning.[4] The impetus for this development arose from a desire to avoid repeating the economic failures of the early 1930s which conventional wisdom of the time tended to blame on unfettered capitalism. In the decades that followed, neoliberal theory tended to be at variance with the more laissez-faire doctrine of classical liberalism and promoted instead a market economy under the guidance and rules of a strong state, a model which came to be known as the social market economy.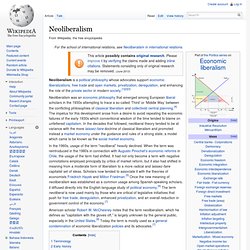 Learn A
Learn B
Learn A
Learn A
Learn B
Learn A
Plutocracy (from Greek πλοῦτος, ploutos, meaning "wealth", and κράτος, kratos, meaning "power, dominion, rule") or plutarchy, defines a society or a system ruled and dominated by the small minority of the wealthiest citizens. The first known use of the term is 1652.[1] Unlike systems such as democracy, capitalism, socialism or anarchism, plutocracy is not rooted in an established political philosophy and has no formal advocates. The concept of plutocracy may be advocated by the wealthy classes of a society in an indirect or surreptitious fashion, though the term itself is almost always used in a pejorative sense.[2] Usage[edit]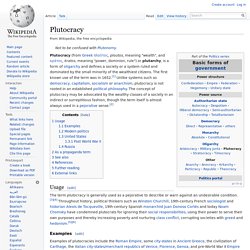 Learn A
Learn B