Occupy
The Occupy Movement visualized. samseed Feb 2
Market fundamentalism (also known as free market fundamentalism) is a pejorative term applied to a strong belief in the ability of laissez-faire or free market economy views or policies to solve economic and social problems.[1]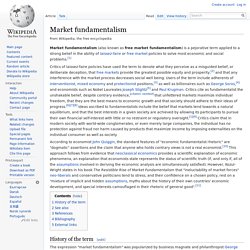 Market Fundamentalism
Failure A
B
Crony Capitalism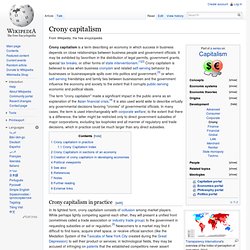 Crony capitalism is a term describing an economy in which success in business depends on close relationships between business people and government officials.
Learn A
Learn B
Neoliberalism is a political philosophy whose advocates support economic liberalizations, free trade and open markets, privatization, deregulation, and enhancing the role of the private sector in modern society.[1][2][3] Today the term is mostly used as a general condemnation of economic liberalization policies and its advocates.[4] Neoliberalism was an economic philosophy that emerged among European liberal scholars in the 1930s attempting to trace a so-called 'Third' or 'Middle Way' between the conflicting philosophies of classical liberalism and collectivist central planning.[5] The impetus for this development arose from a desire to avoid repeating the economic failures of the early 1930s which conventional wisdom of the time tended to blame on unfettered capitalism.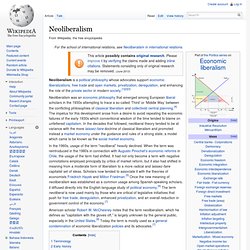 Learn A
Learn B
Learn A
Learn B
Learn A
Learn B
Learn A
Plutocracy (from Greek πλοῦτος, ploutos, meaning "wealth", and κράτος, kratos, meaning "power, dominion, rule"), also known as plutonomy or plutarchy, defines a society or a system ruled and dominated by the small minority of the wealthiest citizens.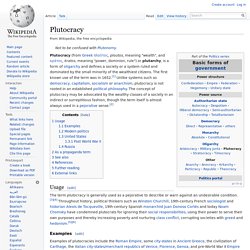 Learn A
Learn B
Failure C