Occupy
The Occupy Movement visualized. samseed Feb 2
Market fundamentalism (also known as free market fundamentalism ) is a pejorative term applied to a strong belief in the ability of laissez-faire or free market economy views or policies to solve economic and social problems. [ 1 ]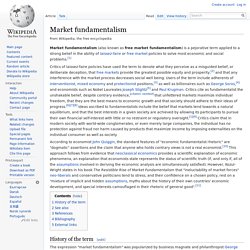 Market Fundamentalism
Failure A
B
Crony Capitalism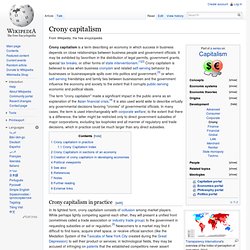 Crony capitalism is a term describing an economy in which success in business depends on close relationships between business people and government officials.
Learn A
Learn B
Neoliberalism is a political philosophy whose advocates support economic liberalization , free trade and open markets , privatization , deregulation , and decreasing the size of the public sector while increasing the role of the private sector in modern society . The term was introduced in the late thirties by European liberal scholars to promote a new form of liberalism after interest in classical liberalism had declined in Europe. In the decades that followed, neoliberal theory tended to be at variance with the more laissez-faire doctrine of classical liberalism and promoted instead a market economy under the guidance and rules of a strong state, a model which came to be known as the social market economy .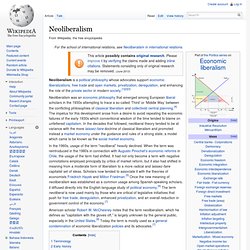 Learn A
Learn B
Economic Inequality
Learn A
Learn B
Destruction of Environment
Learn A
Learn B
Destruction of Civil Liberty
Learn A
Plutocracy (from Greek πλοῦτος , ploutos , meaning "wealth", and κράτος , kratos , meaning "power, dominion, rule"), also known as plutonomy or plutarchy , is rule by the wealthy .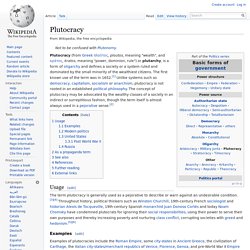 Learn A
Learn B
Failure C