Occupy Seattle Timeline
Below is the first essay which is part of a three essay series.
Deciding For Oneself: Democracy, consensus, unanimity and anarchist practice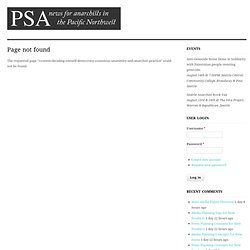 Seattle, Wa: New Years Eve Noise Demo at the Juvenile Detention Center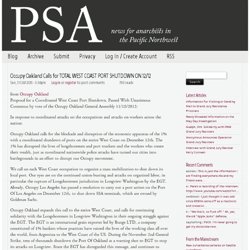 from Occupy Oakland Proposal for a Coordinated West Coast Port Shutdown, Passed With Unanimous Consensus by vote of the Occupy Oakland General Assembly 11/18/2012: In response to coordinated attacks on the occupations and attacks on workers across the nation:
Occupy Oakland Calls for TOTAL WEST COAST PORT SHUTDOWN ON 12/12
December 12th Seattle Port Shutdown: A word from some womyn & genderqueer organizers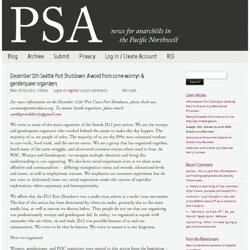 For more information on the December 12th West Coast Port Shutdown, please check out: westcoastportshutdown.org.
CSIHS Occupy Seattle 12/12/11 Port Shutdown
ILWU Pres. McEllrath: 'Prepare to take action when EGT vessel arrives' | Longshore & Shipping News
Occupy Seattle protests at port lead to skirmish, arrests
+ Enlarge this Image
Where Do They Go Now? by Eli Sanders - Seattle News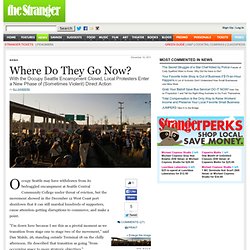 Breaking: Building indefinitely occupied in Central District, Seattle
Occupiers took a large abandoned/repossessed (bank-owned) house in the Central District today, November 19th. The building is located at 23rd & Alder across the street from Garfield High School. The banner displayed across the facade reads "Occupy Everything / No Banks / No Landlords" with a circle-A.
Vacant House Occupied in the Central District
On Saturday, November 19th, a group of about 60 people marched from the occupation at Seattle Central Community College in solidarity with Occupy Oakland and against the police repression and evictions of occupations across the country.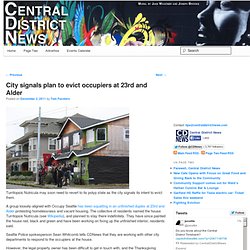 Turritopsis Nutricula may soon need to revert to its polyp state as the city signals its intent to evict them. A group loosely-aligned with Occupy Seattle has been squatting in an unfinished duplex at 23rd and Alder protesting homelessness and vacant housing. The collective of residents named the house Turritopsis Nutricula (see Wikipedia), and planned to stay there indefinitely. They have since painted the house red, black and green and have been working on fixing up the unfinished interior, residents said. Seattle Police spokesperson Sean Whitcomb tells CDNews that they are working with other city departments to respond to the occupiers at the house.
Central District News | News | City signals plan to evict occupiers at 23rd and Alder
Central District News | News | Turritopsis Nutricula ordered to leave + Arrestees in Dec 23 raid charged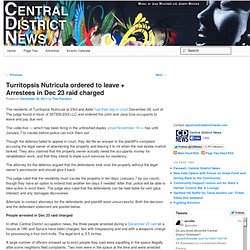 The residents of Turritopsis Nutricula at 23rd and Alder had their day in court December 28, sort of. The judge found in favor of 307309 23rd LLC and ordered the John and Jane Doe occupants to leave and pay due rent. The collective — which has been living in the unfinished duplex since November 19 — has until January 7 to vacate before police can kick them out. Though the defense failed to appear in court, they did file an answer to the plaintiff's complaint accusing the legal owner of abandoning the property and leaving it to rot when the real estate market tanked.
from King 5 News
SWAT helps evict at least 7 from squatted house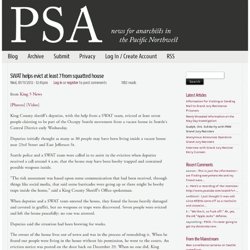 ...Wait...What?
A Somewhat Belated Introductory Communique From The Turritopsis Nutricula Collective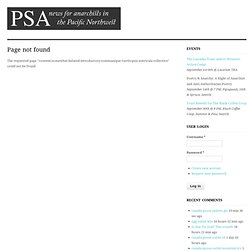 Second Communique: Introduction V. 2/Statement Of Purpose
from Turritopsis Nutricula As the Expropriation Working Group of Occupy Seattle, we, the Turritopsis Nutricula collective, AKA "Fish Clique," AKA "Jelly Squat," feel obligated to point out, dissect and respond to certain misconceptions (that our previous communique apparently didn't address as well as we'd preemptively patted ourselves on the back for) about #occupywhatever. The question has been raised whether we are "still with Occupy Seattle."
"This ability to reverse the life cycle (in response to adverse conditions) is probably unique in the animal kingdom, and allows the jellyfish to bypass death..." -Turritopsis Nutricula Wikipedia article All living things, even cells are capable of healing themselves, to some degree.
Third Communique From The Amorphous Mass That Is The Turritopsis Nutricula Collective
Informal Update On Situation In Seattle
This account is the personal reflections of one irregular resident of the Turritopsis Nutricula house and does not reflect the collective as a whole. The Turritopsis Nutricula house (named after an immortal jellyfish), located on 23rd and Alder in the Central District of Seattle, has now been in existence for a month.
Capital Hell Commune: Nazi Beatdown And Joyous Revelry
On the night of October 29th, the Occupy Seattle group moved to the campus of Seattle Central Community College. The idea of moving to the college had been circulating for over two weeks with the administration getting wind of the rumors. They immediately issued a statement saying that the occupiers would be neither welcome nor allowed to set up an encampment.
Occupier Lock Down at Chase in Solidarity with Oakland
Today some occupiers from Occupy Seattle locked down at Chase Bank on Broadway in Capitol Hill (Capital Hell!).
Seattle mayor "sorry" Occupy Seattle protesters were pepper-sprayed | Seattle Times Newspaper
Occupy Seattle Camper Miscarries After Assault By Police
slog.thestranger
State lawyers looking at how to evict Occupy Seattle from SCCC
On Drugs/Violent Drug Users In The SCCC Camp
Occupy Capitol Hill | Trustees pass emergency rule to bar Occupy camp from SCCC -- UPDATE: Lawsuit
OCCUPIED WAREHOUSE ON CAPITOL HILL!
Occupy Capitol Hill | SWAT raid, arrests as police clear occupied building
On the Capitol Hill Occupation: 8 hours of life in a dead world
Occupy Seattle Shuts Down the Stranger & the 1%s Forum
Informal Update On Occupy Seattle
Stranger publishes letter claiming coup-de-etat by 'radicals' at #OccupySeattle
Toward a Radical Strategy in Decolonize/Occupy Seattle
Communique: Bank of America Trashed in Fremont
Seattle Bank Attacked In Revenge For Occupy Oakland