Occupy Seattle Timeline
Occupy Oakland Calls for TOTAL WEST COAST PORT SHUTDOWN ON 12/12. From Occupy Oakland Proposal for a Coordinated West Coast Port Shutdown, Passed With Unanimous Consensus by vote of the Occupy Oakland General Assembly 11/18/2012: In response to coordinated attacks on the occupations and attacks on workers across the nation: Occupy Oakland calls for the blockade and disruption of the economic apparatus of the 1% with a coordinated shutdown of ports on the entire West Coast on December 12th.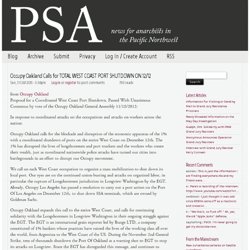 The 1% has disrupted the lives of longshoremen and port truckers and the workers who create their wealth, just as coordinated nationwide police attacks have turned our cities into battlegrounds in an effort to disrupt our Occupy movement. We call on each West Coast occupation to organize a mass mobilization to shut down its local port. Our eyes are on the continued union-busting and attacks on organized labor, in particular the rupture of Longshoremen jurisdiction in Longview Washington by the EGT. December 12th Seattle Port Shutdown: A word from some womyn & genderqueer organizers. For more information on the December 12th West Coast Port Shutdown, please check out: westcoastportshutdown.org.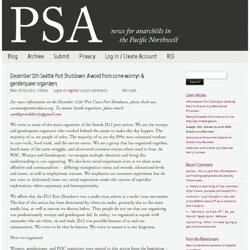 To contact Seattle organizers, please email: seattleportsolidarity@gmail.com . We write as some of the main organizers of the Seattle D12 port action. We are the womyn and genderqueer organizers who worked behind the scenes to make this day happen. The majority of us are people of color. CSIHS Occupy Seattle 12/12/11 Port Shutdown. ILWU Pres. McEllrath: 'Prepare to take action when EGT vessel arrives' | Longshore & Shipping News. Occupy Seattle protests at port lead to skirmish, arrests. The anti-Wall Street protests Monday aimed at shutting down the Port of Seattle felt eerily like a scene from Les Misérables.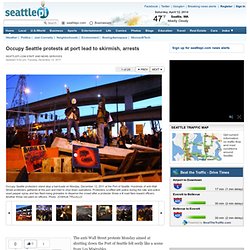 At one entrance onto Harbor Island, protesters formed a barricade by tossing wood pallets, metal and other debris into a large pile on the street, and blocked trucks and other traffic from entering. Some protesters stood atop the barricade while others swarmed around, cheering and chanting about revolution before a clash with police in which several people were arrested. Overall, 11 people were arrested during Monday's protests.
The demonstrations were otherwise peaceful, with police mostly monitoring from the sidelines. The Occupy Wall Street movement coordinated several protests Monday to shut down ports up and down the West Coast, including Portland, Oakland, Longview and Vancouver, B.C. Where Do They Go Now? by Eli Sanders - Seattle News. + Enlarge this Image Ian Buck ON THE MOVE While hundreds of protesters blocked entrances to the Port of Seattle (above), in clashes that involved everything from flares to rebar (below), the encampment at Seattle Central Community College has been mostly abandoned.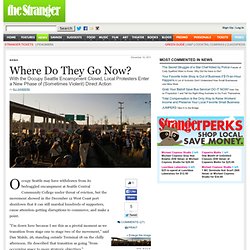 Occupy Seattle may have withdrawn from its bedraggled encampment at Seattle Central Community College under threat of eviction, but the movement showed in the December 12 West Coast port shutdown that it can still marshal hundreds of supporters, cause attention-getting disruptions to commerce, and make a point. Central District News | News | City signals plan to evict occupiers at 23rd and Alder. Turritopsis Nutricula may soon need to revert to its polyp state as the city signals its intent to evict them.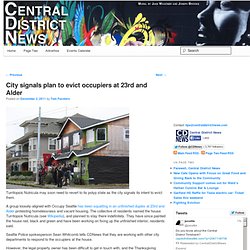 A group loosely-aligned with Occupy Seattle has been squatting in an unfinished duplex at 23rd and Alder protesting homelessness and vacant housing. The collective of residents named the house Turritopsis Nutricula (see Wikipedia), and planned to stay there indefinitely. They have since painted the house red, black and green and have been working on fixing up the unfinished interior, residents said. Seattle Police spokesperson Sean Whitcomb tells CDNews that they are working with other city departments to respond to the occupiers at the house. Central District News | News | Turritopsis Nutricula ordered to leave + Arrestees in Dec 23 raid charged. The residents of Turritopsis Nutricula at 23rd and Alder had their day in court December 28, sort of.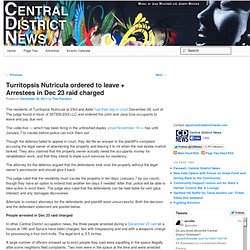 The judge found in favor of 307309 23rd LLC and ordered the John and Jane Doe occupants to leave and pay due rent. The collective — which has been living in the unfinished duplex since November 19 — has until January 7 to vacate before police can kick them out. Though the defense failed to appear in court, they did file an answer to the plaintiff's complaint accusing the legal owner of abandoning the property and leaving it to rot when the real estate market tanked. SWAT helps evict at least 7 from squatted house. From King 5 News [ Photos ] [ Video ] King County sheriff's deputies, with the help from a SWAT team, evicted at least seven people claiming to be part of the Occupy Seattle movement from a vacant house in Seattle's Central District early Wednesday.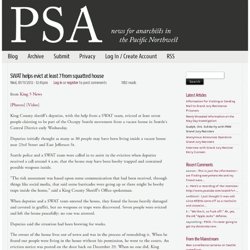 Deputies initially thought as many as 30 people may have been living inside a vacant house near 23rd Street and East Jefferson St. Seattle police and a SWAT team were called in to assist in the eviction when deputies received a call around 4 a.m. that the house may have been booby trapped and contained possible weapons inside. Second Communique: Introduction V. 2/Statement Of Purpose. From Turritopsis Nutricula As the Expropriation Working Group of Occupy Seattle, we, the Turritopsis Nutricula collective, AKA "Fish Clique," AKA "Jelly Squat," feel obligated to point out, dissect and respond to certain misconceptions (that our previous communique apparently didn't address as well as we'd preemptively patted ourselves on the back for) about #occupywhatever.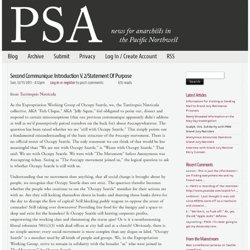 The question has been raised whether we are "still with Occupy Seattle. " Third Communique From The Amorphous Mass That Is The Turritopsis Nutricula Collective. "This ability to reverse the life cycle (in response to adverse conditions) is probably unique in the animal kingdom, and allows the jellyfish to bypass death...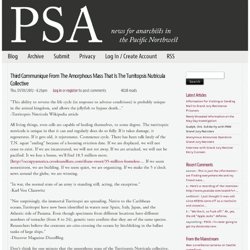 " -Turritopsis Nutricula Wikipedia article All living things, even cells are capable of healing themselves, to some degree. Capital Hell Commune: Nazi Beatdown And Joyous Revelry. On the night of October 29th, the Occupy Seattle group moved to the campus of Seattle Central Community College.
The idea of moving to the college had been circulating for over two weeks with the administration getting wind of the rumors. They immediately issued a statement saying that the occupiers would be neither welcome nor allowed to set up an encampment. Occupier Lock Down at Chase in Solidarity with Oakland. Today some occupiers from Occupy Seattle locked down at Chase Bank on Broadway in Capitol Hill (Capital Hell!). Their statement is not specifically anarchist but it speaks against capitalism, poverty, banks, and other forms of domination. They also make a clear call for total freedom as follows: Statement of the Bank Occupier of November 2, 2011 We, independent members of the Occupy Seattle movement, are occupying this Chase bank to interrupt business as usual.
Seattle mayor "sorry" Occupy Seattle protesters were pepper-sprayed | Seattle Times Newspaper. Slog.thestranger. Occupy Capitol Hill | Trustees pass emergency rule to bar Occupy camp from SCCC -- UPDATE: Lawsuit. Dr. Paul Killpatrick addresses the board (Image: CHS) In a unanimous vote Wednesday afternoon in front of a Seattle Central Community College board room overflowing with students, Occupy Seattle campers and media, the community college system's trustees voted unanimously to pass an emergency rule prohibiting camping on the Broadway campus. UPDATE: Occupy Seattle says it is filing a lawsuit to block the emergency rule.
Occupy Capitol Hill | SWAT raid, arrests as police clear occupied building. In a pre-dawn SWAT raid, police surrounded Capitol Hill's 10th and Union area and stormed a building to flush out a group inside. Earlier Friday night, members of Occupy Seattle had entered the slated-for-demolition building and said they intended to use the space as a new headquarters. Organizers said there had been at least 20 arrests. The arrested were being booked on charges of criminal trespass and included men and women, according to police. A police spokesperson said he could not yet confirm how many people were arrested but that a report would be available later Saturday.