9/26 - Day 10
Despite of the corporate media's effort to silence the protests, and Yahoo's attempt to to censor it in e-mail communication, the occupation is growing in numbers and spreading to other cities in the US and abroad. Please forward our video to likeminded people via email, facebook, twitter - and make the voices of dissent circulate. Find the latest news, learn how to participate and support: https://occupywallst.org/ This work is licensed under a Creative Commons License
Nobody Can Predict The Moment Of Revolution (#OccupyWallStreet)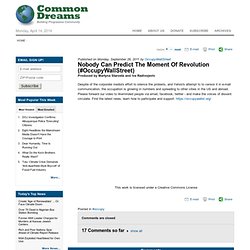 Over the weekend, my inbox exploded with angry messages from people who had just read this article (though it reads more like an op-ed) about the Occupy Wall Street protest. Ginia Bellafante gives a devastating account of the event's attendees, depicting them as scatterbrained, sometimes borderline psychotic transients. Bellafante, who is not a reporter but a critic for the offered a representation of the protesters that is as muddled as the amalgam of activists' motives she presents in the span of the article. She first claims a Joni Mitchell lookalike named Zuni Tikka is a "default ambassador" of the movement. In one of the following paragraphs, she then describes the protest as "leaderless."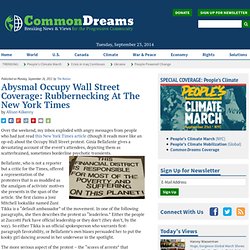 Abysmal Occupy Wall Street Coverage: Rubbernecking At The New York Times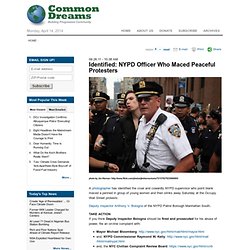 Identified: NYPD Officer Who Maced Peaceful Protesters
photo by Jim Kiernan / http://www.flickr.com/photos/jimkiernan/sets/72157627623086865/ A photographer has identified the cruel and cowardly NYPD supervisor who point blank maced a penned in group of young women and then slinks away Saturday at the Occupy Wall Street protests: Deputy Inspector Anthony V.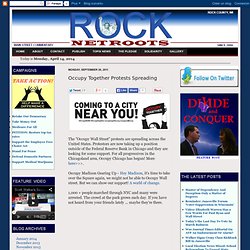 Occupy Together Protests Spreading
The "Occupy Wall Street" protests are spreading across the United States. Protestors are now taking up a position outside of the Federal Reserve Bank in Chicago and they are looking for some support. For all progressives in the Chicagoland area, Occupy Chicago has begun! More here>>> . Occupy Madison Gearing Up - Hey Madison , it's time to take over the Square again, we might not be able to Occupy Wall street.
'Occupy Wall Street' protest slowly spreads across the United States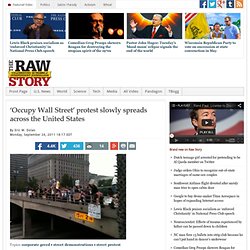 Small groups of demonstrators in major American cities have started their own "Occupy Wall Street" demonstrations and organizers are planning further actions in more cities across the United States. A diverse coalition of people have pledged to occupy Wall Street until something is done about corporate greed and the financial system's undemocratic influence on the U.S. government. The protesters have been camped out in New York's old Liberty Plaza, one block from the Federal Reserve, since Saturday. "The one thing we all have in common is that We Are The 99 Percent that will no longer tolerate the greed and corruption of the one percent," said a statement on the Occupy Wall Street website. At least 80 to 100 people were arrested over the weekend in the first big crackdown since the demonstration began.
Occupy Wall Street activists name officer over pepper spray incident | World news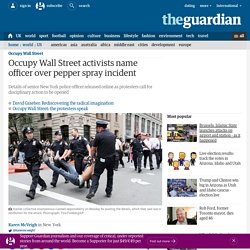 Hacker collective Anonymnous claimed responsibility on Monday for posting the details, which they said was in retribution for the attack. Photograph: Tina Fineberg/AP Activists connected to the Occupy Wall Street protests have published the name, phone number and family details of a senior New York police officer they accuse of using pepper spray on peaceful female protesters at a march on Saturday. The officer was named in Twitter posts and on various activist websites as NYPD deputy inspector Anthony Bologna, of Patrol Borough Manhattan South. The posts also cite an apparent civil rights charge against the officer dating from 2007. YouTube footage of the incident , which has been widely circulated since Saturday, appears to show a white-shirted NYPD officer firing the spray into the eyes of the protesters, who are penned in by other officers with orange netting.