Occupy Oakland
So much has come from the events and ripples from the continueing story, I have to make a tree for it! kathologist Nov 6
This is a rush transcript. Copy may not be in its final form. JUAN GONZALEZ : As we broadcast our last show of 2011, we turn to someone who became one of the faces of the global Occupy movement. His name is Scott Olsen. While his name made headlines around the globe this past year, his voice has seldom been heard. Just over two months ago, on October 25th, the 24-year-old Iraq war veteran was taking part in a protest in defense of the Occupy Oakland encampment.
Scott Olsen, U.S. Vet Wounded at Occupy Oakland, on Recovery, Protests, Iraq and Bradley Manning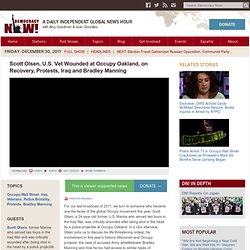 Port truck drivers thank 'Occupy Wall Street' protesters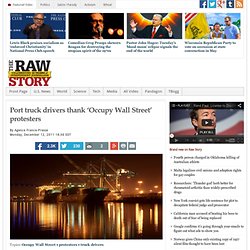 By Agence France-Presse Monday, December 12, 2011 18:36 EDT A group of port truck drivers thanked the "99 Percenters" on Monday for bringing attention to their profession, which they claim is rife with labor abuses. "Occupy" protesters disrupted traffic at ports along the U.S. west coast on Monday, as a small number were arrested for seeking to shut down the major trade cargo hub, officials said. The port truck drivers, who were affiliated with the Coalition for Clean & Safe Ports, stopped short of supporting the effort to shut down the ports.
OT - Shot by police with rubber bullet at Occupy Oakland - Antiprocon
Occupy Protesters Seek to Shut West Coast Ports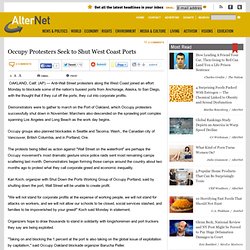 OAKLAND, Calif. (AP) — Anti-Wall Street protesters along the West Coast joined an effort Monday to blockade some of the nation's busiest ports from Anchorage, Alaska, to San Diego, with the thought that if they cut off the ports, they cut into corporate profits. Demonstrators were to gather to march on the Port of Oakland, which Occupy protesters successfully shut down in November. Marchers also descended on the sprawling port complex spanning Los Angeles and Long Beach as the work day begins. Occupy groups also planned blockades in Seattle and Tacoma, Wash., the Canadian city of Vancouver, British Columbia, and in Portland, Ore. The protests being billed as action against "Wall Street on the waterfront" are perhaps the Occupy movement's most dramatic gesture since police raids sent most remaining camps scattering last month.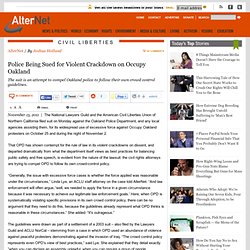 Like this article? Join our email list: Stay up to date with the latest headlines via email. The National Lawyers Guild and the American Civil Liberties Union of Northern California filed suit on Monday against the Oakland Police Department, and any local agencies assisting them, for its widespread use of excessive force against Occupy Oakland protesters on October 25 and during the night of November 2. That OPD has shown contempt for the rule of law in its violent crackdowns on dissent, and departed dramatically from what the department itself views as best practices for balancing public safety and free speech, is evident from the nature of the lawsuit: the civil rights attorneys are trying to compel OPD to follow its own crowd-control policy. "Generally, the issue with excessive force cases is whether the force applied was reasonable under the circumstances," Linda Lye, an ACLU staff attorney on the case told AlterNet.
Police Being Sued for Violent Crackdown on Occupy Oakland | Civil Liberties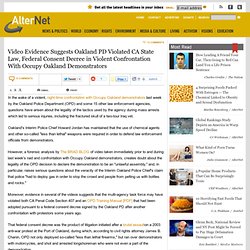 Video Evidence Suggests Oakland PD Violated CA State Law, Federal Consent Decree in Violent Confrontation With Occupy Oakland Demonstrators
In the wake of a violent, night-time confrontation with Occupy Oakland demonstrators last week by the Oakland Police Department (OPD) and some 15 other law enforcement agencies, questions have arisen about the legality of the tactics used by the agency during mass arrests which led to serious injuries, including the fractured skull of a two-tour Iraq vet. Oakland's Interim Police Chief Howard Jordan has maintained that the use of chemical agents and other so-called "less than lethal" weapons were required in order to defend law enforcement officials from demonstrators.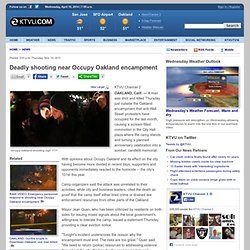 Deadly shooting near Occupy Oakland encampment
OAKLAND, Calif. —
Now that their general strike is over, Occupy Oakland activists are looking for a new initiative to keep the momentum rolling - and their gaze is turning toward taking over foreclosed or abandoned buildings. The subject came up in earnest in group meetings over the past couple of days, and conversations have narrowed down not to whether Occupy activists should take over empty buildings, but when and how. "It's a very important front for the Occupy movement all over this country, and if any one city can set a precedent for taking over foreclosed buildings, the idea will then quickly spread," said Adrian Dyer , an Occupy organizer. "The key is to improve what we occupy, to do it right, to set a good example." 'It will not be tolerated' City officials are predictably unenthusiastic.
Occupy Oakland's new target - foreclosed buildings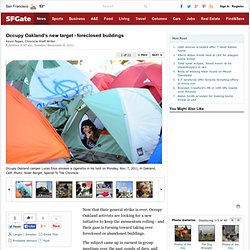 Police State in Oakland? One Reporter's Arrest Contradicts Official Story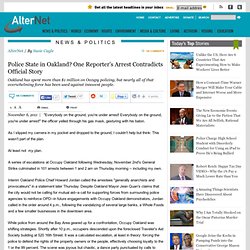 November 6, 2011 | Like this article? Join our email list: Stay up to date with the latest headlines via email. "Everybody on the ground, you're under arrest!
By Stephen C. Webster Monday, November 7, 2011 8:58 EDT In a video published to YouTube, an unidentified protester holding a video camera, filming a police line during the early hours of Thursday, Nov. 3, is apparently shot with a rubber bullet even after repeatedly asking officers, "Is this okay?"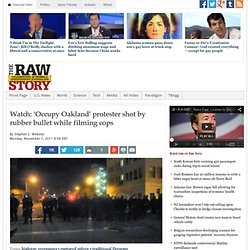 Watch: 'Occupy Oakland' protester shot by rubber bullet while filming cops
This is rather incredible. Oakland Mayor Jean Quan released a statement late last night saying she now supports the Occupy Oakland protesters and will minimize police presence for the time being. The statement comes less than 48 hours after local police used excessive force against protesters, including rubber bullets, stun grenades, sound cannons, and tear gas. One protester, an Iraq war veteran named Scott Olsen, was shot with a projectile at close range , fracturing his skull and landing him in critical condition. [Update: Olsen's condition has since been upgraded to fair.]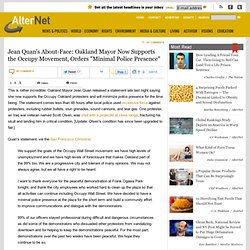 Jean Quan's About-Face: Oakland Mayor Now Supports the Occupy Movement, Orders "Minimal Police Presence"
Oakland Spends Millions in Attack on Occupy Protesters, Closes 5 Schools Next Day - Occupy Oakland
On Tuesday evening at 5pm Occupy Oakland gathered at the foot of the Oakland Library on 14th Avenue before setting off on a march past the jail and onward to Frank Ogawa Plaza. The peaceful gathering swelled as it marched through downtown, growing upwards of 1,000 people strong. Along their route were police from 17 jurisdictions in California, decked out in riot gear and weaponry. Just before 8pm the police began throwing concussion grenades and tear gas directly into the crowd, injuring several nonviolent protesters.
Tear gas! Thrown at Occupy Oakland!
Oakland's interim police chief gives press conference | Video
BS! There is A LOt of push-back on Mayor Jean Quon. Govenror Brown is getting an earfull as well. He used to BE Mayor of Oakland (among other things) by kathologist Oct 27
Boxing body protector. I used to box when I was a teen and am currently studying something called Crazy Monkey Defense (a type of self-defense boxing adapted for the street and MMA). We use these when we spar. You'd probably still feel the impact of a rubber bullet or other less lethal projectile, but I guarantee you you'd feel a A LOT LESS than you would if you weren't wearing it. They run anywhere from $50 to $100. Boxing groin protection.
Awesome photos of anti-police-brutality shields in Oakland for Halloween
An Open Letter to the Citizens of Oakland from the Oakland Police Officers' Association « Oakland Police Officer's Association