OccupyBrisbane
Occupy Brisbane (@OccupyBrisbane) sur Twitter
Occupy Brisbane
So-called social media movements in the Middle East and North Africa have been applauded by western governments. Leaders of the so-called 'free world', including Barack Obama asked leaders of these nations to respect the will of the people, to respect their right to freedom of speech and the right to protest, and in many cases for national leaders to step down. These social media movements are now happening across America with the Occupy Wall Street and Occupy America movements. The Brooklyn Bridge was blockaded by thousands of civil protestors coalesced by social media. They have had enough of the arbitrary indiscretions of the US government, Wall Street, the Bankers and the Multinationals. What was the response of American authorities?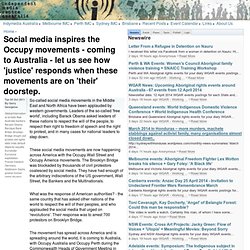 Social media inspires the Occupy movements - coming to Australia - let us see how 'justice' responds when these movements are on 'their' doorstep. | Indymedia Australia
They were predicted to be a flash in the pan. So why are the anti-Wall Street occupations growing? posted Sep 30, 2011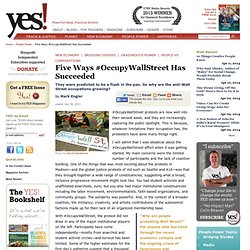 Five Ways #OccupyWallStreet Has Succeeded by Mark Engler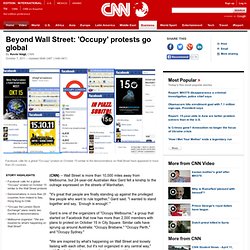 Facebook calls for a global "Occupy" protest on October 15 similar to the demonstrations on Wall Street have appeared in more than 25 countries. Facebook calls for a global "Occupy" protest on October 15 similar to the Wall Street protestsDemonstrations in more than 25 countries from Ireland to Italy, Hong Kong to Chile"Occupy the London Stock Exchange" plans nearly two months of demonstrationsMelbourne organizer: "We are inspired by what's happening on Wall Street" (CNN) -- Wall Street is more than 10,000 miles away from Melbourne, but 24-year-old Australian Alex Gard felt a kinship to the outrage expressed on the streets of Manhattan. "It's great that people are finally standing up against the privileged few people who want to rule together," Gard said. "I wanted to stand together and say, `Enough is enough'."
Beyond Wall Street: 'Occupy' protests go global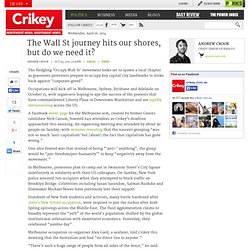 The fledgling 'Occupy Wall St' movement looks set to spawn a local chapter as grassroots protesters prepare to occupy key capital city landmarks to strike back against "corporate greed". Occupations will kick off in Melbourne, Sydney, Brisbane and Adelaide on October 15, with organisers hoping to ape the success of the protests that have commandeered Liberty Plaza in Downtown Manhattan and are rapidly metastasising across the US. A Facebook event page for the Melbourne arm, created by former Greens candidate Nick Carson, boasted 649 attendees as Crikey's deadline approached this morning. An organising meeting was attended by about 30 people on Sunday, with minutes revealing that the nascent grouping "was not so much 'anti-capitalism' but [about] the fact that capitalism has gone wrong." One idea floated was that instead of being "'anti-' anything", the group would be "pro-freedom/pro-humanity'" to keep "negativity away from the movement."
The Wall St journey hits our shores, but do we need it?