Observatoires de langues
<p>Cet page requiert JavaScript pour fonctionner de fa&ccedil;on optimale.</p> <p>L'activation de cette option sur ce site n'engage aucun risque en mati&egrave;re de s&eacute;curit&eacute; et de confidentialit&eacute;.</p> English Portuguese Español
Organisation internationale de la Francophonie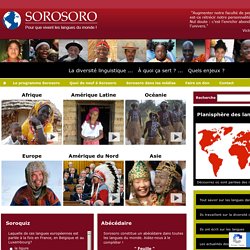 Vidéos de la semaine Sorosoro vous propose ici toutes les vidéos issues de notre programme de tournage sur le terrain. Elles sont regroupées par langue, par thème ou par événement.
Observatorio da Lingua Galega
Aragonés | Asturianu | Brezhoneg | Català | Cymraeg | Deutsch | English | Español | Euskara | Français | Galego | Italiano | Kernewek | Magyar | Mirandés | Polski | Português | Română | Sardu | Srpski | Tagalog | Türkçe | Veneto | ελληνικά | На русском языке | 日本語 info@observatoriodalinguagalega.org Secretaría Xeral de Política Lingüística. Xunta de Galicia Secretaría General de Política Lingüística.
observatori de la llengua catalana
Endangered languages
Observatoire • Portalingua • Observatoire des langues dans la connaissance
G2LI - Language Identification for Web page and Text file G2LI (Global Information Infrastructure Labroatory's Language Identifier) has been released to the public. A simple web interface to G2LI has been published on GII's Web Application Server. User can utilize the service to identify the Language, Script and Encoding system (LSE) of a Web document. The system are able to process TEXT and HTML document. For language identification, input the URL or upload a local txt/html file to G2LI-Web Application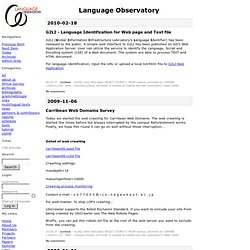 Language Observatory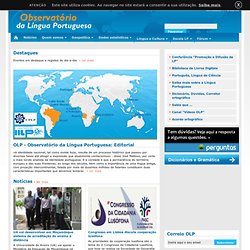 OLP - Observatório da Língua Portuguesa: Editorial «A identidade nacional, tal como existe hoje, resulta de um processo histórico que passou por diversas fases até atingir a expressão que atualmente conhecemos» - disse José Mattoso, por certo o mais lúcido analista da identidade portuguesa. E a verdade é que a permanência do território europeu e das suas fronteiras, ao longo dos séculos, bem como a importância de uma língua antiga, com projeção intercontinental, falada por mais de duzentos milhões de falantes constituem duas características importantes que devemos lembrar. » Ler mais
Observatório da Língua Portuguesa
Observatoire des pratiques linguistiques - Accueil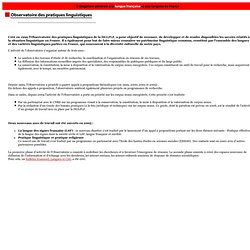 Créé en 1999 l'Observatoire des pratiques linguistiques de la DGLFLF, a pour objectif de recenser, de développer et de rendre disponibles les savoirs relatifs à la situation linguistique en France. Il a également pour but de faire mieux connaitre un patrimoine linguistique commun, constitué par l'ensemble des langues et des variétés linguistiques parlées en France, qui concourent à la diversité culturelle de notre pays. L'activité de l'observatoire s'organise autour de trois axes :
Francophonu - Observateur des langues au sein des organisations internationales
Desde el año 2006 el estudio "Lengua y cultura" se transforma en el observatorio sobre la diversidad lingüistica y cultural en la Internet y se actualiza la página con un nuevo formato y nuevas secciones. A partir de 2006 l'étude langue et culture se transforme en observatoire de la diversité culturelle et linguistique dans l'Internet et la page prend un nouveau format avec des sections nouvelles. Starting in 2006 the Languague and culture study transform into Observatory of cultural and linguistic diversity in the Internet and the page get new look and new sections.
Observatoire des langues