Objective-C
Objective-C is the primary programming language you use when writing software for OS X and iOS. It's a superset of the C programming language and provides object-oriented capabilities and a dynamic runtime. Objective-C inherits the syntax, primitive types, and flow control statements of C and adds syntax for defining classes and methods.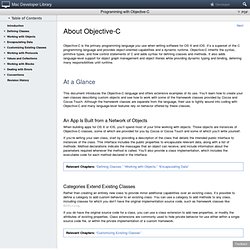 The Objective-C Programming Language: Introduction to The Objective-C Programming Language
À l'assaut de l'Objective-C
Voici un ouvrage particulièrement réussi pour les débutants en Cocoa. Il m'a énormément aidé et reste ma principale référence dans de nombreuses situations. Les exemples et exercices permettent un apprentissage intéressant sans être trop abstrait. J'avais lu le précédent livre du même auteur que j'avais déjà apprécié... Celui-ci a le même schéma que le précédent, la traduction est excellente, les exemples et exercices sont également en français.
Programmation Cocoa sous Mac OS X: Amazon.fr: Aaron Hillegass