ObamaCare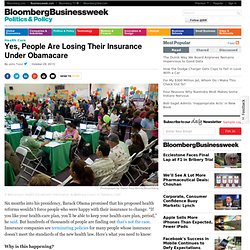 Six months into his presidency, Barack Obama promised that his proposed health reforms wouldn't force people who were happy with their insurance to change. "If you like your health-care plan, you'll be able to keep your health-care plan, period," he said. But hundreds of thousands of people are finding out that's not the case.
Yes, People Are Losing Their Insurance Under Obamacare
Obama admin. knew millions could not keep their health insurance
Larry Downing / Reuters U.S.
The Obama administration announced the new policy on Tuesday.
Coburn questions Obama rule giving firefighters health coverage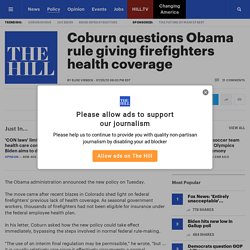 Prescription for Decline - By Will Marshall
Lost in all the uproar over the U.S.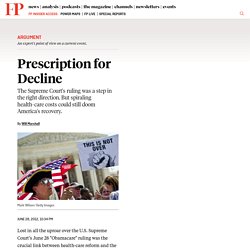 Family fears return to health insurance worries
NEW YORK (TheStreet) -- The Supreme Court will announce its decision on the constitutionality of Obamacare Thursday. In case you don't remember, the real name of the bill is "Patient Protection and Affordable Care Act."
How Health Care Stocks Are Faring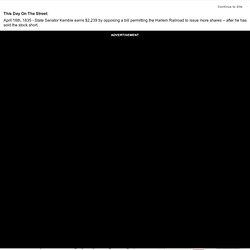 24/7 market commentary from Jim Cramer and 20+ veteran Wall Street gurus.
Cramer: Health Care Ruling Hurts Small Business AET, HUM - TheStreet TV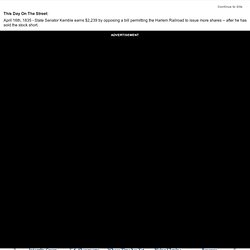 Wall Street drops as banks, Europe weigh
Democratic Senatorial Campaign Committee
DSCC: Democratic Senatorial Campaign Committee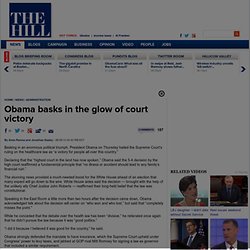 Basking in an enormous political triumph, President Obama on Thursday hailed the Supreme Court's ruling on the healthcare law as "a victory for people all over this country." Declaring that the "highest court in the land has now spoken," Obama said the 5-4 decision by the high court reaffirmed a fundamental principle that "no illness or accident should lead to any family's financial ruin."
Obama basks in the glow of court victory - TheHill.com
June 6, 2012 | Like this article? Join our email list:
Why Do Working-Class People Vote Conservative? | Tea Party and the Right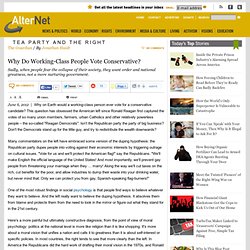 Thanks Obamacare
Thanks, Obamacare
Liberal Supreme Court Reporters Are Panicking About The Fate Of Obamacare
Pelosi: Obamacare Allows You to Quit Your Job and Become 'Whatever'
House Minority Leader Nancy Pelosi (D.-Calif.) (AP Photo/J. Scott Applewhite) (CNSNews.com) – House Minority Leader Nancy Pelosi (D-Calif.) said Thursday that Obamacare facilitates the type of "liberation" that the "Founders had in mind" because it allows you to quit your job and become a "photographer," a "writer," a "musician"--or "whatever." "As you hear from these stories, this is a liberation," Pelosi said at a Capitol Hill news conference Thursday.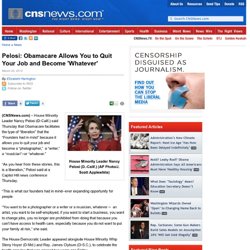 Then-Solicitor General Elena Kagan and President Barack Obama in the White House on May 10, 2010, the day Obama nominated Kagan to the U.S. Supreme Court. (AP Photo/Susan Walsh) (CNSNews.com) - When the Supreme Court on Monday began hearing oral arguments in the cases challenging the constitutionality of the Patient Protection and Affordable Care Act—AKA "Obamacare"—Supreme Court Justice Elena Kagan showed up to hear the arguments and gave no indication she would recuse herself from judging the cases even though she had cheered enactment of Obamacare as an Obama political appointee and had personally assigned her top deputy in the Obama Justice Department to defend the law in federal court. A federal law, 28 USC 455, says a Supreme Court justice must recuse from "any proceeding in which his impartiality might reasonably be questioned" or anytime he has "expressed an opinion concerning the merits of the particular case in controversy" while he "served in governmental employment."
Kagan Sits in Judgment of Obamacare—Despite Cheering Its Passage and Assigning Lawyer to Defend It
Administration Admits to Court: Under Obamacare, Select Group Can Get Health Care, Not Pay for It, Not Buy Insurance, Not Pay Penalty
Solicitor General Donald Verrilli (AP Photo/Evan Vucci)
Gas Prices Offset Good News about Jobs Overview Mitt Romney has retaken a significant lead nationally in the race for the Republican presidential nomination, even as he has fallen further behind Barack Obama in a general election matchup. Moreover, Obama's own job approval rating has reached 50% for the first time since last May, shortly after the killing of Osama bin Laden. The latest national survey by the Pew Research Center for the People & the Press, conducted March 7-11 among 1,503 adults, including 1,188 registered voters and 538 Republican and Republican-leaning voters, finds that Romney leads Rick Santorum, 33% to 24%, in the GOP nomination contest. A month ago, the two men were in a virtual tie (28% Romney, 30% Santorum).
Romney Leads GOP Contest, Trails in Matchup with Obama
By Ian Millhiser
SCOTUS Preview Part III: The Perils Of Overreach
Your doctor won't tell you this when you're sitting in his office, so I will: He hates Obamacare.
Why Your Doctor Secretly Hates Obamacare - Katie Kieffer
Ethan Rome: Supreme Damage: Why the Court Can't Throw Out Obamacare
Why Striking Down Obamacare Will Put Medicare Payments In Jeopardy
TV - HD Videos With CEOs, Analysts, Fund Managers and More
Five Races in Which the Health Care Debate Will Matter
Supreme Court Kicks Off Health Care Arguments
In Colorado, Obama goes from gas to green - The Hill's E2-Wire
USTC Holdings | Danger Room
Northeast States Cut Heating Aid To Poor - From the Wires
NLG condemns NDAA provisions on indefinite detention
Obama's Broken Promise on Gitmo's Tenth Anniversary
The cost of shopping for health insurance