ObamaCare
Yes, People Are Losing Their Insurance Under Obamacare. Six months into his presidency, Barack Obama promised that his proposed health reforms wouldn't force people who were happy with their insurance to change.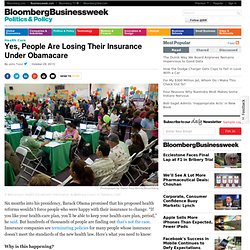 "If you like your health-care plan, you'll be able to keep your health-care plan, period," he said. But hundreds of thousands of people are finding out that's not the case. Obama admin. knew millions could not keep their health insurance. Larry Downing / Reuters U.S.
President Barack Obama walks out to deliver remarks alongside Human Services Secretary Kathleen Sebelius in the Rose Garden of the White House in Washington, October 1, 2013. By Lisa Myers and Hannah Rappleye NBC News President Obama repeatedly assured Americans that after the Affordable Care Act became law, people who liked their health insurance would be able to keep it.
Coburn questions Obama rule giving firefighters health coverage. The Obama administration announced the new policy on Tuesday.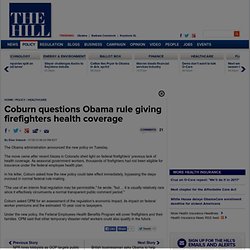 The move came after recent blazes in Colorado shed light on federal firefighters' previous lack of health coverage. As seasonal government workers, thousands of firefighters had not been eligible for insurance under the federal employee health plan. In his letter, Coburn asked how the new policy could take effect immediately, bypassing the steps involved in normal federal rule-making. Prescription for Decline - By Will Marshall. Lost in all the uproar over the U.S.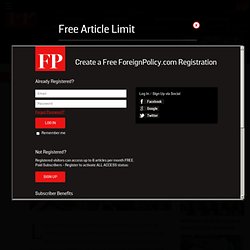 Supreme Court's June 28 "Obamacare" ruling was the crucial link between health-care reform and the issue voters care most about: the economy. America's current health-care "system" isn't just an ungainly, costly, and unjust mess. Family fears return to health insurance worries. How Health Care Stocks Are Faring. NEW YORK (TheStreet) -- The Supreme Court will announce its decision on the constitutionality of Obamacare Thursday.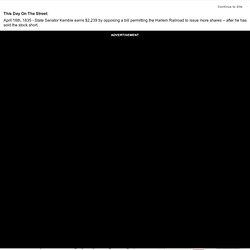 In case you don't remember, the real name of the bill is "Patient Protection and Affordable Care Act. " From different surveys I have read, it appears there's a 75% chance that the individual health care mandate in the act will be ruled unconstitutional. ValuEngine shows that the Medical Sector is 7.4% overvalued, but within that sector, the Health Maintenance Organizations Industry is 5.6% undervalued. I will evaluate the price performance of nine stocks in this industry focusing on the volatility since March 26, when the Supreme Court began deliberating on Obamacare.
All nine of the stocks I profile are rated Strong Buy or Buy according to ValuEngine, and all but one traded lower during the period of deliberation by the Supreme Court. Cramer: Health Care Ruling Hurts Small Business AET, HUM - TheStreet TV. Dividend Stock Advisor Try it NOW Jim Cramer's protege, David Peltier, identifies the best of breed dividend stocks that will pay a reliable AND significant income stream.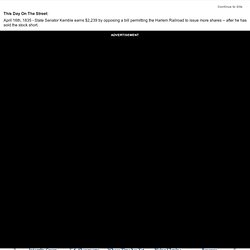 Product Features: Wall Street drops as banks, Europe weigh. DSCC: Democratic Senatorial Campaign Committee. Obama basks in the glow of court victory. Basking in an enormous political triumph, President Obama on Thursday hailed the Supreme Court's ruling on the healthcare law as "a victory for people all over this country."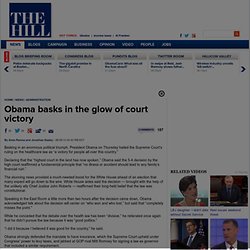 Declaring that the "highest court in the land has now spoken," Obama said the 5-4 decision by the high court reaffirmed a fundamental principle that "no illness or accident should lead to any family's financial ruin." The stunning news provided a much-needed boost for the White House ahead of an election that many expect will go down to the wire. White House aides said the decision — brought with the help of the unlikely ally Chief Justice John Roberts — reaffirmed their long-held belief that the law was constitutional. Speaking in the East Room a little more than two hours after the decision came down, Obama acknowledged talk about the decision will center on "who won and who lost," but said that "completely misses the point. " Why Do Working-Class People Vote Conservative? | Tea Party and the Right.
June 6, 2012 | Like this article?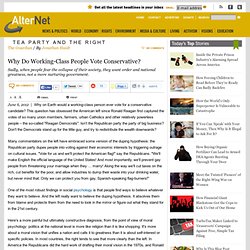 Join our email list: Thanks Obamacare. Thanks, Obamacare. Liberal Supreme Court Reporters Are Panicking About The Fate Of Obamacare. Pelosi: Obamacare Allows You to Quit Your Job and Become 'Whatever' House Minority Leader Nancy Pelosi (D.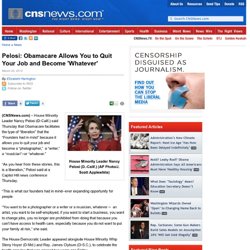 -Calif.) (AP Photo/J. Scott Applewhite) (CNSNews.com) – House Minority Leader Nancy Pelosi (D-Calif.) said Thursday that Obamacare facilitates the type of "liberation" that the "Founders had in mind" because it allows you to quit your job and become a "photographer," a "writer," a "musician"--or "whatever." "As you hear from these stories, this is a liberation," Pelosi said at a Capitol Hill news conference Thursday.
Kagan Sits in Judgment of Obamacare—Despite Cheering Its Passage and Assigning Lawyer to Defend It. Then-Solicitor General Elena Kagan and President Barack Obama in the White House on May 10, 2010, the day Obama nominated Kagan to the U.S.
Supreme Court. (AP Photo/Susan Walsh) (CNSNews.com) - When the Supreme Court on Monday began hearing oral arguments in the cases challenging the constitutionality of the Patient Protection and Affordable Care Act—AKA "Obamacare"—Supreme Court Justice Elena Kagan showed up to hear the arguments and gave no indication she would recuse herself from judging the cases even though she had cheered enactment of Obamacare as an Obama political appointee and had personally assigned her top deputy in the Obama Justice Department to defend the law in federal court. A federal law, 28 USC 455, says a Supreme Court justice must recuse from "any proceeding in which his impartiality might reasonably be questioned" or anytime he has "expressed an opinion concerning the merits of the particular case in controversy" while he "served in governmental employment."
Administration Admits to Court: Under Obamacare, Select Group Can Get Health Care, Not Pay for It, Not Buy Insurance, Not Pay Penalty. Solicitor General Donald Verrilli (AP Photo/Evan Vucci) (CNSNews.com) - President Barack Obama has justified the mandate in his health-care law that requires individuals to buy health insurance by arguing that it will eliminate free riders—that is, people who get health care (often from emergency rooms) but, lacking insurance, never pay anything back into the health-care system. "So that's why the individual mandate's important," Obama explained in a speech on Aug. 15, 2011.
"Because the basic theory is, look, everybody here at some point or another is going to need medical care, and you can't be a free-rider on everybody else," said Obama. Romney Leads GOP Contest, Trails in Matchup with Obama. Gas Prices Offset Good News about Jobs Overview Mitt Romney has retaken a significant lead nationally in the race for the Republican presidential nomination, even as he has fallen further behind Barack Obama in a general election matchup. Moreover, Obama's own job approval rating has reached 50% for the first time since last May, shortly after the killing of Osama bin Laden. The latest national survey by the Pew Research Center for the People & the Press, conducted March 7-11 among 1,503 adults, including 1,188 registered voters and 538 Republican and Republican-leaning voters, finds that Romney leads Rick Santorum, 33% to 24%, in the GOP nomination contest.
A month ago, the two men were in a virtual tie (28% Romney, 30% Santorum). SCOTUS Preview Part III: The Perils Of Overreach. By Ian Millhiser on March 23, 2012 at 1:30 pm "SCOTUS Preview Part III: The Perils Of Overreach" Anti-Health Care Lawyer Randy Barnett. Why Your Doctor Secretly Hates Obamacare - Katie Kieffer. Your doctor won't tell you this when you're sitting in his office, so I will: He hates Obamacare. It's time you know why your doctor is concerned about Obamacare. Doctors already live in constant fear of malpractice lawsuits. The last thing they want to do is stick their necks out and publicly attack Obamacare. Ethan Rome: Supreme Damage: Why the Court Can't Throw Out Obamacare. The Supreme Court will uphold the Affordable Care Act (ACA) not only because it's constitutional, but because to do otherwise would impose a massive judicial intervention in one of the economy's most complex sectors and derail a train with millions of individuals and businesses on board.
If the conservative justices disregard decades of legal precedents and strike all or part of Obamacare, they would not merely be tearing down the most sweeping piece of social legislation since Medicare and Medicaid, they would be taking away substantial consumer protections and benefits from millions of America's seniors, families and small businesses. The court would have to take responsibility for dismantling the law piece by piece, a task as difficult as it is unconscionable. Why Striking Down Obamacare Will Put Medicare Payments In Jeopardy. TV - HD Videos With CEOs, Analysts, Fund Managers and More. In Colorado, Obama goes from gas to green - The Hill's E2-Wire. Northeast States Cut Heating Aid To Poor - From the Wires. NLG condemns NDAA provisions on indefinite detention. Obama's Broken Promise on Gitmo's Tenth Anniversary. The cost of shopping for health insurance.
---