nuclear
Get flash to fully experience Pearltrees
Eight men -- a welder, a shoemaker, a general worker, a pensioner, a barber, a tractor driver, a crane-operator and a cancer victim who was to die shortly -- sued Asian Rare Earth in 1985 on behalf of themselves and 10,000 other residents of Bukit Merah and the environs in Perak. They wanted to shut down this rare earth plant in their village near Ipoh because its radioactive waste was endangering their lives.
Thorium One ton of thorium can produce as much energy as 200 tons of uranium and 3.5 million tons of coal, according to the former director of CERN. via Telegraph An abundant metal with vast energy potential could quickly wean the world off oil, if only Western political leaders would muster the will to do it, a UK newspaper says today.
Pak Bui What's the problem with Lynas?
Is nuclear power the right choice for our nation? Malaysians must make an informed decision. Nuclear power is only one of the available options – it is however the most expensive, most dangerous and most inefficient one.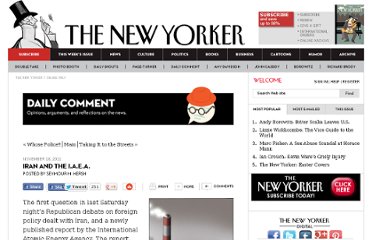 The first question in last Saturday night's Republican debate on foreign policy dealt with Iran, and a newly published report by the International Atomic Energy Agency.