Notes on Entrepreneurship
The Wall Street Journal survey of the top 50 VC-backed companies of the year is out. The #1 company is a provider of VOIP technology for telecom companies. The top 3 companies are all providers of business software to technology or telecom companies. Interestingly, the #1 company last year, a provider of healthcare cost information to consumers, is not even in the list this year. Are consumer-oriented technology businesses too sexy to be successful in today's market? Everyone wants to be the next Facebook or Google, or even the next Instagram or Pinterest – a company that captures the fancy of consumers and has them signing up in large numbers to use the service.
Is Your Business Too Sexy to Be Successful?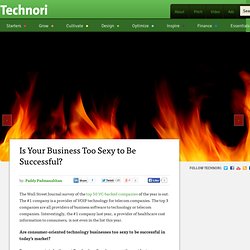 HELSINKI — If you grab a drink with a startup founder, you'll likely hear a few shared stories, both good and ugly, about lessons learned along the way. Getting a company off the ground is no easy task, especially when looking for funding, but learning from your own missteps (and those made by others) could put you on the path to entrepreneurial success. Startups across northern Europe and Russia met in Helsinki this week for tech startup conference Slush to discuss which trends are surging within the space. Some tips to budding companies are simple ("stay focused" and "think ahead") but hearing cautionary tales and words of wisdom could breathe new perspective into your own approach.
7 Lessons Every Startup Should Know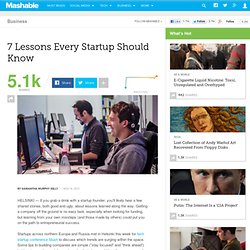 Jeff Bezos and the Age of Amazon: Excerpt From 'The Everything Store' by Brad Stone
Behind this week's cover Amazon.com rivals Wal-Mart as a store, Apple as a device maker, and IBM as a data services provider. It will rake in about $75 billion this year. For his book, Bloomberg Businessweek's Brad Stone spoke to hundreds of current and former friends of founder Jeff Bezos. In the process, he discovered the poignant story of how Amazon became the Everything Store. Within Amazon.com (AMZN) there's a certain type of e-mail that elicits waves of panic.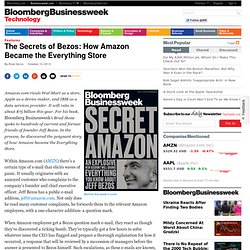 The Dangerous Seduction of the Lifetime Value (LTV) Formula
How to get your first 10 customers « Dan Shipper – Distilled Thinking
Preface: the assumption for this essay is that you're building a B2B app, and you have something built but you're having trouble getting people to pay for it There are three problems with getting your first few customers: You (probably) don't know how to sell thingsYou don't know who you're selling toYou don't even really know what you're selling Nobody tells you how to answers these questions, and so most people go out to get initial traction in a haphazard way: They have a vague idea in mind for who wants their productThey've already built the product, so they put together a landing page which which, like, totally speaks to the core value propositionThey write some combination of any of the following: A few half-baked ads A few forum posts A few comments on relevant blogs A few blog posts A few cold emails to journalists (because, dude, we would BLOW UP if we could just get 'Crunched)They send these out into the wild, and (no surprise!)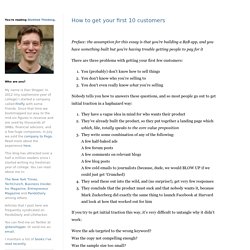 Validation Board - FREE tool for testing startup ideas, stop wasting time and money
Starting a business is always risky, and success is never guaranteed. Yet, entrepreneurs thrive every day. Although there is no one-size-fits-all approach, successful entrepreneurs seem to share several traits that the rest of the pack lacks.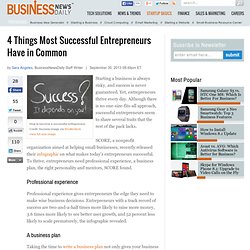 4 Things Most Successful Entrepreneurs Have in Common
On October 27, 2010 I wrote a blog post about the "57 Things I Learned Founding 3 Tech Companies." It has been awesome, flattering, and humbling to see that post went viral and has been seen by so many thousands of people — mainly aspiring entrepreneurs — and has been translated into many languages. This past week while I was in Tokyo for meetings with potential partners for Fab, I was invited to participate in a panel discussion on startups.
90 Things I've Learned From Founding 4 Technology Companies | Betashop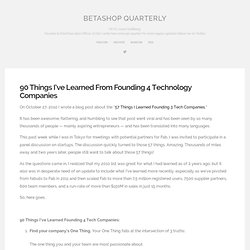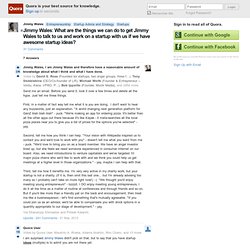 Send me an email. Before you send it, look it over a few times and delete all the hype. Just tell me three things. First, in a matter of fact way tell me what it is you are doing. I don't want to hear any buzzwords, just an explanation.
(334) Jimmy Wales's answer to Jimmy Wales: What are the things we can do to get Jimmy Wales to talk to us and work on a startup with us if we have awesome startup ideas
Upstart | Yaron Galai, Outbrain
It becomes apparent moments into our mid-October meeting near New York's Union Square that digital publishing entrepreneur Yaron Galai stares at his biggest critic in the mirror every morning. The guy is a voracious and eclectic reader with a serious "completionist" complex: when he picks up an issue of his favorite magazines Wired or The New Yorker, it is with the intent of reading it cover-to-cover. He browses perpetually for new articles and authors (asking me for my own recommendations), and is a huge fan of Instapaper, the app that lets you bookmark articles from anywhere for reading anywhere on the Web or an e-reader.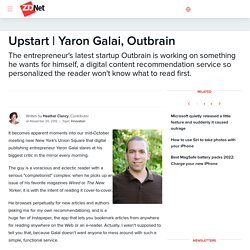 IA Ventures - Focus, focus, focus: Understanding your value stack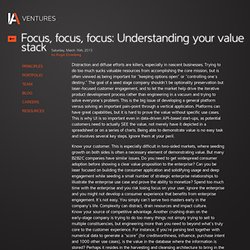 Distraction and diffuse efforts are killers, especially in nascent businesses. Trying to do too much sucks valuable resources from accomplishing the core mission, but is often viewed as being important for "keeping options open" or "controlling one's destiny." The goal of a seed stage company shouldn't be optionality preservation but laser-focused customer engagement, and to let the market help drive the iterative product development process rather than engineering in a vacuum and trying to solve everyone's problem. This is the big issue of developing a general platform versus solving an important pain-point through a vertical application. Platforms can have great capabilities, but it is hard to prove the value without specific use cases. This is why UI is so important even in data-driven API-based start-ups, as potential customers need to actually SEE the value, not merely have it depicted in a spreadsheet or on a series of charts.
Does your company need a boost? Incubators and accelerators can be a great option for any young company or even idea to get off the ground. These programs offer everything from funding, connections with top investors and mentors and collaborative work environments that can last for a few months to a whole year. Y-Combinator Y Combinator runs two three-month funding cycles a year, one from January through March and one from June through August.
17 Incubators & Accelerators to Help Launch Your Big Idea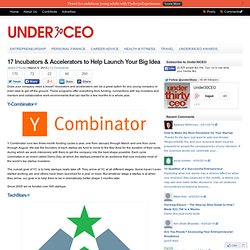 In the last year I've seen thousands of startup pitches while working with the AngelList crew, coached 100+ founders on how to communicate their product, traction and team, and worked with startups in fine institutions like 500 Startups, AngelPad and Bootup. I've also dissected 500+ emails from a recent seed round fundraising to map investor response. Here's what I've learned. Through thousands of pitches, I've found that fewer that 5% tell a great traction story.
(315) Startups: How to Communicate Traction to Investors - Posts
Napkin Think Force yourself to summarize your idea on the back of a cocktail napkin. Don't submit your plan until you have this level of clarity.
Elements of a Strong Business Plan | General Catalyst Partners
Any seasoned investor knows that past performance is not indicative of future returns. That is as true with public stocks as it is with venture capital firms. But if someone were to ask you to rank the top VC firms today based on their probability of success, how would you do it? Remember, looking at past returns won't help you.
The Top 10 VC Firms, According To InvestorRank
A tech friend gives me shit about being a Jeff Bezos fanboy. I'm unabashedly a fan. His 1997 letter to Amazon shareholders is a blueprint for building a durable franchise in technology. I recently compiled and read all of these letters from 1997-2011. Read together, it's essentially a 15 year narrative of building long-term value in technology and also a history of the Internet and e-commerce. Here are some random nuggets:
Reading Jeff Bezos | David Lee
There are Only Two Ways to Build a $100 Million Company According to This Canadian Superangel
Tens of thousands of startups are founded every year. Without real potential to truly scale and become a large, stand-alone business, the vast majority of these companies whither on the vine. Great products forge strong foundations while effective distribution strategies cut through the noise. When an early stage venture capitalist evaluates an investment opportunity, he often has an imaginary benchmark in mind: can this startup become a $100 million business?
Preparing To Fire an Executive
THE SCIENCE OF SUCCESS: Forget Self-Esteem
90 Things I've Learned From Founding 4 Technology Companies
10 Sobering Lessons Learned After Teaching 88 Struggling Entrepreneurs For 6 Months
Startup Equity For Employees
Fred Wilson
Three Leadership Traits that Never Go Out of Style - Vineet Nayar
Build. Measure. Learn. Lean Startup SXSW 2012. by Eric Ries (and 4 others)
Fab.com: Ready, Set, Reset!
How To Create A Minimum Viable Product
Lean Startup Lesson: Test Before you Build | The Intuit Network
A Personal Note On Behance's Growth, Funding, & Progress on the Behance Team Blog
Watch Eric Ries on "The Lean Startup"
BREAKING: You Know That TED Talk You Weren't Supposed To See? Here It Is.
An entrepreneur's most powerful tool: the Pyramid Pitch
The 10/20/30 Rule of PowerPoint
How to Deliver a Great Presentation Like Steve Jobs
Startup reporters at TechCrunch, sai, inc, WSJ, NY Times and more
Important Questions Startup Co-Founders Should Ask Each Other
Anatomy of an (un)fundable startup
Rocking Out Your AngelList Profile | Results Junkies
Tim Ferriss On How To Start Your Million Dollar Side Business
Before product-market fit, find passion-market fit
Build a Team that Ships
Reid Hoffman, Permanent Beta and the Startup of You
The Start-Up of You - The Economist Reviews Start-Up of You
You Can't Know Yourself. So, Create Yourself | the ecology of happiness
Reid Hoffman, LinkedIn - Live Life in Permanent Beta
Ogilvy Notes
Hiphop Lessons on the Game of Business with Ben Horowitz | The Hiphop Archive
What They Don't Tell You at Graduation
Class 4 Notes Essay
Beware of MBAs! The business school curriculum teaches how to suck at startups
Startup Founders: Don't Freak Out
If A Big, Awesome Company Wants To Acqui-Hire Your Startup, Say Yes
Acquihires - A Clarification by David Lee
After Two Startup Accelerators, What I Wish Someone Had Told Me | Ecquire