nosql
nosql est un ovni dans le monde des bases de données. Je kiffe dessus depuis longtemps déjà mes je n'ai pas réussis jusqu'ici à le faire accepter par mon directeur technique (un mysql fanatic).
Mais cela ne m'empêche pas de suivre le truc de près ! jeantoff Feb 10
Get flash to fully experience Pearltrees
Le driver MongoDB devrait fonctionner sur la plupart des systèmes : Windows, Mac OS X, Unix, et Linux ; des petites machines au gros serveurs ; sur des systèmes 32 et 64 bit ; avec PHP 5.1, 5.2, 5.3, 5.4 et 5.5. Installation manuelle Pour les développeurs des pilotes ou les personnes intéréssées par les derniers correctifs de bugs, vous pouvez compiler le pilote depuis » Github .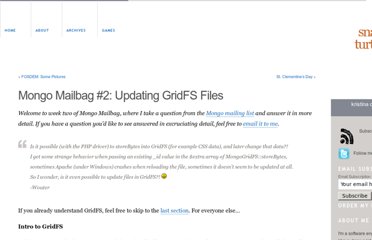 Welcome to week two of Mongo Mailbag, where I take a question from the Mongo mailing list and answer it in more detail. If you have a question you'd like to see answered in excruciating detail, feel free to email it to me . Is it possible (with the PHP driver) to storeBytes into GridFS (for example CSS data), and later change that data?!
In addition to the charts that follow, you might want to consider the Frequently Asked Questions section for a selection of common questions about MongoDB. Executables The following table presents the MySQL/Oracle executables and the corresponding MongoDB executables. Terminology and Concepts The following table presents the various SQL terminology and concepts and the corresponding MongoDB terminology and concepts.
Thinking about NoSQL databases (classification and use cases) Let's dive into the NoSQL world! What kind of animal is a NoSQL database? I have met often the following NoSQL classification (see Analysis of the NoSQL Landscape ): - Column-oriented stores - Document databases - Graph databases - Key-value stores
mongodb-net (MongoDB.Driver.dll) is a .Net driver for MongoDB . Initially ported from the Java Driver , it is now written entirely in C# and care has been to taken to leverage .NET language features where appropriate. Due to the nature of .NET assemblies, this work should be usable in any .NET language (C#, VB.NET, etc.) What features does/will mongodb-net support? What is the current status? Basic infrastructure is in place.
comments Time to try MongoDB by Christiaan Baes (chrissie1) on Mar 27, 2010 in categories Microsoft Technologies , VB.NET Instapaper