Db
Using MongoDb in PHP Applications – techPortal. Yet, ETags are one of the features that are the hardest to get right.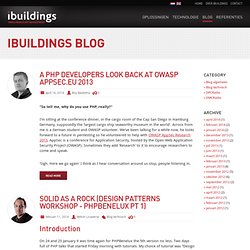 Sometimes it's not even clear how they work and while there's a lot out there on the subject, it can also be difficult to put it all together. Developers frequently play either client and server roles in this exchange, which can make the responsibilities even more confusing. In this series of blog posts, we're going to look at ETags from both perspectives: First, a client trying to consume an ETag-enabled API. By focusing on the client side, we can focus on the features ETags offer and learn how these are supposed to look in a perfectly implemented world. Installation de MongoDB 1.4.4 sur Fedora 13 X86_64. MongoDB est téléchargeable à l'adresse suivante : Comme vous pouvez le constater, MongoDB est portables sur plusieurs systèmes d'exploitations.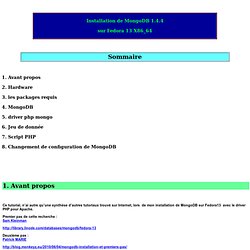 La version utilisé dans ce tutorial : mongodb-linux-x86_64-1.4.4.tgz Après avoir téléchargé MongoDB dans un répertoire lancez la commande d'extraction : Vous obtenez le répertoire suivant : Infausys.free.fr/nosql/xp_mongodb.1.6.2/Installation_de_MongoDB_sur_windows_xp.pdf.
---