North Korea
This pearltree is focused on the human rights violations happening in North Korea. dontshootme Sep 24
Death of Kim Jong il Live Blog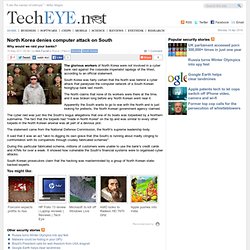 The glorious workers of North Korea were not involved in a cyber bank raid against the corporate imperialist lapdogs of the West, according to an official statement. South Korea was fairly certain that the North was behind a cyber attack that paralysed the computer network of a South Korean Nonghyup bank last month. The North claims that none of its workers were there at the time, and it was broken long before any North Korean went near it. Apparently the South wants to go to war with the North and is just looking for pretexts, the North Korean government agency claimed. The cyber raid was just like the South's bogus allegations that one of its boats was torpedoed by a Northern submarine.
North Korea denies computer attack on South - Why would we raid your banks?
N.Korea Issues Fresh War Threats
Balloons carrying propaganda leaflets are floated into North Korea from Imjingak in Paju, Gyeonggi Province near the demilitarized zone on Feb. 16, North Korean leader Kim Jong-il's 70th birthday. North Korea on Sunday issued the customary threat of a "full-scale war" in response to annual South Korea-U.S. military exercises, which start Monday. It also threatened to fire aimed shots at sites in Gyeonggi Province from where the cross-border propaganda leaflets are floated. ◆ Propaganda Leaflets The top priority for the North Korean regime at the moment is to ensure a smooth succession from leader Kim Jong-il to his son and heir Jong-un.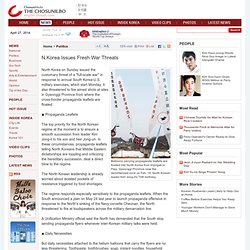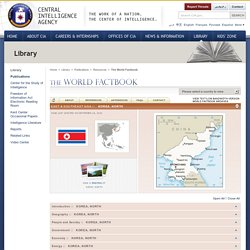 chief of state: KIM Jong Un (since 17 December 2011); note - the rubberstamp Supreme People's Assembly (SPA) reelected KIM Yong Nam in 2009 president of its Presidium with responsibility of representing state and receiving diplomatic credentials head of government: Premier PAK Pong-ju (since 2 April 2013); Vice Premiers: HAN Kwang Bok (since 7 June 2010), JO Pyong Ju (since 7 June 2010), JON Ha Chol (since 7 June 2010), KANG Nung Su (since 7 June 2010), KANG Sok Ju (since 23 September 2010), KIM In Sik (since 13 April 2012), KIM Rak Hui (since 7 June 2010), KIM Yong Jin (since 6 January 2012), PAK Su Gil (since 18 September 2009), RI Chol Man (since 13 April 2012), RI Mu Yong (since 31 May 2011), RI Sung Ho (since 13 April 2012), RO Tu Chol (since 3 September 2003) cabinet: Naegak (cabinet) members, except for Minister of People's Armed Forces, are appointed by SPA
The World Factbook