Nootropics
Enzymes ( pron.: / ˈ ɛ n z aɪ m z / ) are large biological molecules responsible for the thousands of chemical interconversions that sustain life. [ 1 ] [ 2 ] They are highly selective catalysts , greatly accelerating both the rate and specificity of metabolic reactions, from the digestion of food to the synthesis of DNA. Most enzymes are proteins , although some catalytic RNA molecules have been identified. Enzymes adopt a specific three-dimensional structure , and may employ organic (e.g. biotin) and inorganic (e.g. magnesium ion) cofactors to assist in catalysis.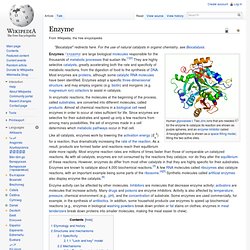 Enzyme
Food fortification or enrichment is the process of adding micronutrients (essential trace elements and vitamins) to food . It can be purely a commercial choice to provide extra nutrients in a food, or sometimes it is a public health policy which aims to reduce numbers of people with dietary deficiencies in a population. Diets that lack variety can be deficient in certain nutrients.
Food fortification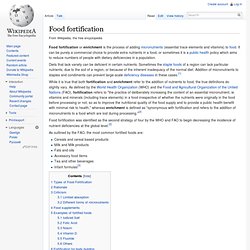 Neurotransmitter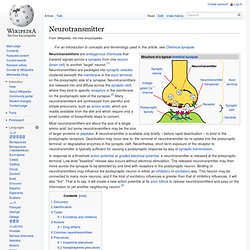 Neurotransmitters are endogenous chemicals that transmit signals from a neuron to a target cell across a synapse . [ 1 ] Neurotransmitters are packaged into synaptic vesicles clustered beneath the membrane in the axon terminal, on the presynaptic side of a synapse.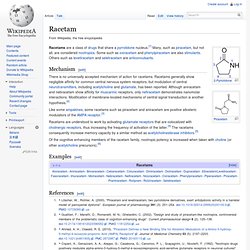 Racetams are a class of nootropic drugs that share a pyrrolidone nucleus. [ citation needed ] [ edit ] Mechanism There is no universally accepted mechanism of action for racetams.
Racetam
Adrenergic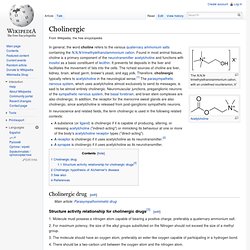 Cholinergic
The N , N , N -trimethylethanolammonium cation, with an undefined counteranion, X − In general, the word choline refers to the various quaternary ammonium salts containing the N , N , N -trimethylethanolammonium cation . Found in most animal tissues, choline is a primary component of the neurotransmitter acetylcholine and functions with inositol as a basic constituent of lecithin .
Nutraceutical , a portmanteau of the words " nutrition " and " pharmaceutical " and was coined by Dr. Stephen L. DeFelice, founder and chairman of the Foundation of Innovation Medicine (FIM), Crawford, New Jersey. [ 1 ] The term is applied to products that range from isolated nutrients, dietary supplements and herbal products , specific diets, genetically modified food , and processed foods such as cereals, soups, and beverages.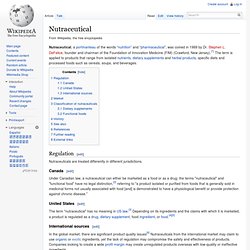 Nutraceutical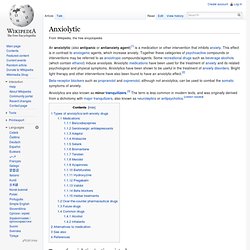 An anxiolytic (also antipanic or antianxiety agent ) [ 1 ] is a drug that inhibits anxiety. Some recreational drugs like alcoholic beverages (ethanol) induce anxiolysis.
Anxiolytic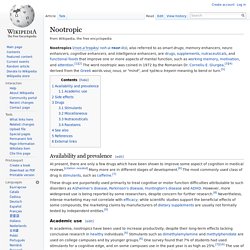 Nootropics ( pron.: / n oʊ . ə ˈ t r ɒ p ɨ k s / noh-ə- TROP -iks ), also referred to as smart drugs , memory enhancers , neuro enhancers , cognitive enhancers , and intelligence enhancers , are drugs , supplements , nutraceuticals , and functional foods that purportedly improve mental functions such as cognition , memory , intelligence , motivation , attention , and concentration. [ 1 ] [ 2 ] The word nootropic was coined in 1972 by the Romanian Dr.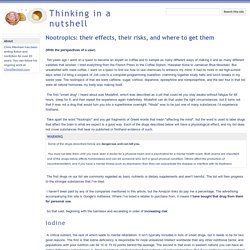 Nootropics: their effects, their risks, and where to get them - Thinking in a nutshell
(With the perspectives of a user)
Emulsion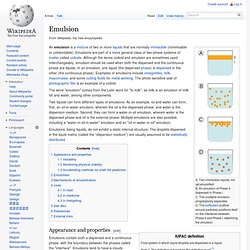 A. Two immiscible liquids, not yet emulsified B. An emulsion of Phase II dispersed in Phase I C.