NoLand Eng
Software versioning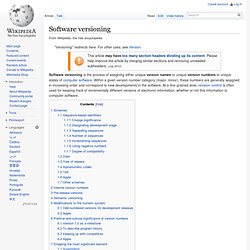 Software versioning is the process of assigning either unique version names or unique version numbers to unique states of computer software . Within a given version number category (major, minor), these numbers are generally assigned in increasing order and correspond to new developments in the software. At a fine-grained level, revision control is often used for keeping track of incrementally different versions of electronic information, whether or not this information is actually computer software.
Introduction
Vertical ProgressBar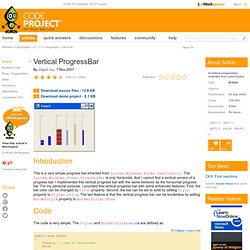 Technology's been a big part of my life ever since I was a kid.
Let's Write Better Software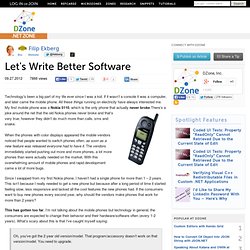 C#: Programmatically Get the Current DPI Setting « Nick Olsen's Programming Tips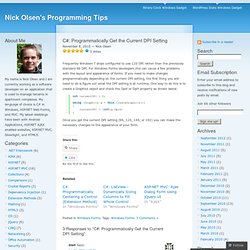 i
Not too long ago, Jenna Bilotta wrote an excellent article called, How designers and engineers can play nice [1] , in which she talks about ways for designers and engineers to work more productively. Having faced similar challenges working with designers (and also working with engineers, when I was on the UI side), I appreciate the pragmatic approach she suggests.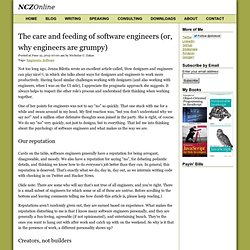 The care and feeding of software engineers (or, why engineers are grumpy)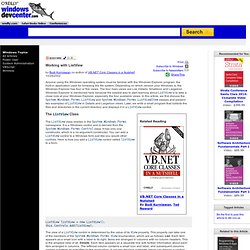 Working with ListView
Working with ListView by Budi Kurniawan co-author of VB.NET Core Classes in a Nutshell 10/28/2002
I needed to know, so I wrote a quick, brute-force-and-ignorance (henceforth known as "BF+I") method to do it:
Counting lines in a string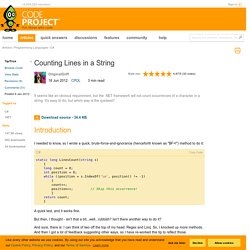 Proto Advantage - DFN-14 (0.4 mm pitch, 3.0 x 3.0 mm body) Stainless Steel Stencil
View topic - HOWTO: Compile SCANTOOL ODBII Code Reader - Debian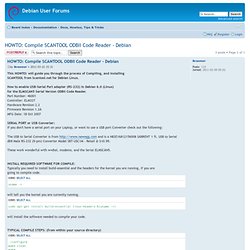 This HOWTO: will guide you through the process of Compiling, and installing SCANTOOL from Scantool.net for Debian Linux. How to enable USB-Serial Port adapter (RS-232) in Debian 6.0 (Linux) for the ELMSCAN5 Serial Version ODBII Code Reader.
Top 10: Oomlout Factory Hacks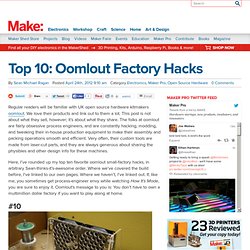 Regular readers will be familiar with UK open source hardware kitmakers oomlout .
Learn the Basics of Electronics Hacking with SparkFun's Online Curriculum
Getting started with open source electronics hacking is a daunting task, but the parts supplier SparkFun hopes to make things a bit easier with a simple curriculum to help you learn the basics of Arduino, LilyPad, XBee, and more.
Minicom
Minicom is a text-based serial port communications program, similar to Cutecom. It is used to talk to external RS232 devices such as mobile phones, routers.
The Microchip MPLAB C18 linker may give the message Error - section '.udata_main.o' can not fit the section.
Solution for Error - section '.udata_main.o' can not fit the section
USB IO Board PIC18F2455 / PIC18F2550
USB IO Board can be controlled with just about any serial port emulation program such as Hyper Terminal that comes with every Windows OS.
Introduction In my previous article , I created the first version of this library with basic controls and functionalities.
Industrial Controls 2