Nodejs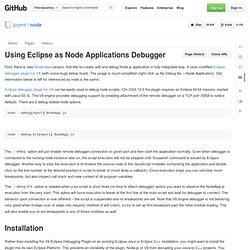 Eclipse debugger plugin for V8 can be easily used to debug node scripts.
Using Eclipse as Node Applications Debugger · joyent/node Wiki
Envoyer des sockets depuis la console node.js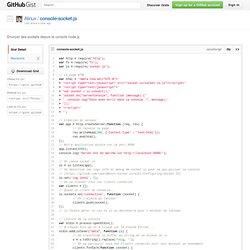 var http = require ( 'http' ); var fs = require ( 'fs' ); var io = require ( 'socket.io' );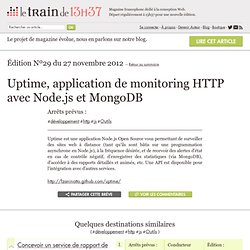 Uptime, application de monitoring HTTP avec Node.js et MongoDB | Édition Nº29
Uptime est une application Node.js Open Source vous permettant de surveiller des sites web à distance (tant qu'ils sont bâtis sur une programmation asynchrone en Node.js), à la fréquence désirée, et de recevoir des alertes d'état en cas de contrôle négatif, d'enregistrer des statistiques (via MongoDB), d'accéder à des rapports détaillés et animés, etc.
remy/nodemon
Ayant commencé depuis peu le dev sur node.js, j'ai eu le temps de travailler avec quelqu'un de mes collègues. Et je me débrouillais tant bien que mal avec cette bête étrange qu'est node.js mais j'avais toujours quelques problèmes bêtes la pluspart du temps. Ils m'ont montré des trucs qui m'ont fait penser "Mais c'est trop pratique comme truc en fait".
Les petits trucs de node.js et coffeeScript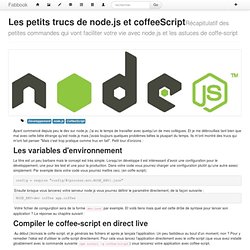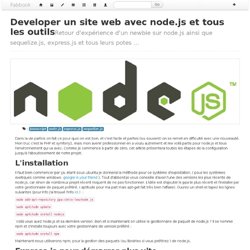 Dans la vie parfois on fait ce pour quoi on est bon, et c'est facile et parfois (ou souvent) on se remet en difficulté avec une nouveauté.
Developer un site web avec node.js et tous les outils
HTTP Authentication in Node.js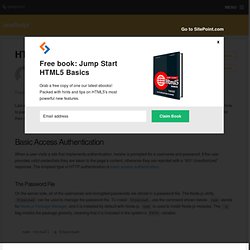 Last week, in Creating a HTTP Server in Node.js , I covered the basics of HTTP in Node.js.
෴ browserver: a node.js HTTP server in your browser ෴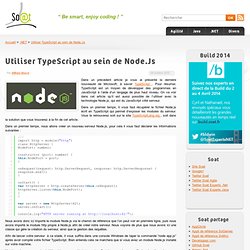 09 octobre 2012
Utiliser TypeScript au sein de Node.Js | Soat blog
App mobile : pourquoi LinkedIn est passé de Ruby on Rails à Node.js - JDN web & tech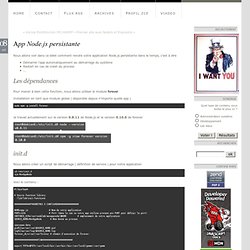 08 oct. 2012 Par Christophe de saint leger le lundi, octobre 8 2012, 13:34 - Serveur - Lien permanent
App Node.js persistante - lindev.fr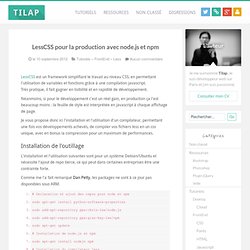 LessCSS est un framework simplifiant le travail au niveau CSS, en permettant l'utilisation de variables et fonctions grâce à une compilation javascript. Très pratique, il fait gagner en lisibilité et en rapidité de développement.
LessCSS pour la production avec node.js et npm | Tilap
The first basic thesis of node.js is that I/O is expensive: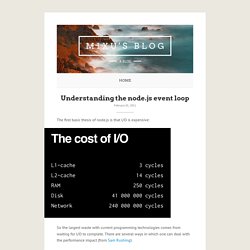 Understanding the node.js event loop « Mixu's tech blog
The July issue of JSMag (The Magazine for JavaScript Developers) is out , and includes an article on "Consuming APIs at Scale With ql.io and Node.js". If you have been looking into ql.io , or have been playing with Node.js and want to see some of the great packages that have been built on top of it, then this is a great primer article to get you started.
The Naked Technologist » ql.io and Node.js Article Now Available in August JSMag
Node.JS + WebSocket = near real offline/online check « Simple API
The problem is well know : the online/offline state is not reliable on many browser, this create a difficult situation for developers who wants to create an offline solution : if you don't know when the client is online or offline, this became difficult to manage (for example) a local backup before having a new connection.
publier une application #node.js ou #sinatra sur le cloud heroku
Search for modules with search.npmjs.org , node-toolbox , npmdocs and nipster . Adding to this page
NodeJS-CouchDB
Node.JS–CouchDBsousUbuntuServer Jean-Marc«jihem»Quéré–2011,2012 2/143
Bonnes pratiques de développement avec Node js
Node.js
500 Server Error
npm registry
Sequelize » A MySQL Object-Relational-Mapper for NodeJS
NodeJS Screencasts - By Emerson Macedo
Gestionnaire de versions pour Node JS | Atinux
Yahoo présente un module node.js pour YSlow
NoSQL Databases and Node.js
The Tapir's Tale: A Not Very Short Introduction To Node.js
You Can Write Large Programs in JavaScript. You Just Can't Maintain Them.