Next Web
Hacking Education. I spent a lot of time on this blog in the past month exhorting everyone to give teaching tools to the neediest public schools.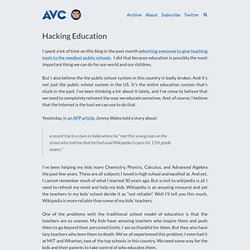 I did that because education is possibly the most important thing we can do for our world and our children. But I also believe the the public school system in this country is badly broken. And it's not just the public school system in the US. It's the entire education system that's stuck in the past. I've been thinking a lot about it lately, and I've come to believe that we need to completely reinvent the way we educate ourselves. Google le film, c'est peut être pour bientôt. Google le film, c'est peut être pour bientôt Après le film sur Facebook, Google aura peut être droit au sien !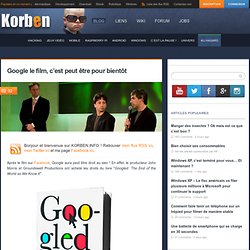 En effet, le producteur John Morris et Groundswell Productions ont acheté les droits du livre "Googled: The End of the World as We Know It" On ne sait pas en détails ce que ça racontera (ni même si ça sortira un jour au cinéma) mais d'après Michael London de Groundswell Productions, l'histoire sera centrée sur Larry et Sergey, sur la formidable ascension de Google et sur leur volonté de respecter leur devise : "Don't be evil".
The new billion-dollar opportunity: real-time-web curation - sco. Real-time social wars: where's the money? - scobleizer's postero. Tim Berners-Lee on the next Web. Linked Data | Linked Data - Connect Distributed Data across the. Vie privée : le point de vue des "petits cons" « InternetActu.ne. Nombreux sont ceux qui pensent que les jeunes internautes ont perdu toute notion de vie privée.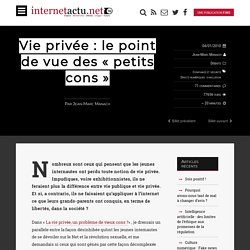 Impudiques, voire exhibitionnistes, ils ne feraient plus la différence entre vie publique et vie privée. Et si, a contrario, ils ne faisaient qu'appliquer à l'internet ce que leurs grands-parents ont conquis, en terme de libertés, dans la société ? Dans "La vie privée, un problème de vieux cons ? ", je dressais un parallèle entre la façon désinhibée qu'ont les jeunes internautes de se dévoiler sur le Net et la révolution sexuelle, et me demandais si ceux qui sont gênés par cette façon décomplexée de s'exprimer ne seraient pas un peu coincés.
Au-delà des problèmes d'inhibition des "vieux cons", il est difficile d'aborder la question sans essayer de regarder de plus près comment, et pourquoi, les jeunes qui ont grandi avec le Net évoquent ainsi leurs vies privées dans des espaces publics. The art of data visualization. Outils lexical et sémantique. Ecrire le web. Web exploration. Web thinkers. Guess What? Google Fears the Next 'Google' | Epicenter | Wired.c. There are millions of entrepreneurs who want to come up with the next Google.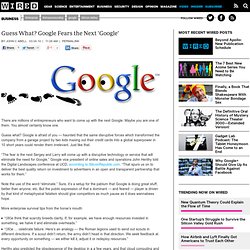 Maybe you are one of them. You almost certainly know one. Hackers.
---
pauljacobson May 6 2011

Oh I forgot the rise of the Sensors! I plug in a USB glove and you plug in a USB glove and we shake hands - easy. But it goes way beyond that with the array of sensors that can be attached to digital processing - night vision, food freshness, facial recognition et al. Maybe the biggest seller will be a radioactivity App?

pauljacobson May 6 2011

Hi Patrice - you've picked my eLearning! Obviously I have an interest in user interface and the relational capabilities of WC3; but the elephant in the room is audio / video - within a few years, 80% of content will be exchanged video with sound. Even still pics will be time-lapse or motion. Be prepared!

deepy Mar 10 2010

salut patrice je vois que tu porte un certain interet à mes explorations je vais nourrir cette perle assez souvent ok et de plus a force j'ai fini par bien piger le concept de pearltrees. une chose que je trouve interessant c'est que l'interface peut évoluée vers des possibilités de classifications façon carte mentale a+

emainville Oct 29 2009

Salut Patrice, oui, petit à petit, on prend le réflexe de perler!

Patrice Oct 29 2009

Salut Eric, bienvenue sur ma perle Next Web
---