Leading edge
Get flash to fully experience Pearltrees
in Share 20 We like to think that the value of an idea is unlimited.
AlterNet has published an excellent article that seeks to summarize the "new economy movement" - at least from a progressive perspective - including sustainability, community, co-ops, localization, collective ownership, stockholder activism, corporate personhood challenges, the commons, social enterprises, and low or no growth economics.
A sample currency system-map: The MetaCurreny Project: an initiative to create underlying technology protocols to enable widespread currency innovation.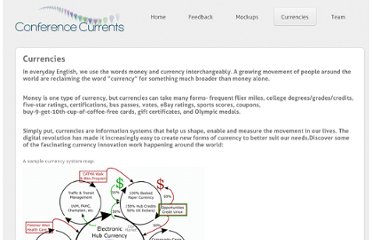 System diagram of the vicious cycle of the Industrial Economy (red, top) and the virtuous cycle of the Natural Economy (green, bottom)
After Sibos, Q4 is usually the period of the year when I try to re-boot, to refresh my sources, to be a sponge and take-in new knowledge. It's when I start painting for the next year.
<div style="padding:5px; font-size:80%; width:300px; background-color:white; margin-left:auto; margin-right:auto; border:1px dashed gray;"> Internet Archive's<!--'--> in-browser audio player requires JavaScript to be enabled. It appears your browser does not have it turned on.