News on Google+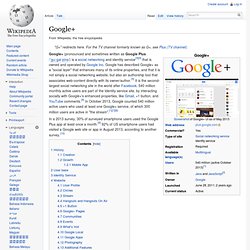 Google+ (pronounced and sometimes written as Google Plus /ˈɡuːɡəl plʌs/) is a social networking and identity service[3][4] that is owned and operated by Google Inc.
Google+
Google Chrome Store has new Google+ apps "Simply Amazing times"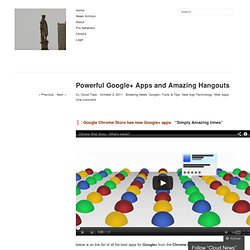 Google+ Open for Business; Internet Giant Now Competing with Twitter, Facebook
Update: For our international readers, this post is also available in French, German, Italian, Japanese, Portuguese, Russian and Spanish. - Ed.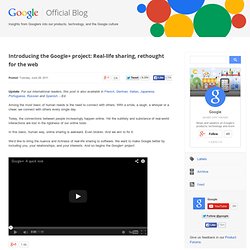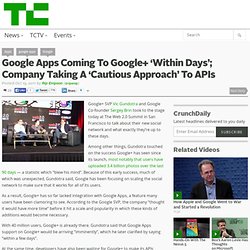 Google+ SVP Vic Gundotra and Google Co-founder Sergey Brin took to the stage today at The Web 2.0 Summit in San Francisco to talk about their new social network and what exactly they're up to these days. Among other things, Gundotra touched on the success Google+ has seen since its launch, most notably that users have uploaded 3.4 billion photos over the last 90 days — a statistic which "blew his mind". Because of this early success, much of which was unexpected, Gundotra said, Google has been focusing on scaling the social network to make sure that it works for all of its users.
Google Apps Coming To Google+ 'Within Days'; Company Taking A 'Cautious Approach' To APIs
Last night, you may have heard talk of a mysterious black bar appearing on the top of Google.com. Or you may have even seen it yourself. No, you weren't hallucinating.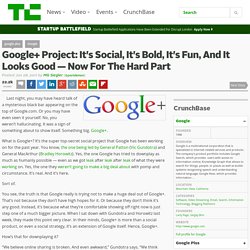 By now it's become fairly obvious that Google's new social network, Google+, is here to stay (unlike some of the company's past efforts at being social): depending on which estimates you believe, Google+ may have as many as 50 million registered users, which is not bad for a three-month old product.
It's official: Google+ will be connected to everything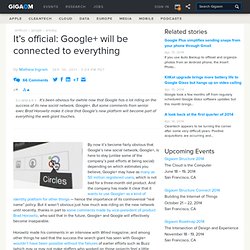 LiveOn+ Extension – Notifies of Streaming Hangouts
Google Plus
Google+ Traffic Floodgates Open - Deal Journal
Reuters When Google opened its new social network to the public this week, it also opened the Web-traffic floodgates.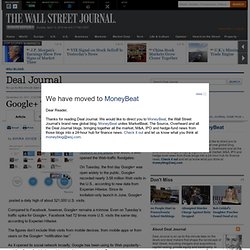 Google+ Gets A Jump On Facebook