News on Google+
Google+ Google+ (pronounced and sometimes written as Google Plus /ˈɡuːɡəl plʌs/) is a social networking and identity service[3][4] that is owned and operated by Google Inc.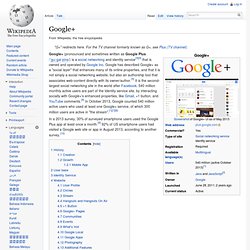 Google has described Google+ as a "social layer" that enhances many of its online properties, and that it is not simply a social networking website, but also an authorship tool that associates web-content directly with its owner/author.[5] It is the second-largest social networking site in the world after Facebook. 540 million monthly active users are part of the Identity service site, by interacting socially with Google+'s enhanced properties, like Gmail, +1 button, and YouTube comments.[6] In October 2013, Google counted 540 million active users who used at least one Google+ service, of which 300 million users are active in "the stream".[1][7][8]
Google+ is truly powerful. Google Chrome Store has new Google+ apps "Simply Amazing times" below is an link list of all the best apps for Google+ from the Chrome Store Google+ is awesome Extended Share.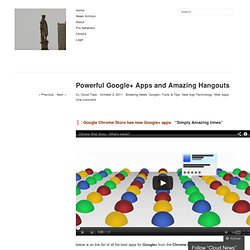 Google+ Open for Business; Internet Giant Now Competing with Twitter, Facebook. Real-life sharing, rethought for the web. Update: For our international readers, this post is also available in French, German, Italian, Japanese, Portuguese, Russian and Spanish. - Ed.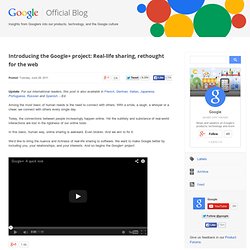 Among the most basic of human needs is the need to connect with others. With a smile, a laugh, a whisper or a cheer, we connect with others every single day. Today, the connections between people increasingly happen online. Google Apps Coming To Google+ 'Within Days'; Company Taking A 'Cautious Approach' To APIs. Google+ SVP Vic Gundotra and Google Co-founder Sergey Brin took to the stage today at The Web 2.0 Summit in San Francisco to talk about their new social network and what exactly they're up to these days.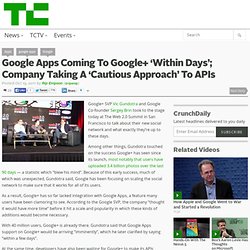 Among other things, Gundotra touched on the success Google+ has seen since its launch, most notably that users have uploaded 3.4 billion photos over the last 90 days — a statistic which "blew his mind". Because of this early success, much of which was unexpected, Gundotra said, Google has been focusing on scaling the social network to make sure that it works for all of its users. Google+ Project: It's Social, It's Bold, It's Fun, And It Looks Good — Now For The Hard Part. Last night, you may have heard talk of a mysterious black bar appearing on the top of Google.com.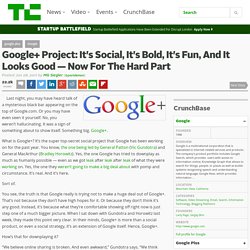 Or you may have even seen it yourself. No, you weren't hallucinating. It's official: Google+ will be connected to everything. By now it's become fairly obvious that Google's new social network, Google+, is here to stay (unlike some of the company's past efforts at being social): depending on which estimates you believe, Google+ may have as many as 50 million registered users, which is not bad for a three-month old product.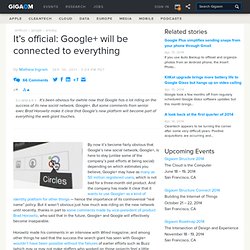 And the company has made it clear that it wants to use Google+ as a kind of identity platform for other things — hence the importance of its controversial "real name" policy. But it wasn't obvious just how much was riding on the new network until recently, thanks in part to some comments made by vice-president of product Brad Horowitz, who said that in the future, Google+ and Google will effectively become inseparable. LiveOn+ Extension – Notifies of Streaming Hangouts. Google Plus. Google+ Traffic Floodgates Open - Deal Journal. Reuters When Google opened its new social network to the public this week, it also opened the Web-traffic floodgates.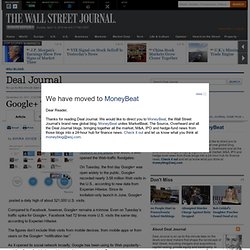 On Tuesday, the first day Google+ was open widely to the public, Google+ recorded nearly 3.58 million Web visits in the U.S., according to new data from Experian Hitwise. Since its invitation-only launch in June, Google+ posted a daily high of about 321,000 U.S. visits. Compared to Facebook, however, Google+ remains a minnow. Even on Tuesday's traffic spike for Google+, Facebook had 72 times more U.S. visits the same day, according to Experian Hitwise. Google+ Gets A Jump On Facebook.
---