New media
This is a team pearltree about the new media concept. Curate news, research or personnality here. English only! Patrice Feb 18
What's new media?
New media studies - Wikipedia, the free encyclopedia - Mozilla F
New media studies is a fairly recent academic discipline that explores the intersections of computing, science, the humanities, and the visual and performing arts.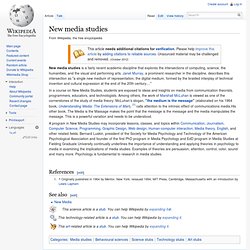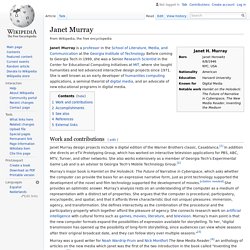 Janet Murray
Janet H. Murray Birth name
Herbert Marshall McLuhan, CC (July 21, 1911 – December 31, 1980) was a Canadian philosopher of communication theory and a public intellectual.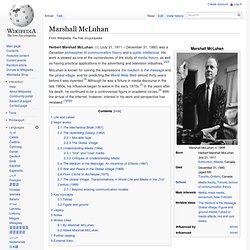 Understanding Media: The Extensions of Man - Wikipedia, the free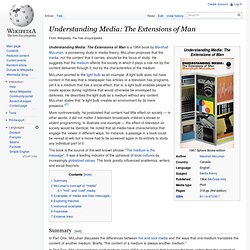 McLuhan pointed to the light bulb as an example.
Une étude prospective publiée par le CSA en février sur l'évolution du marché publicitaire encouragerait, timidement, à l'optimisme pour le devenir du géant français de l'audiovisuel. Les recettes disparues de France-Télévisions, entre 200 et 400 millions selon les estimations, iraient intégralement dans la besace des chaînes privées, grâce à une réglementation favorable (merci au décret du 19 décembre 2008) et à l'attractivité de l'auditoire de la télévision privée pour les annonceurs (public plus jeune que celui de France-Télévisions). Les mauvais résultats de TF1 en 2008, baisse de 3 % des recettes publicitaires, pourraient n'avoir été que passagers. Mais les résultats de janvier 2009 (-19 % de recettes publicitaires par rapport à janvier 2008) et le verdict du Palais Brongniart (la capitalisation boursière de M6 dépasse aujourd'hui celle de TF1) laissent entrevoir un avenir sombre pour la chaîne. Risquons un pronostic.
Quand TF1 perd ses couleurs | Telos - Mozilla Firefox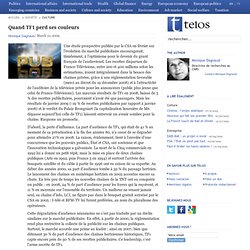 Aujourd'hui le moins que l'on puisse dire, c'est que l'expérience sociale sur le web est pour l'utilisateur un joyeux bazar à peine défriché où chaque visite sur un nouveau site impose la création d'un nouveau profil et la dilution de l'identité de chacun. Pour mémoire, les réseaux sociaux attirent désormais 22,5 des 34 millions d'internautes français parmi lesquels 22 millions de cyberacheteurs, pour environ 1 h 40 mn de surf mensuel. Fin avril, Forrester, sous la signature de Jeremiah Owyang a publié une étude "Future of the Social Web".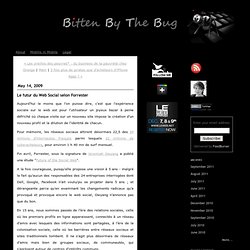 Le futur du Web Social selon Forrester
Social construction of technology (also referred to as SCOT) is a theory within the field of Science and Technology Studies.
Social construction of technology - Wikipedia, the free encyclop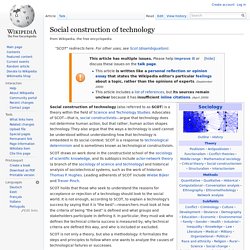 Paper Cuts | Out of print