Neuroscience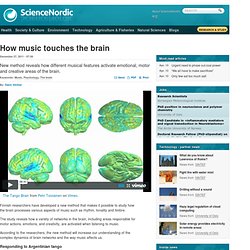 Finnish researchers have developed a new method that makes it possible to study how the brain processes various aspects of music such as rhythm, tonality and timbre. The study reveals how a variety of networks in the brain, including areas responsible for motor actions, emotions, and creativity, are activated when listening to music. According to the researchers, the new method will increase our understanding of the complex dynamics of brain networks and the way music affects us. Responding to Argentinian tango
The Mind and other Dangerous Things
Rscheearch Shmecsearch - fontblog
Change Blindness; you cannot be aware of everything.
For as long as I can remember, I've had this implicit sense of a relationship between letters and colors. To me, every letter seems to have a color of its own. When I think of a word, I am aware of its color and the color of its component letters.
Letter-Color Synaesthesia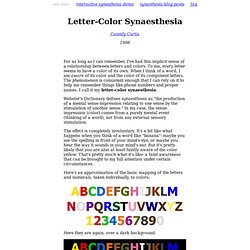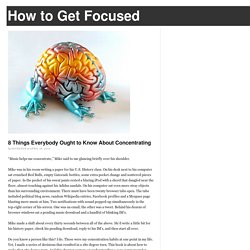 "Music helps me concentrate," Mike said to me glancing briefly over his shoulder.
Much of the brain is still mysterious to modern science, possibly because modern science itself is using brains to analyze it. There are probably secrets the brain simply doesn't want us to know. But by no means should that stop us from tinkering around in there, using somewhat questionable and possibly dangerous techniques to make our brains do what we want. We can't vouch for any of these, either their effectiveness or safety. All we can say is that they sound awesome, since apparently you can make your brain...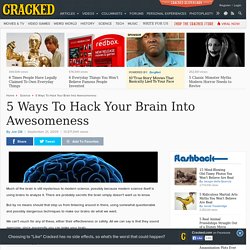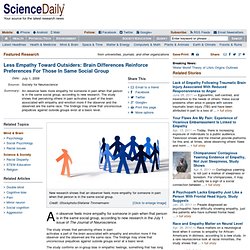 July 1, 2009 — An observer feels more empathy for someone in pain when that person is in the same social group, according to new research in the July 1 issue of The Journal of Neuroscience . The study shows that perceiving others in pain activates a part of the brain associated with empathy and emotion more if the observer and the observed are the same race. The findings may show that unconscious prejudices against outside groups exist at a basic level. The study confirms an in-group bias in empathic feelings, something that has long been known but never before confirmed by neuroimaging technology. Researchers have explored group bias since the 1950s.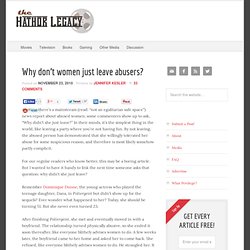 Anytime there's a mainstream (read: "not an egalitarian safe space") news report about abused women, some commenters show up to ask, "Why didn't she just leave?" In their minds, it's the simplest thing in the world, like leaving a party where you're not having fun. By not leaving, the abused person has demonstrated that she willingly tolerated her abuse for some suspicious reason, and therefore is most likely somehow partly complicit. For our regular readers who know better, this may be a boring article.
Read full article Continue reading page | 1 | 2 The brain is the most complex organ in the human body.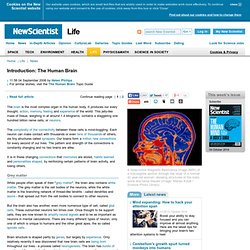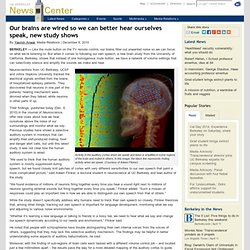 Like the mute button on the TV remote control, our brains filter out unwanted noise so we can focus on what we're listening to. But when it comes to following our own speech, a new brain study from the University of California, Berkeley, shows that instead of one homogenous mute button, we have a network of volume settings that can selectively silence and amplify the sounds we make and hear. Activity in the auditory cortex when we speak and listen is amplified in some regions of the brain and muted in others. In this image, the black line represents muting activity when we speak. (Courtesy of Adeen Flinker)