Networks & Learning
Timothy Vollmer, July 27th, 2011 Sir John Daniel has been working in open education from its earliest days. "Openness is in my genes," he says. Sir John is President and CEO of the Commonwealth of Learning, or COL. COL is an intergovernmental organization comprised of 54 member states.
Sir John Daniel of the Commonwealth of Learning: Open Education and Policy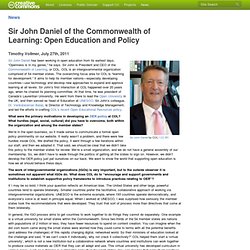 Especialista descreve cada um dos grupos, detalhando anseios e motivações. "A próxima geração não é uma versão mais jovem da sua", alerta. A palestra do professor Graeme Codrington na InTouch 2011 - evento organizado pela Amdocs, provedora de soluções em software para empresas de telecom - se não foi a mais aplaudida, foi, de longe, a mais bem humorada.
Dos baby boomers às gerações X e Y: Engajamento, ousadia e inovação - Mercado
The Knowledge Building (KB) theory was created and developed by Carl Bereiter and Marlene Scardamalia for describing what a community of learners needs to accomplish in order to create knowledge. The theory addresses the need to educate people for the knowledge age society, in which knowledge and innovation are pervasive.[1] Overview[edit] Scardamalia & Bereiter distinguish between Knowledge building and learning.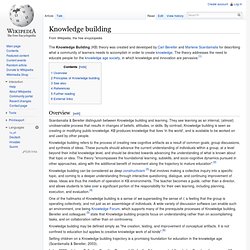 Knowledge building
Jean Beausejour: "Podemos tener un educación de calidad con equidad para todos" Jean Beausejour te invita a sumarte a Educación2020 en www.educacion2020.cl. En Chile podemos tener un educación de calidad con equidad para todos" dice Beausejour en el video viral y luego pide apoyar al proyecto Educación 2020. Jean Beausejour supports Educación 2020
Jean Beausejour: "Podemos tener un educación de calidad con equidad para todos" | Profesorbaker's Blog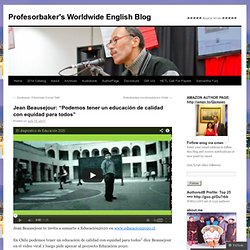 TID - Livro sobre Cibercultura disponível para Download gratuito. - Notícias - Notícias
Learning And Social Networks