Juniper
Get flash to fully experience Pearltrees
LACP (LAG) interoperability between the EX Series Switches and Catalyst 6400 Series Switches. A number of interfaces in a Link Aggregation Group (LAG) are not parsing traffic, resulting in packet loss. Removing and re-adding links to the aggregate does not resolve the issue. This scenario is for a LACP config with 4 interfaces in the LAG between the EX4200 Virtual Chassis (VC) and Cisco Catalyst 6500. When the aggregated links are brought online the immediate packet loss is about 60% from a number of PC endpoints (in different subnets but all on the same VLAN)
This article provides information on how to return the configuration on a SRX or J Series device to the factory default version (configuration file that is shipped with the device). For other topics about SRX, go to the SRX Getting Started main page. How to reset the configuration to the factory default. There are three ways to reset an SRX and J-Series device to its factory default configuration.
+ New .COMs $7.99/yr plus 18 cents/yr ICANN fee. Discount based on new one-year registration prices as of 1/27/2012 with sale price reflected in your shopping cart at checkout. Discount applies to new registrations and renewals and cannot be used in conjunction with any other offer or promotion. Domains purchased through this offer will renew at regular price after the initial term has expired. Offer ends May 31, 2012 5:00 pm (MST). † Good for one 1-year registration of any available .COM, .US, .BIZ, .INFO, .NET or .ORG ‡ Annual discounts available on NEW purchases only.
Summary: When customers receive a new EX switch and power it on, it requests a login name and password. For first-time JUNOS-EX users this could be confusing as there is no password information included. This article provides the default user ID and password information. Problem or Goal: Solution:
[ Contents ] [ Prev ] [ Next ] [ Index ] [ Report an Error ] The JUNOS software is preinstalled on the router. When the router is powered on, it is ready to be configured.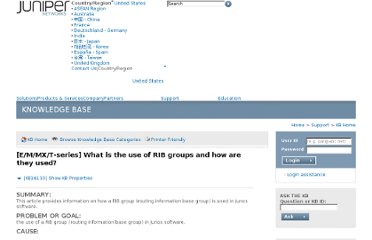 This article provides information on how a RIB group (routing information base group) is used in Junos software. the use of a RIB group (routing information base group) in Junos software. A RIB group is a way to have a routing protocol, in most cases, place information in multiple route tables.