.NET
Get flash to fully experience Pearltrees
by Mike Gunderloy 03/17/2003 So you're ready to deploy version 1.1 of your library, and you'd like it to replace version 1.0 for existing applications. Or perhaps something else has globally upgraded to 1.1, and you need to downgrade it for a particular application where 1.1 is causing problems. Handling these issues for .NET applications is the job of runtime binding policy . In this article, I'll explain the basics of runtime binding policy, and show you how you can customize the process for your own applications.
En la plática y taller de este mes , alguien hizo una pregunta muy común: "Quiero construir un Web Service en .NET que haga X, ¿por dónde comienzo?" Así que le prometí escribir un artículo al respecto. Sin embargo, en cuanto comencé, me di cuenta que hay un concepto más básico que debe ser amaestrado para en verdad entender lo que está sucediendo: Serialización.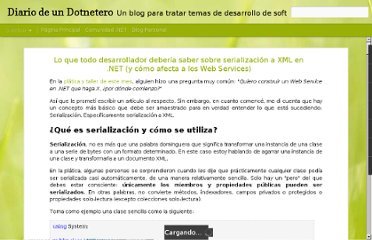 Introduction Wiring up a web page to a backend database can be tedious. You have to use some type of data access layer (DAL) and then map this to fields on a page. This is repetitive and error prone code.