My eye-candy
In Focus - National Geographic Photo Contest 2011. National Geographic is currently holding its annual photo contest, with the deadline for submissions coming up on November 30.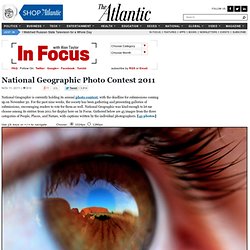 For the past nine weeks, the society has been gathering and presenting galleries of submissions, encouraging readers to vote for them as well. National Geographic was kind enough to let me choose among its entries from 2011 for display here on In Focus. Gathered below are 45 images from the three categories of People, Places, and Nature, with captions written by the individual photographers. [45 photos]
Devianart
Colors. Nature. Fauna. Snow_in_Town. Awesome pictures from around the world | Vivi The Mage. Someone sent me these in a chain email, it was horribly formatted.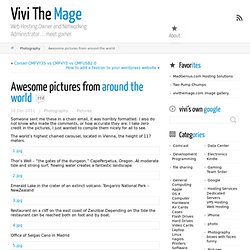 I also do not know who made the comments, or how accurate they are. I take zero credit in the pictures, I just wanted to compile them nicely for all to see. The world's highest chained carousel, located in Vienna, the height of 117 meters. Thor's Well – "the gates of the dungeon." CapePerpetua, Oregon. Astronomical Clock | Best places in the World. Huge mirror of the world. Old_bench. Alternate_ending_by_mathiole. International Fireworks. Dreaming 88. So-pretty-11.jpg (JPEG Image, 499 × 752 pixels) - Scaled (84.
---