Recordshops
Panier d´achat. G45 Legends - THE G100. THIS IS A LIGHT-HEARTED ATTEMPT AT PROVIDING SOME ASSISTANCE AND GUIDANCE FOR BEGINNERS(AND EXPERTS) IN THE FIELD OF ULTRA-HIGH END, HARD-CORE 60'S GARAGE 45 COLLECTING.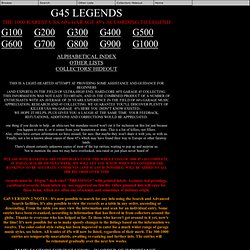 THIS INFORMATION WAS NOT EASY TO OBTAIN, AND IS THE COMBINED PRODUCT OF A NUMBER OF ENTHUSIASTS WITH AN AVERAGE OF 20 YEARS EXPERIENCE IN THE FIELD OF 60's GARAGE MUSIC APPRECIATION, RESEARCH AND 45 COLLECTING. WE GUARANTEE YOU"LL DISCOVER PLENTY OF KILLER USA 60s GARAGE 45's HERE YOU DIDN"T KNOW EXISTED...WE HOPE IT HELPS, PLUS GIVES YOU A LAUGH AT THE SAME TIME.
YOUR FEEDBACK, REFUTATIONS, ADDITIONS AND CORRECTIONS WOULD BE APPRECIATED.one thing if you decide to help...an ultra-rare but mundane record won't cut it for inclusion on this list just because you happen to own it, or it comes from your hometown or state. This is a list of killers, not fillers.Also, others have certain information we have missed, for sure. RECORD STORE DAY - Home. My Electro Kitchen - Alimentation pour oreilles difficiles. Crocodisc est spécialisé dans l'achat et la vente de disques neufs et d'occasions de tous les genres musicaux excepté la musique classique. Ground Zero disquaire indé à Paris. Soul Jazz Records.
---